CI to Award Honorary Degree to Lou Cannon at 2013 Commencement
CI will award an honorary doctorate degree to noted presidential biographer and White House correspondent Lou Cannon during the University's 2013 morning commencement ceremony, Saturday, May 18, at the South Quad. The honorary degree, conferred jointly by the California State University Board of Trustees and CI, is the highest honor the University can bestow. Cannon, considered the foremost biographer of Ronald Reagan, is also widely known for his political reporting on California and the nation. He has written five books about Reagan, including the acclaimed President Reagan: The Role of a Lifetime and Governor Reagan: His Rise to Power, and authored four other books, including Official Negligence: How Rodney King and the Riots Changed Los Angeles and the LAPD. His most recent book, Reagan's Disciple: George W. Bush's Troubled Quest for a Presidential Legacy, is co-authored with his eldest son, Carl Cannon, also a prize-winning White House correspondent.
More than 1,440 CI students will receive degrees in separate morning and afternoon commencement ceremonies on May 18. The morning ceremony will begin at 10 a.m. and will include the following academic programs: Anthropology, Art, Chicana/o Studies, Credentials (teaching), Early Childhood Studies, Education, English, History, Liberal Studies, Performing Arts, Political Science, Psychology, and Sociology.
The afternoon ceremony will begin at 3 p.m. and will include the following academic programs: Applied Physics, Biology, Business, Biotechnology & Bioinformatics, Biotechnology/MBA (dual degree), Chemistry, Communication, Computer Science, Economics, Environmental Science & Resource Management, Information Technology, Mathematics, Nursing, and Spanish.
For more information, contact commencement@csuci.edu or 805-437-3100, or visit www.csuci.edu/commencement.
CI Students attend init(together) Conference
A group of CI students attended a conference for female students in Computer Science, called the init(together) Southern California Women in Computing Conference hosted by UC Irvine. init(together) supports women pursuing education in Computer Science or beginning a career in industry through mentorship, peer collaboration, and immersion.
The conference featured a series of panel discussions and hands-on workshops to inspire attendees to actively develop their skills and pursue their careers in computing. Career Expo at the conference featured a variety of companies and programs in Southern California bringing industry directly to attendees. The involvement in init(together) will inspire our students, will boost their confidence and help to increase the representation of women in computing.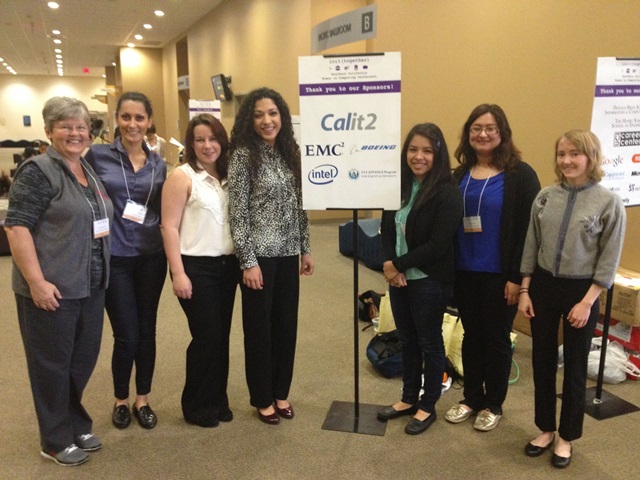 L-R: Computer Science Instructor Anna Bieszczad, Atena Reyhani-Shahrestani, Kelsey Prtisker, Linda Miloud, Janeth Moran-Cervantes, Johanna Ruiz, and Aline Turner
For more information, contact Anna Bieszczad, Lecturer, Computer Science, at ext. 3236 or anna.bieszczad@csuci.edu.
New T&C video series about "The Mobile Campus"
In response to feedback from the recent CI Open Forum on Mobile Strategy, the Division of Technology & Communication (T&C) is pleased to introduce a new video series about making CI a more mobile-friendly place. The first episode "What is Mobile?" is available now on the new T&C Mobile Strategy web site at http://www.csuci.edu/its/mobile.
For more information, contact Peter Mosinskis, Director of IT Strategy at ext. 8587 or peter.mosinskis@csuci.edu.
Share Your CI Story
The stories of our faculty and staff are an important part of the fabric of CI, and they are a big part of what makes CI such a vibrant place to work and learn. In support of the CI Web Refresh project, the Division of Technology & Communication wants to share the stories of our faculty and staff with the CI community. Stories that are selected may be featured on the University's web site or University publications. Click here to share your CI story.
For more information, contact Peter Mosinskis, Director of IT Strategy at ext. 8587 or peter.mosinskis@csuci.edu.
Click here to return to the Table of Contents
© Wavelength April 25, 2013