STEM Open House- Aug. 29
The STEM (Science, Technology, Engineering and Mathematics) Center and Graduate Studies Center will hold an open house on Thursday, Aug. 29 from 4 p.m. to 6 p.m. at El Dorado Hall.
Tour CI's STEM Center and Graduate Studies Center, watch Outreach Student Assistants demonstrate science experiments and see posters from the Summer Research Institute and Summer Scholars Institute.
Representatives from CI's School of Education will provide information about the Credential and/or Master's Degree programs and Project VISTA staff will provide information about services offered including early preparation for graduate study, workshops, drop-in advice, graduate writing assistance and many others. Project ACCESO staff will provide information about services offered including tutoring, mentoring, outreach and research in its efforts to increase the STEM pipeline and STEM student success.
To view the flier with full details, click here (PDF, 352.7KB) .
For more information contact Lori Cordova at ext. 3598 or lori.cordova@csuci.edu.
Walk Across America Kick-Off! – Sept. 3
It's that time of year again! Join us for Walk Across America's annual Kick-off Walk, on Tuesday, Sept. 3 at the Central Mall Fountain. The walk will begin at 1:30 p.m. and the route will be along the perimeter of the campus.
Walk Across America (WAA) is a 10-week friendly competition in which team members use a pedometer to track and log their weekly steps and/or step conversions. All employees, including student assistants are welcome to participate! Last year's campaign had over 180 participants and 14 teams. The goal of WAA is to encourage everyone to get up and moving. You may register individually or as a team; if you register individually, you will be assigned to a team. Information on the WAA program (PDF, 88.7KB). Registration details (PDF, 210KB).
Earn 1,000 bonus steps immediately by downloading a free app or looking online at a variety of tracking tools to help you reach your fitness goals! Just send a screenshot to HR Programs by Sept. 5 and the points will be added to your team total. The deadline to submit your registration or team list is Thursday, Aug. 29. Complete the registration form and return via email to Janet Korsmo at janet.korsmo@csuci.edu or inter-office the form to HR Programs, attention: Janet Korsmo.
For more information, contact Janet Korsmo, HR Programs Assistant, at ext. 3181 or janet.korsmo@csuci.edu.
2013 Celebration of Service- Sept. 6*
The CI Center for Community Engagement cordially invites you to the 2013 Celebration of Service on Friday, Sept. 6 from 8 to 11 a.m. in the Petit Salon. The event will honor faculty, community partners and students' community engagement efforts. In addition to the awards breakfast and networking with community partners, the event will feature a poster session from 8 to 8:30 a.m., which will highlight several service learning projects/research. The event will bring our community together to acknowledge the growth and impact these projects/research contribute to our students and the community as well as honoring award recipients for their outstanding community engagement efforts.
*Please note this event was rescheduled to the fall semester due to the May wildfire
For more information contact Pilar Pachecho, Associate Director, Center for Community Engagement, at ext. 8851 or pilar.pacheco@csuci.edu.
Dodger Day – Sept. 15
CI invites community friends, supporters, alumni, students, faculty and staff to turn Dodger Stadium red with CI pride during the 10th annual Alumni & Friends Dodger Day on Sunday, Sept. 15. More than 800 CI alumni and friends are expected to attend as Captain Larry Vasquez, Commanding Officer of Naval Base Ventura County, throws out the ceremonial first pitch before the Dodgers take on the San Francisco Giants at 1:10 p.m.
Tickets are available on a first-come, first-serve basis for $25 in the infield reserve and $35 in the all-you-can-eat section. Tickets for $65 in the infield box are sold out. Tickets include a commemorative CI Dodger Day t-shirt and free bus transportation between the campus and Dodger Stadium.
To view the full flier, click here (PDF, 12.6MB).
For more information contact Jonathan Neira, Administrative Assistant, at ext. 3764 or jonathan.neira746@csuci.edu.
Self-Defense Class for Women- Sept. 23, 25, 30 & Oct. 2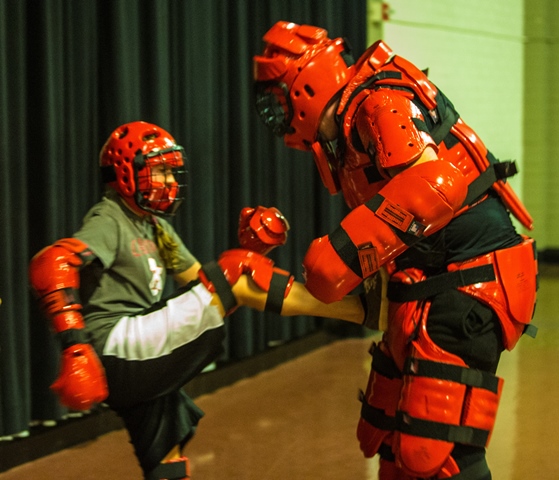 Could you effectively defend yourself if attacked? R.A.D. (Rape Aggression Defense) is the largest women's self-defense training program in the country being taught by more than 350 universities and municipal law enforcement departments nationwide.
The Rape Aggression Defense System is a program of realistic, self-defense tactics and techniques. The R.A.D. system is a comprehensive course for women, which begins with awareness prevention, risk reduction and avoidance, while progressing to the basics of hands-on defense training.
The CI Police Department will be offering R.A.D. classes throughout the year for students, staff, and faculty. The next classes will be held on campus on Sept 23, 25, 30 and Oct. 2 from 6 to 9 p.m. Last day to sign up is Sept. 13. This is a 12 hour class (3 hours each day) with a $20 registration fee due at sign-up. The registration fee will be fully refunded upon completion of program. Class size is limited. Register in person at Public Safety located in Placer Hall.
For more information contact Community Involvement Coordinator, Rachel Huff at Rachel.huff@csuci.edu 831- 437-8850 Ext 7063 or RAD@csuci.edu.
Return to the table of contents
© Wavelength August 22, 2013