Corporate Games are HERE! #TEAMCI
CI is getting ready to participate in its first Corporate Games, the business-to-business, team sports competition hosted by the City of Ventura. Our competition includes Amgen, County of Ventura, Kaiser, WellPoint and many more with events scheduled through May 11 at various locations throughout Ventura County.
There are over 80 participants from campus areas including, Operations, Planning & Construction, Technology & Communication, Extended University, Fiscal Services and the Advising Center. Corporate Games is a great opportunity to get to know your CI colleagues and have lots of fun.
Come and cheer on #TEAMCI! Learn more about the Corporate Games Division A Schedule at http://www.cityofventura.net/files/file/comm-service/Corporate%20Games%20Schedule%20Division%20A(1).pdf
Participants are still needed in some events.
For more information contact Callie Juarez, Manager of Instructional Support and Academic Resources, at ext. 8967 or callie.juarez@csuci.edu.
President's Award presented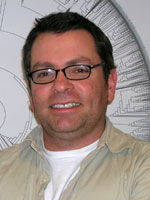 Blake Gillespie, Associate Professor of Chemistry, has received the 2013 President's Award for Innovations in Teaching and Learning, presented in recognition of an individual who has made unique and significant contributions to the teaching mission of the University. Applications were judged by a panel of reviewers. Criteria included: impact on and involvement with students; a scholarly approach to teaching and learning; contributions to undergraduate education in the institution, community and profession; and support from colleagues and students.
Dr. Gillespie was selected for his innovative curriculum development in creating interdisciplinary general education courses and in designing the Biochemistry lab course to include authentic research experiences, and in "flipping" his courses to maximize students' time applying sophisticated concepts. In his "flipped" courses he has video-recorded lectures that his students watch outside of class so that in class students can delve into complex problems with his guidance in the classroom. All of these innovations reflect his philosophy that "to understand science, students must do science."
The award carries with it recognition at CI's Honors Convocation on May 11. In addition, Dr. Gillespie will be nominated by CI for the Carnegie Foundation's U.S. Professors of the Year Award.
For more information contact Renny Christopher, Associate Provost, at ext. 8994 or renny.christopher@csuci.edu.
Childcare at CI
During Spring 2012, the need for childcare and dependent adult care on campus was assessed using web-based surveys, focus groups, and interviews by five students (Jennifer Lugo, Patricia Magana, Rocio Nieves, Jessica Rodriguez, and Isabel Nieves) with Joan Karp. They conducted web-based research and searches of college and university services for children and dependent adults. Key administrators on the CI campus, and directors of childcare centers at various universities and community colleges in California, and regional Head Start program directors shared their perspectives, and expertise through face-to-face interviews and discussions.
This semester a planning group of campus members is gathering with students to discuss start-up plans for the establishment of an education and care center for children on campus. Before blueprints can begin to be designed, a substantial amount of funding has to be acquired and other important tasks like liability issues, space and facility requirements, and construction and operational budgets must be completed.
Establishing a center for adult care for dependent adults was not supported by the survey respondents due to the small number with these needs. A web presence with information on resources and referral for both adult dependent care and childcare was demonstrated. Content for the campus web-site is being developed by Jennifer Lugo and Amy Wallace.
To learn more go to http://www.csuci.edu/vista/child-and-elder-care.htm or contact Joan Karp at ext. 8871 or Joan.karp@csuci.edu.
Click here to return to the Table of Contents
© Wavelength March 28, 2013