TRiO Student Support Services Program's Awards Ceremony
Student Support Services Program (SSS) celebrated its 2nd Annual End of the Year Awards Ceremony, recognizing outstanding staff, faculty, and SSS students that have actively demonstrated the spirit and mission of CI and TRiO Programs. The evening celebrated a record number of 63 SSS graduates, receiving a certificate of completion, SSS alumni sweatshirt and special medallion to be worn at commencement.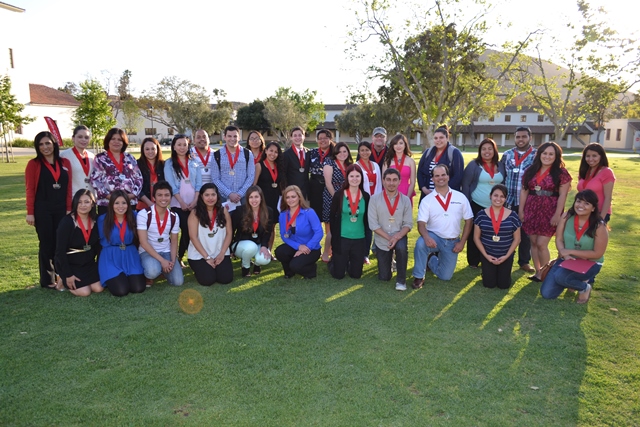 SSS Senior Class of 2013 Ceremony Participants
Rudolph Estrada (SSS Collaborative Faculty Award), Amanda Carpenter and Patty Dang, Career Development Services (SSS Collaborative Staff Award), Stephanie Bower (SSS Highest Grade Point Average), Julia Ochoa (SSS Developmental Award) and Juan Fernandez (SSS Student of the Year).
For additional information contact Student Support Services Center, at ext. 3560 or sss.center@csuci.edu.
CSU Southern Region 1: EOP Student Leadership Conference
On April 20, five Educational Opportunity Program (EOP) students attended the CSU Southern Region 1: 2nd Annual EOP Student Leadership Conference. Estefania Baez, Daisy Carranza, Hannah Dineley, Edgar Martinez, and Luz Ramirez proudly represented CI.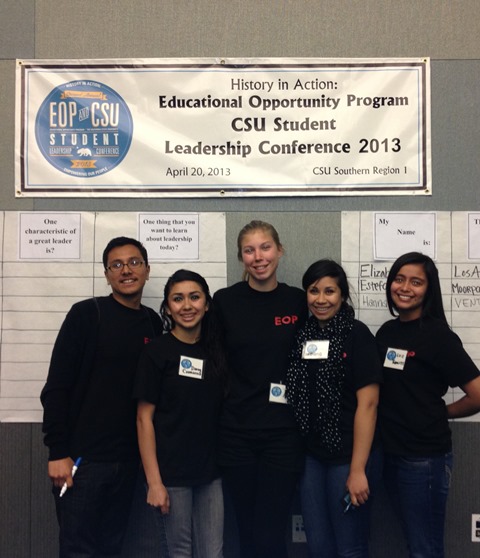 (l-r) EOP Students: Edgar Martinez, Daisy Carranza, Hannah Dineley, Estefania Baez, and Luz Ramirez
For additional information contact Kari Moss, Educational Opportunity Program Counselor, at ext. 8511 or kari.moss@csuci.edu.
Women Recognition Luncheon 2013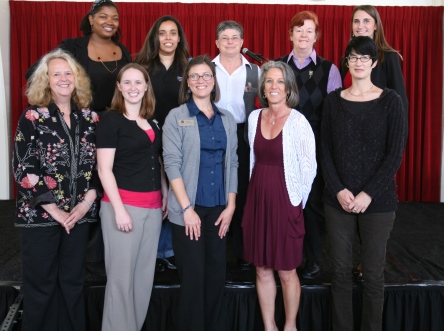 On Wednesday, March 27, Multicultural Programs hosted the annual Women's Recognition Luncheon.  This year's event celebrated CI's 10th Year Anniversary by honoring women who have served CI for the past ten years and our past Women Recognition Luncheon award recipients, speakers and special guests. 
Women Recognition Luncheon 2013 Honorees:
Ms. Stephany Rodriguez (Student)
Ms. Ashley Walters (Student)
Ms. Jennifer Clinkenbeard (Alumni)
Ms. Catherine Hutchinson (Staff)
Dr. Nancy Deans (Faculty-Lecturer)
Dr. Kathryn Leonard (Faculty-Tenure)
Dr. Dawn Neuman (Administrator)
Dr. Kim Stephenson (Community Member)
Click here to return to the Table of Contents
© Wavelength May 9, 2013