Spooktacular/Annual Charitable Campaign Kick-Off – Oct. 31
The Annual Charitable Campaign Kick-Off and Spooktacular event will be held on Thursday, Oct. 31 from 10:45 a.m. – 12 p.m. in the Grand Salon.
Want to participate in the Department Decorating Contest? Contact Wendy Olson at wendy.olson@csuci.edu by Oct. 24 to sign up. Show off your most awesome costume or your creative side and bring a decorated pumpkin to our first-annual Pumpkin Decorating Contest (more information to follow).
Visit participating decorated departments and get your Spooktacular Passport stamped to enter a special drawing. Passports will be available in the departments or through myCI on Oct. 29. Fun Halloween raffle prizes and special guest speakers sharing information about their organization and opportunities to give back to our community round out the program. More details to come regarding a special giving opportunity on the day of the event.
For more information, contact Janet Korsmo, Human Resources Support Assistant, at ext. 3181 or janet.korsmo@csuci.edu.
5th Annual Science Carnival- Nov. 2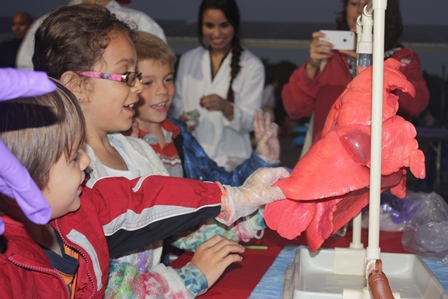 K-8 students and their families are invited to attend the 5th annual Science Carnival, 5-8 pm on Saturday, Nov. 2 at Thurgood Marshall Elementary School in Oxnard.
The Science Carnival is a spooky science/ Halloween themed event that is designed to give kids a hands-on experience with science, technology, engineering, and mathematics. Over 70 science activities and demonstrations are available for kids to experiment with. The event and parking are free. Kids are encouraged to wear their costumes. Additional details are available at http://www.csuci.edu/sciencecarnival/.
Volunteers from the CI community are welcomed. If you are interested in volunteering, visit http://www.csuci.edu/sciencecarnival/volunteer.
For more information, contact Phil Hampton, Professor of Chemistry, at ext. 8869 or Philip.hampton@csuci.edu; or Sandra Birmingham, STEM Outreach Coordinator, at ext. 3597 or Sandra.birmingham@csuci.edu.
10th Annual Graduate & Professional School Fair- Nov. 6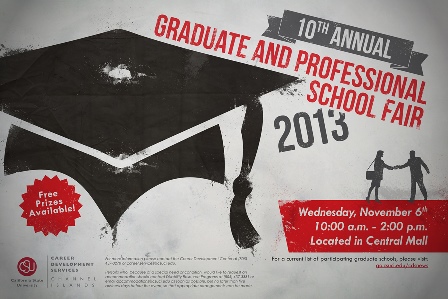 On Wednesday, Nov. 6, Career Development Services will host the annual Graduate & Professional School Fair from 10 a.m. – 2 p.m. at the Central Mall on campus.
CI students and alumni are invited to meet with graduate school representatives from local and regional programs to gain information about admissions requirements and distinctive program features.
For more information, contact Amanda Carpenter, Coordinator of Career Development Services & Henry L. "Hank" Lacayo Institute Internship Program, at ext. 3270 or Amanda.carpenter@csuci.edu.
cinÉngage presents: "Not My Life"- Nov. 13
As a part of the documentary series, cinÉngage, the Center for International Affairs, the World Affairs Council of the Central Coast, and the Centers for Community and Multicultural Engagement present, Not My Life, on Wednesday, Nov. 13, from 4 – 6 p.m. in Malibu Hall 100.
The film depicts the cruel and dehumanizing practices of human trafficking and modern slavery on a global scale. It looks at cases on five continents in a dozen countries, showing us how millions of children are exploited every day through an array of practices, such as forced labor, domestic servitude, begging, sex tourism, and child soldiering.
A 30-minute excerpt of the film will be shown, followed by panelists from non-governmental organizations working on these issues, a filmmaker from the film, Eden, which documents the same human trafficking issues, and the woman who is the subject of Eden; there will be information about how students can take action.
For more information, contact Pilar Pacheco, Associate Director for the Center for Community Engagement, at ext. 8851 or pilar.pacheco@csuci.edu.
R.A.D. for Men- Nov. 16-17
The CI Police Department will be offering Men's R.A.D. class, 9 a.m. – 3 p.m., Nov. 16-17 for CI students, staff, and faculty.
This is a 12-hour class (6 hours each day) with a $20 registration fee due at sign-up. The fee will be fully refunded upon completion of all 12 hours in the program. Class size is limited, so register now at Public Safety located in Placer Hall. Deadline to register for this class is Friday, Nov. 1st at 5 p.m.
For more information, contact Rachel Huff, Community Involvement Coordinator, at ext. 8444 or Rachel.huff@csuci.edu or RAD@csuci.edu.
Return to the Table of Contents.
© Wavelength October 17, 2013