Faculty member aims to Race Across America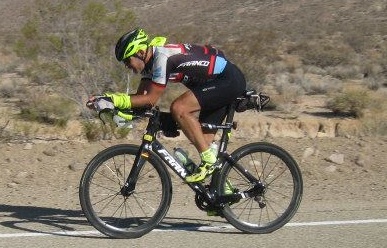 When Dale Capewell is not in a CI classroom teaching physics, he's probably riding his bike. He recently won the Race Across the West (RAW), an 860-mile race from Oceanside, CA to Durango, CO, completing the race in two days, 16 hours, riding essentially non-stop, all day and night, covering about 320 miles/day. He is among a group of endurance cyclists who enjoy this sort of challenge and competes in races from 200-mile "double-centuries" to the 3000-mile coast-to-coast Race Across AMerica (RAAM).
With support from friends, colleagues, students, family, and sponsors, Dale hopes to race RAAM in 2014. This is an enormous challenge, requiring not just his own time, but also the time of his support crew and the cost of funding the 10-12 day journey. For information on past race participation and sponsorship opportunities, visit http://www.dalecapewell.com/Cycling.html
or https://www.facebook.com/DaleRidesRaam.
For more information, contact Dale Capewell at ext. 2780 or dale.capewell@csuci.edu.
October is National Cyber Security Awareness Month
We all need to do our part to make sure that our online lives are kept safe and secure. During National Cyber Security Awareness Month—observed in October —please take the time to review some of our resources available on our Information Security Awareness website at http://www.csuci.edu/its/security/ncsam-2013.htm to help become aware of the current landscape for cyber-threats.
For more information, contact Neal Fisch, Information Security Officer, at ext. 3278 or neal.fisch@csuci.edu.
Return to the Table of Contents.
© Wavelength October 17, 2013