Faculty classical music performance – April 23
A free classical music concert will be held on Wednesday, April 23 at 7 p.m. in Mailbu Hall 120.  Performers Jesse Elliott (piano), Tiina Itkonen (mezzo soprano), and Liz King (flute) will conduct three acts that include music from Handel, Mozart, Chopin, and more.  Light refreshments will be served.  For full details, view the flyer here. (PDF, 1.7MB)
For more information, contact Jesse Elliott, Professo of Mathematics, at ext. 2768 or jesse.elliott@csuci.edu.
Film Screening "The Raising of America: Are We Crazy About Our Kids?" – May 1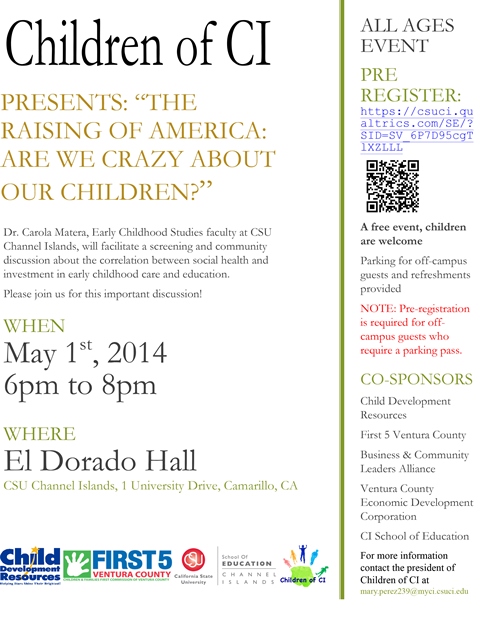 This semester, Children of CI has partnered with the School of Education, First 5 Ventura County, Business and Community Leaders Alliance, Child Development Resources and the Economic Development Corporation of Ventura County to help co-sponsor a film screening of "The Raising of America: Are We Crazy About Our Kids?"
This film, which is slated to show on May 1, 6-8 p.m. in El Dorado Hall,is open to the public and discusses the importance of investing in early childhood care and education and the benefits that doing so can have on future generations. If you are interested in attending, please register here.
For the past three years, CI has been studying a need for childcare services for students on campus and preparing plans for sustainable change. In spring 2012, a group of students, faculty and staff examined the need for affordable and reliable childcare. Since then, much progress has been made on this childcare initiative. One of the most recent accomplishments has been the formation of Children of CI club. Children of CI was created in an effort to raise awareness about the needs of students as parents and to advocate for  development of an affordable and reliable childcare at CI.
For more information, contact Kaia Tollefson, Associate Professor of Education, at ext. 3125 or kaia-joan.tollefson@csuci.edu.
Celebration of Service - May 7
The Center for Community Engagement invites the campus community to the 2014 Celebration of Service on Wednesday, May 7, from 11 a.m. – 2 p.m. in the Petit Salon, to honor faculty, community partners' and students' community engagement efforts. In addition to the awards luncheon and networking with community partners, the event will feature a poster session, highlighting several service-learning projects/research.
The Celebration of Service brings the community together to acknowledge the growth and impact that these projects/research contribute to our students and the community. To RSVP for the event, visit http://go.csuci.edu/cce.
This year's celebration will include a special presentation of the Richard E. Cone Award for Excellence & Leadership in Cultivating Community Partnerships in Higher Education.
For more information, please contact Pilar Pacheco, Managing Director, Center for Community Engagement at pilar.pacheco@csuci.edu.
Students to receive honors, awards at Honors Convocation Ceremony, May 10
CI will bestow honors on high-achieving graduating seniors during its 2014 Honors Convocation, Saturday, May 10, at 6:30 p.m. at the John Spoor Broome Library Plaza. The ceremony is open to all students earning honors and graduating from Fall 2013 through Summer 2014. To receive honors at graduation, a student must have completed a minimum of 30 units at CI for a letter grade and earned a grade point average of 3.50 or above in all CI and transfer coursework. Graduates may receive honors at one of the following three levels: cum laude for GPAs of 3.50 – 3.74; magna cum laude for GPAs of 3.75 – 3.89; and summa cum laude for GPAs of 3.90 – 4.0.
CI also celebrates the outstanding achievements of graduating seniors in areas that span the campus. Graduating President's Scholars will be recognized during the ceremony. CI also recognizes outstanding students in each major with Program Honors, and acknowledges students with achievements in the areas of community engagement and integrative, multicultural, and international perspectives with Mission Center Awards. Graduating students who are members of the Mortar Board Four Pillars Chapter, the nation's premier honor society, will also be recognized during the event. Additional awards will include the Senior Leadership Award, granted to students who have demonstrated exemplary student leadership, scholarship and service, and the Silver Dolphin Award, granted to student leaders who have contributed significantly to the quality of life at CI.
For additional information contact Merissa Stith, Academic Events Coordinator at ext. 8548 or merissa.stith@csuci.edu.
Commencement – May 17
More than 1,600 eligible CI students will receive degrees in separate morning and afternoon commencement ceremonies on May 17 to be held at the South Quad. The morning ceremony will begin at 9 a.m. and will include the following academic programs: Applied Physics, Biology, Business, Biotechnology & Bioinformatics, Biotechnology/MBA (dual degree), Chemistry, Communication, Computer Science, Economics, Environmental Science & Resource Management, Information Technology, Mathematics, Nursing, and Spanish.
The afternoon ceremony will begin at 3 p.m. and will include the following academic programs: Anthropology, Art, Chicana/o Studies, Early Childhood Studies, Education, English, History, Liberal Studies, Performing Arts, Political Science, Psychology, and Sociology.
Graduating students may pick up a maximum of two Commencement Parking Permits between the hours of 8 a.m. and 4:30 p.m., Monday – Thursday, or 8 a.m. to 3 p.m. on Friday, from Police & Parking Services located in Placer Hall. Students unable to pick up Commencement Parking Permits during regularly scheduled hours may call Parking Services at 805-437-8430 to make arrangements for after-hours pick-up.
Beginning Tuesday, May 13, the remaining Commencement Parking Permits will be distributed on a first-come, first-served basis. Degree candidates and guests who arrive on campus without a Commencement Parking Permit will not be permitted to park on campus. Degree candidates and guests may also utilize the free VISTA bus and Roadrunner shuttle transportation, both of which will be available at the Camarillo Metrolink Station.
For additional information contact commencement@csuci.edu or 805-437-3100, or visit www.csuci.edu/commencement.
10th Annual Science Graduate Reception - May 17
The Biology and Chemistry programs are hosting the 10th annual Science Graduates Reception, which includes all graduates from the Biology, Chemistry, Environmental Science & Resource Management, and Physics programs. This annual tradition brings students and their families together with science faculty and staff to share in the celebration of their graduation from CI.
Students are invited to submit biographies that are displayed during the reception and posters are hung on the walls to showcase student work.
The reception is immediately following the morning Commencement ceremony in Aliso Hall. RSVP is requested.
For more information and to RSVP for the reception, contact Jessyka Dalton, Academic Program Analyst, at ext. 2779 or jessyka.dalton@csuci.edu.
Return to the Table of Contents.
© Wavelength April 17, 2014