goCI –  mobile app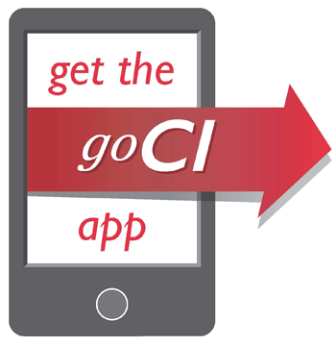 Technology & Communication (T&C) is pleased to announce the launch of goCI, CI's official mobile app for iOS and Android devices.
Created by T&C and powered by Blackboard, goCI helps students, employees and campus visitors get fast, easy access to the campus directory, map, events calendar, and much more!
Visit http://go.csuci.edu/mobile to download the free app and to learn more.
For more information, contactITS Project Management Office at pmo@csuci.edu.
"WhyCI" video contest deadline extended
The "WhyCI" video contest submission deadline has been extended to April 21. CI is offering $1,500 scholarships to one current student and one prospective (admitted) student who can best answer the question of why they chose CI in a 15-second video.
To enter the contest, students must submit their video via Instagram no later than Monday, April 21, using the hashtag #whyCI. The video must be 15 seconds or less, explain why the student chose CI, and clearly identify the student in text or audio. It can be a combination of live-action, still photos, and/or animation sequences.
Visit http://www.csuci.edu/whyci for full rules or email whyci@csuci.edu with questions. 
Entries will be judged by CI's Marketing Advisory Committee on message content, visual creativity, originality, and the number of "likes" received. The top two students will each receive a $1,500 scholarship, usable only at CI. The two grand prize scholarship recipients will be notified in a surprise visit to their classroom.
Eight other finalists will earn $50 dining gift cards provided by University Glen Corp., which can be used at any of CI's on-campus restaurants or dining facilities.
For more information contact Tom Emens, Multimedia Coordinator, at whyci@csuci.edu.
2014 CIS Research Collaborations Retreat
Faculty, staff, and administration members interested in developing an interdisciplinary project to explore a facet of Climate through research, performance, public display, or interactive activity are invited to participate in a 1-day retreat on Friday, May 16 at the CI Boating Center.  The retreat will provide participants with the opportunity to connect with others and discuss possible projects related to Climate.
For full details, view the flyer here. (PDF, 16.5KB)
The deadline to apply for participation is Sunday, April 27 at 11:59 p.m.
For more information, contact Kathryn Leonard, CIS Director, at ext. 3127 or Kathryn.leonard@csuci.edu.
Undergraduate Courses Offered in Thousand Oaks
Beginning in fall 2014, CI will offer state supported undergraduate courses at the Extended University campus in Thousand Oaks. The course offerings include upper division general education and core major courses in Business, Communication, and Psychology. Additional information and directions to the campus are available at http://www.csuci.edu/academics/schedule/2014/fall/to-campus.htm.
For more information, contact Dan Wakelee, Associate Provost, at ext. 8542 or dan.wakelee@csuci.edu.
SPIRaL - Call for Proposals
The Stepladder Program for Interdisciplinary Research and Learning, funded by the W.M. Keck Foundation, solicits proposals for 6-8 week summer research experience for undergraduates. A faculty mentor (or faculty team) will supervise 2-8 research students at any level on original research, scholarship, or creative activities that integrate perspectives from more than one discipline. Full- and part-time lecturers are strongly encouraged to apply. A typical budget for such a group might include a $5000 stipend for faculty, a $3000 stipend for each student, plus supplies and costs for research-related travel. NOTE: All funds MUST be spent by July 31, 2014 though work on the project can continue until August 15, 2014. The Keck Foundation funding period ends in August.
To view full details, view the flyer here. (PDF, 22KB)
For more information, contact Motoko Kitazumi, Centers Coordinator, at ext. 2608 or Motoko.kitazumi@csuci.edu.
CI designated a 'Tree Campus USA' for second year
For a second consecutive year, CI has earned recognition as a "Tree Campus USA" from the Arbor Day Foundation.  Approximately 200 campuses across the country have achieved the distinction, which salutes colleges and universities for their environmental stewardship, healthy management of campus forests, and engagement of staff and students in conservation goals.  CI achieved the title by meeting Tree Campus USA's five standards, which include maintaining a tree advisory committee, a campus tree-care plan, dedicated annual expenditures for its campus tree program, an Arbor Day observance, and student service-learning projects.
The University will receive formal recognition by the Arbor Day Foundation on April 22, as CI celebrates its third annual Earth Extravaganza, a campus and community celebration of Earth Day and Arbor Day.  The event being held from 1 to 4 p.m. at CI's Central Mall will feature a combination of "green" festivities, speakers, music, demonstrations, information booths, vendors, and service opportunities.
Other planned events include:
"Tapped" Film Showings
Monday – Thursday, April 21 – 24 at 12 p.m., Ojai Hall Lobby
Is access to clean drinking water a basic human right or a commodity that should be bought and sold like any other article of commerce? This timely documentary is a behind-the-scenes look into the unregulated and unseen world of an industry that aims to privatize and sell back the one resource that ought never to become commodity: our water.
Pollinator Conservation
Thursday, April 24 from 1 – 4 p.m. at Long Grade Creek
Join Facilities Services and the Green Generation Club in assisting the conservation of pollinators such as the Monarch Butterfly by planting flowers near Long Grade Creek on campus.
E-Waste Day
Saturday, April 26 from 9 a.m. to 2 p.m. at the A3 Parking Lot
CI's Center for Community Engagement is providing free e-waste recycling services to CI and the local community.  Anything that plugs into an electric socket will be accepted (i.e. blow dryers, toasters, computers, etc.)  It's quick and easy – just drive by and drop off your e-waste.
For more information contact Austin Eriksson at ext. 3507 or Austin.eriksson@csuci.edu.
Return to the Table of Contents
© Wavelength April 17, 2014