11th -Annual Alumni & Friends Dodger Day - Sept. 6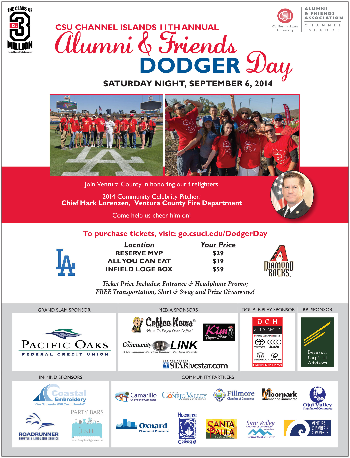 CI invites community friends, supporters, alumni, students and employees to turn Dodger Stadium red with CI pride during the 11th-Annual Alumni & Friends Dodger Day on Saturday, Sept. 6.
More than 1,000 CI alumni and friends are expected to attend as Chief Mark Lorenzen, Ventura County Fire Department throws out the ceremonial first pitch before the Los Angeles Dodgers take on the Arizona Diamondbacks.
Alumni & Friends Dodger Day is open to the public. Tickets are available on a first-come, first-served basis for $29 each in the Reserve MVP and $39 each in the all-you-can-eat. Tickets include free bus transportation between campus and Dodger Stadium, a commemorative CI Dodger Day t-shirt and prize giveaways.
For additional information, contact Jonathan Neira, Specialist, Alumni Engagement and Annual Fund, at ext. 3764 or jonathan.neira746@csuci.edu; or visit www.csuci.edu/alumni/.
Project ACCESO Open House - Sept. 10
The campus community is invited to Project ACCESO's open house on Wednesday, Sept. 10 from 4 to 6 p.m. in El Dorado Hall. Come and meet faculty, staff, and students in your area of study while learning more about what Project ACCESO has to offer.
The open house will provide an opportunity to learn more about Project ACCESO's mission and goals, meet the staff, and find out about upcoming events. Tours of the facility and a meet and greet with key collaborators on Project ACCESO will also be included.
For additional information contact Aracely Flores, Academic Success Coach, at ext. 3650 or aracely.flores@csuci.edu.
Emergency Preparedness Forum - Sept. 25
The annual Emergency Preparedness Forum will be held Thursday, Sept. 25 from 11 a.m.to 1 p.m. in the South Quad. Students, staff and faculty will have an opportunity to learn campus and personal safety preparedness.
The information provided at www.readyventuracounty.org can be applied to emergency planning at home as well as the work place.
For additional information contact Maggie Tougas, Emergency Manager, at ext. 3765 or Maggie.tougas@csuci.edu.
R.A.D. Classes - Oct. 6, 8, 13 & 15
Rape Aggression Defense (R.A.D.) is the largest women's self-defense training program in the country and is taught by more than 350 universities and municipal law enforcement departments nationwide.
The CI Police Department will be offering a R.A.D. program on Oct. 6, 8, 13, and 15 from 6 to 9 p.m. This is a 12-hour class (3 hours each day) and participants must attend all four sessions to complete the program. Class size is limited so sign up now at the CI Police Department in Placer Hall. A $20 fee will be collected at the time of registration that will be fully refunded upon completion of the course.
For additional information contact Rachel Huff, Crime Prevention & Community Coordinator, at ext. 8444 or Rachel.huff@csuci.edu.
Return to the Table of Contents
© Wavelength August 28, 2014