Research Station Dedicated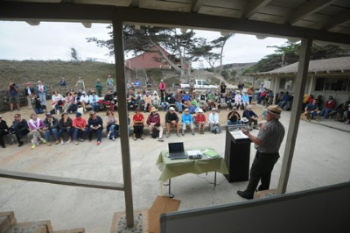 CI formally dedicated its research station on Santa Rosa Island (SRI) at an event on Aug. 13. Over 100 people from CI, the National Park Service, partner organizations, and the public traveled to Santa Rosa Island to celebrate the opening and operation of this facility. Officially named Santa Rosa Island Research Station: A California State University Channel Islands Undergraduate Research Campus, CI operates the research station with facilities, including a bunkhouse that accommodates overnight guests, provided by the National Park Service.
President Rush was joined by Russell Galipeau, the superintendent of Channel Islands National Park (CINP), Research Station Manager Cause Hanna, CI faculty and students in describing the unique partnership between CI and the CINP.
Between the first class visit in September 2013 and July 2014, more than 30 CI faculty visited or conducted research at the station and more than 150 CI students participated in research or service learning activities. In addition, 10 other colleges and organizations used the facility during that period. There were more than 1,500 user nights from overnight stays in the first nine months of operation.
Find out more about current activities at the research station on Facebook at https://www.facebook.com/SantaRosaIsland.
Alumni & Friends Association Announces Endowed Scholarship Fund
The Alumni & Friends Association is pleased to announce the establishment of the CI Alumni & Friends Endowed Student Scholarship Fund. After three years of fundraising the Fund has raised over $30,000 and is the first scholarship fund in the program's 10-year history. In 2014, the association will allocate two $500 scholarships with a goal of awarding two $1,000 scholarships in future years.
The scholarship will be merit-based for students who are enrolled full-time in accordance to CI policy. For consideration students must have a 3.0 GPA or higher and demonstrate a high level of community involvement. The scholarships will be awarded to one undergraduate and one graduate level student that meets the criteria.
The Alumni & Friends Association offers services to the graduates of CI, providing a connection to friends, faculty and staff while offering access to events and programs in career development and open academic programs. Our goal is to keep alumni informed about the University and to start a culture of philanthropy in the true spirit of CI.
For additional information contact Zach Ingram, Development Administrative Assistant, at ext. 3525 or Zachary.ingram@csuci.edu.
Summer conferences generate campus revenue
Student Housing Conferences successfully hosted 21 summer conference groups generating an excess of $760,000 in campus revenue. Thanks to all who provided support to the program! You made it possible for our nearly 4,500 residential guests to have a pleasant and memorable experience while at CI. We're looking forward to continuing to work with you as we begin planning for the 2015 season.
For additional information on the 2014 season, or summer conferencing in general, please contact Lisa Racine, Conference Specialist, at ext. 8961 or lisa.racine@csuci.edu.
New Online Software Store
CI faculty and staff can now purchase Microsoft Office for $9.95, Win 8.1 for $9.75 and other great titles at our online software store. All online and a couple clicks away from buying popular titles at cheap prices. To get started visit: csuci.onthehub.com and when prompted, sign in using your myCI credentials.
For additional information, contact the IT Solution Center
CI Solution Center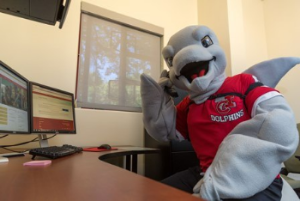 The CI Solution Center has been created to serve as a central resource for the CI community and the general public as a point of contact for all things CI. When callers dial the 8400 extension they will reach operators who can provide essential campus information and provide contact information for other areas on campus for specific inquiries.
For additional information, contact Tara Hughes, Solution Center Coordinator, at ext. 3986 or tara.hughes@csuci.edu.
CSU Funding Opportunity Hangs in the Balance
This week marks the end of the legislative year and a key bill for the California State University hangs in the balance. We need your help to advance SB 872 to the Governor's desk. This bill would appropriate $50 million to both the California State University and the University of California for "pay-as-you-go" funding urgently needed by our campuses to address critical infrastructure issues.
For CI, our deferred maintenance needs are great. Some of our highest priority concerns include:
Building Systems: repair electrical, exterior, fire/life safety, HVAC, interior and plumbing on various existing facilities as well as roof replacements. Several buildings are served by 50 to 60 year old electrical systems, and by equipment for which parts are no longer available. Failure of critical building systems will cause these buildings to be shut down, resulting in cancellation of classes and disruption of business.
Infrastructure and vacant facilities: with the conversion of buildings from former hospital use to academic use, the remaining vacant buildings require restoration and repair and/or replacement of existing systems including the expansion of site infrastructure to support the additional facilities. These buildings are contaminated with asbestos and lead, and have no working electrical or plumbing systems. Funds are needed to repair and replace the building systems, and make the buildings ready for the community as the enrollment grows over the next decade.
Please contact your local senator immediately to request that he/she talk to senate leaders about advancing SB 872 to the Governor's desk. For your convenience, we have drafted a letter (PDF) that you can email to your state senator today.
For additional information contact Celina Zacarias, Director of Community & Government Relations, at ext. 8920 or Celina.zacarias@csuci.edu.
Return to the Table of Contents
© Wavelength August 28, 2014