Sierra Hall Groundbreaking - Mar. 14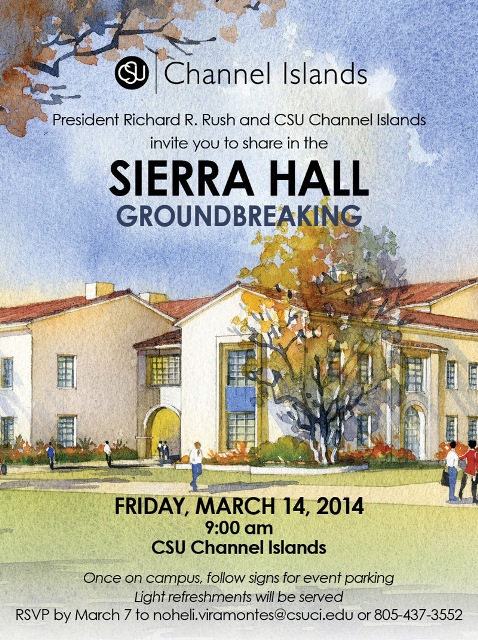 President Rush invites you to share in the Sierra Hall Groundbreaking on Friday, March. 14 at 9 a.m.
The project includes the construction of a new building which will house laboratories, offices, lecture spaces, and related support spaces to accommodate growth in the departments of Computer Science, Environmental Science & Resource Management, Geography, Geology Psychology and Physics. Completion of Sierra Hall is expected by the summer of 2015.
For more information, contact Noheli Viramontes, Events Assistant, at ext. 3552 or noheli.viramontes@csuci.edu.
Peace Corps Information Session – Mar. 18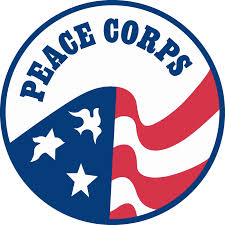 The Center for Community Engagement is hosting a Peace Corps information session. As the preeminent international service organization of the United States, Peace Corps Volunteers work at the grassroots level toward sustainable change that lives on long after their service. Peace Corps sends Americans abroad to undertake the most urgent needs of people around the world.
Interested in learning more about this incredible opportunity? Join us on March. 18 from 12  to 2 p.m. in Ojai Hall, Room 1958 to listen to a Peace Corps representative and  Christopher Scholl, as they share their experience of serving. Q&A will follow.
Please RSVP at https://rhamson.wufoo.com/forms/q1bvu3ed1emuxb2/.
For more information, contact Rebecca Hamson at ext. 3619 or Rebecca.hamson903@myci.csuci.edu.
Recognizing and Preventing Violence in the Workplace, Brown Bag Session - March. 18 (NEW DATE)
Faculty and staff are invited to join CI Police Chief John Reid for a lunchtime brown bag presentation and discussion on Tuesday, March 18 from 12 to 1 p.m. in the Broome Library, Room 1360. Lemonade, tea, and cookies will be provided.
Please RSVP.
For more information, contact Rachel Huff, Community Involvement Coordinator, at ext. 8444 orRachel.huff@csuci.edu.
CI Professional Development Courses- March 25 & 26
As part of the campus' commitment to build a robust training program to support professional development, a series of on-campus trainings will be provided later this month.  See below for the full schedule; all workshops will be held in Broome Library, Room 1360.
Diversity in the Work Environment: Working with Colleagues in a Conscious, Mature, Enjoyable Manner
Tuesday, March 25, 10 a.m. to 12 p.m.
Temperament on the Job: When We Get on Each Other's Nerves: It's Just Temperament Differences
Tuesday, March 25, 1:30 to 3:30 p.m.
Delivering Stellar Customer Service – The Key Ingredients
Wednesday, March 26, 10 a.m. to 12 p.m.
The Fundamentals of Effective Management & Supervision
Wednesday, March 26, 1:30 p.m. to 3:30 p.m.
Presenter Lauren N. Nile, Esq. is an author, keynote speaker, trainer, and licensed attorney with 23 years of broad experience in designing, developing and implementing a wide range of Organizational Development activities intended to assist organizations in increasing their emotional intelligence, compassion, and productivity.
Please email your R.S.V.P. to JoAnn Stuermer, Recruitment & Training Specialist: joann.Stuermer@csuci.edu
If you have questions about CI's Professional Development Program, or would  like additional details , contact Pamela Abbott-Mouchou, Organizational Effectiveness Officer, at ext. 2098 or pamela.abbott@csuci.edu.
Alcohol, Tobacco, and Other Drugs Conference – April 3-4
The 2014 state-wide Alcohol, Tobacco, and Other Drugs (ATOD) Conference - Forecasting the Future: Intervention Today, Prevention Tomorrow, will be hosted by CI this year, featuring special keynote presentations by President Rush as well as actor Louis Gossett, Jr.
The two-day event will highlight best practices, policies, and programming solutions through a variety of workshops that focus on emerging ATOD patterns, issues, and behaviors among college students. In addition, the CSU system wide Aware, Awake, Alive series will be offered in collaboration with the conference.  View flyer (PDF, 1.4MB).
To learn more and to RSVP, visit: http://www.csuci.edu/atod/index.htm
Volunteers are also needed. Please see listing below in "Around Campus".
For more information, contact Jennifer Miller, Director of Student Affairs Assessment and Staff Development, at ext. 8516 or Jennifer.miller@csuci.edu.
Dolphinpalooza 2014 – April 5
You are invited to come out and celebrate Dolphinpalooza 2014!  Hosted by the Student Programming Board and I.R.A., the annual event will be held on Saturday, April 5, from 1 – 5 p.m. at Potrero Field. View flyer (PDF, 1.5MB).
Free food truck vouchers will be distributed to the first 300 CI students.
Entertainment includes performances by Paperback Writer: The Beatles Experience, CSU Channel Islands University Orchestra and Good Deeds.
Attractions include food trucks, Euro bungee, Sumo wrestling, rock wall climbing, Ferris wheel, bounce house, Henna tattoos, a photo booth and more.
Complimentary event parking is limited and only available in the designated parking lot. Upon arriving at the campus, follow the directional signage to the event parking. If you are in need of disability accommodations for the event, please contact our Disability Resource Program at accommodations@csuci.edu or 805-437-3331, at least 14 days in advance.
For more information contact Student Programming Board at ext. 2730 or asi.spb@csuci.edu.
Turbulence in the Global Economy and Investment Implications – April 11
On Friday, April 11, from 7:30 to 9:30 a.m., the Martin V. Smith School of Business & Economics, in partnership with Santa Barbara City College, will present "Turbulence in the Global Economy and Investment Implications."
Presented by the Institute's Director, Sung Won Sohn, the event will take place at Santa Barbara City College, 721 Cliff Drive, Santa Barbara.  The event is free and breakfast will be served. Parking is available in lots 4A-4D on the West campus and permits will not be required. 
Register by April 4 at https://csuci.wufoo.com/forms/iger-event-s80oea0gr75g6/. View flyer (PDF, 218KB). 
For more information, contact Jennifer Iden, Administrative Support  Coordinator, at ext. 3979 or Jennifer.iden@csuci.edu.
2014 César E. Chávez Day of Service and Learning: Farmworker Immersion Project – April. 12
To honor the life and work of César E. Chávez, the Center for Community Engagement, in collaboration with Ventura County Clergy Laity for a United Economy, will be hosting the Farmworker Immersion Project on Saturday, April 12, from 8 a.m. to 2 p.m.
The Farmworker Immersion Project will guide students through a firsthand experience of typical farm work life in Ventura County. We will speak with farmworkers and their families at their homes, and then visit a local berry farm to harvest berries and learn about the local agricultural business.
A mandatory orientation must be attended for participation in the Farmworker Immersion Project. Orientation dates are Tuesday, April 8 from 3-5 p.m. in Broome Library, Room 1756 OR Wednesday, April 9 from 3-5 p.m. in Broome Library, Room 1756.
Attendance is free.
For more information, contact Pilar Pacheco, Managing Director, Center for Community Engagement at ext. 8851 or pilar.pacheco@csuci.edu.
E-Waste Day – April 26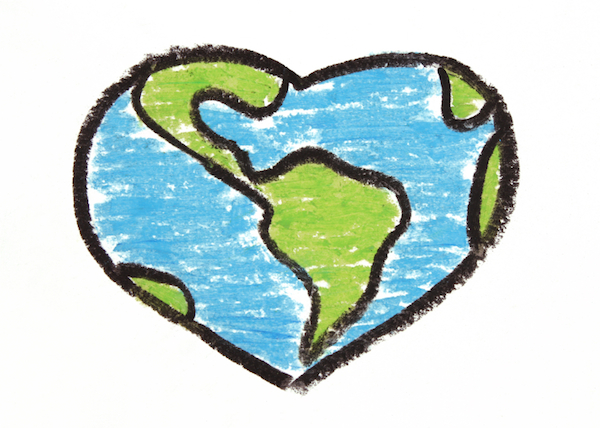 To celebrate Earth Day, the Center for Community Engagement will partner with G & C Technologies to provide free e-waste recycling services to CI and the local community on Saturday, April 26 from 9 a.m. to 2 p.m. in the A3 parking lot. Anything that plugs into an electric socket will be accepted (i.e. blow dryers, toasters, computers...). It's quick and easy, just drive by and drop-off your e-waste!
For information, contact Kaitlyn Cotton, Community Partner Coordinator, Center for Community Engagement, at ext. 3191 or Kaitlyn.cotton@csuci.edu.
© Wavelength March 13, 2014