"WhyCI?" winner announced!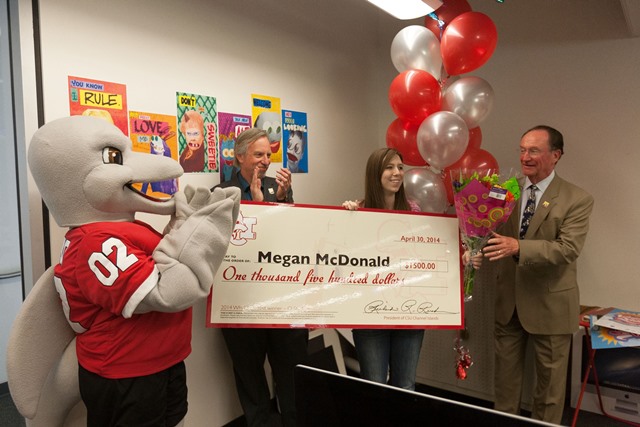 Congratulations to current CI student Megan McDonald, winner of our inaugural "WhyCI?" scholarship contest! CI's very own "Prize Patrol" was on-hand this morning to surprise Megan in class with a $1500 check and a bouquet of balloons and flowers. President Rush, CIO Michael Berman, and Ekho were also there to personally congratulate Megan for her winning "WhyCI?" video.
We still have (8) runner up awards to give out, so we'd like to invite ALL WhyCI contest participants to a special celebration and photo-shoot to feature all of you on the cover of the next issue of CI's Channel Magazine! The event will take place on Wednesday, May 14th from 3-4pm in Malibu Hall 100. Come see all the winning videos, and enjoy free pizza and soft drinks!
For more information contact Tom Emens, Multimedia Coordinator, at whyci@csuci.edu.
Nam receives President's Award for Innovations in Teaching & Learning
Sunghee Nam, full-time Lecturer in Sociology, has received the 2014 President's Award for Innovations in Teaching & Learning, presented in recognition of an individual who has made unique and significant contributions to the teaching mission of the University.
Dr. Nam was selected for her emphasis on service learning in a global context, and for her work with linked learning where her students at CI shared a service project with students at Oxnard College. Her students have participated in a variety of service learning projects that connect them to the larger community, including the Economic Recession Oral History project, now archived in the Broome Library; an on-going project identifying issues faced by first generation college students; and finally her work in South Korea with CI students on the impact of globalization in Korean culture and society. Dr. Nam will be recognized at CI's Honors Convocation May 10. In addition, she was nominated for the Carnegie Foundation's U.S. Professors of the Year Award.
For more information, contact Beth Hartung, Interim Assistant Provost, at ext. 3274 or Elizabeth.hartung@csuci.edu.
Return to the Table of Contents
© Wavelength May 1, 2014