Camarillo Trolley Service
In partnership with the City of Camarillo, the Camarillo Chamber of Commerce and local business leaders, a trolley service was launched on Oct. 1st. It provides quick and reliable access to the city's major business hubs including the Premium Outlets, the Target Center and Old Town.
The trolley service is free for everyone and can be used in conjunction with the VISTA bus which arrives and departs from the Metrolink Station. The trolley is perfect for people who live on campus and want to get into the city without using their personal vehicle or for those who ride the bus regularly.
For more information, contact Transportation & Parking Services at ext. 8430 or parking@csuci.edu.
Faculty Innovations and Teaching Studio Now Open
For the past 18 months Facilities Services carpenters, electricians, and painters have worked to help create the Faculty Innovations and Teaching Studio (FIT Studio) located in Solano Hall Room 1201. The FIT Studio serves as a way to support communication, discussions, and collaboration among faculty in order to help professors produce world-class content for their students. The Facilities Services team assembled two sound booths equipped with technological tools that allow instructors to record content for lectures. Acoustic sound foam installed in the two booths reduces outside noise and deadens the sound inside generating clearer recordings.

The carpenters helped assemble a live action studio to empower instructors to cover material relevant to their students. The electricians installed a metal grid on the ceiling of the film studio and attached lights to it for optimum lighting while recording. Instead of actual white boards, the paint shop painted a white board like substance across the walls for sustainable and economical purposes. Eighty percent of the FIT Studio is dedicated to support faculty community engagement and twenty percent is used for technology content development. The FIT Studio is open as of this fall.
For more information, contact Amanda Nichols, Student Assistant, Facilities Services, at ext. 3301 or Amanda.nichols750@csuci.edu.
Welcome the Conferences & Events staff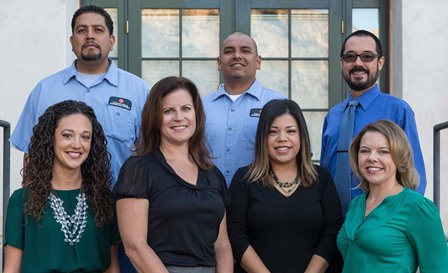 Join us in welcoming a new service on campus, Conferences & Events. Although still in its formulation stages, the Conferences & Events staff will strive to be a one-stop shop for conferences and events being held on campus. They are working diligently to create comprehensive guidelines to streamline the process for the campus community and the community at-large to host events or schedule conferences on campus.
In the coming weeks, Conferences & Events will launch their website, host monthly training sessions on how to use 25Live and work with our campus partners to be superior service providers.
Conference & Events Staff
Jeri Armstrong – Manager of Conferences & Events
Merissa Stith – Assistant Manager of Conferences & Events
Lisa Racine – Event Specialist
Danny Haws – Event Specialist
Esthefany Polanco – Administrative Support Assistant
Steven Contreras - Laborer
Leo Olmos – Laborer
For more information, contact Jeri Armstrong, Manager of Conferences & Events, at ext. 3783 or jeri.armstrong@csuci.edu.
Return to the Table of Contents
© Wavelength November 6, 2014