May is National Foster Care Month
Join CI's Promoting Achievement Through Hope (PATH) Program during the month of May to celebrate National Foster Care Month. Dedicated to foster youth around the world, National Foster Care Month is celebrated in hopes of raising awareness about the challenges and obstacles foster youth must overcome to achieve milestones in their lives. According to recent statistics, only 50% of foster youth graduate high school, 10% attend college, and less than 3% graduate college (National Data Analysis System, 2015). Changes within the foster care system and working for change in the quality of care foster youth receive will help raise those statistics and ensure higher rates of success.
CI's PATH Program was established in fall 2014 with the goal of assisting students that have been in foster care, have become a ward of the court, were adopted, are in guardianship or kinship, or have experienced homelessness. The PATH Center, located in Bell Tower 1701 will have blue foster care ribbons available for pick up starting May 1, from 9 a.m. to 5 p.m. Please wear a ribbon during the month of May to show your support for foster youth.
For questions about the PATH Program, please contact Leticia Cazares at ext. 3528 Leticia.cazares@csuci.edu.
CI employees bring their game to the Corporate Games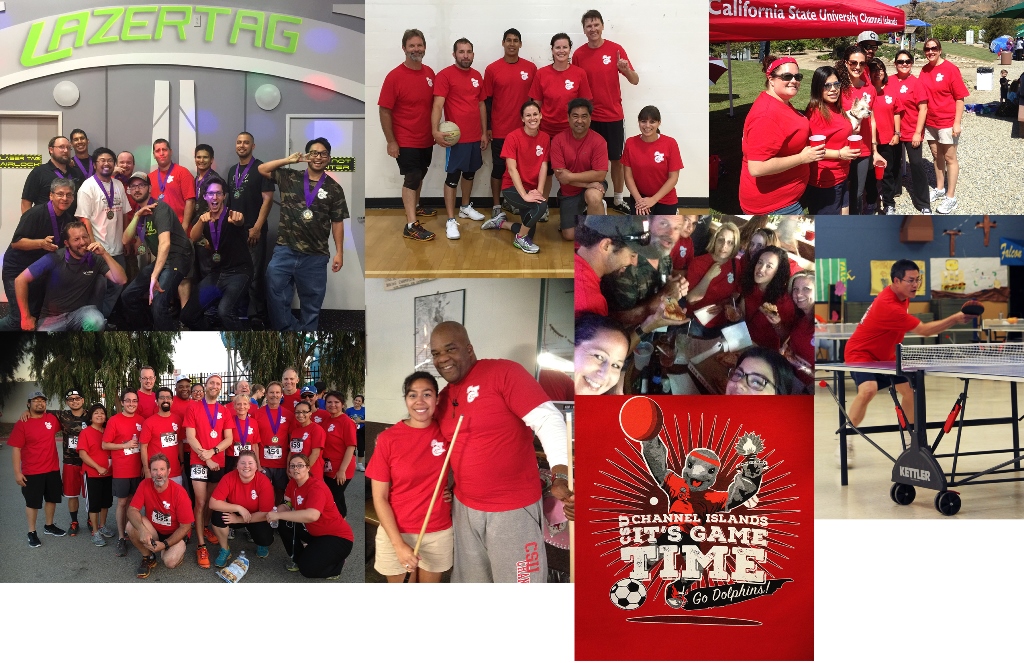 We are looking for employees to participate this Saturday in six-a-side soccer and horseshoes events for the City of Ventura Corporate Games. If you are available, please contact Joanna Murphy to complete waiver forms and receive additional information.
The CI Team has earned medals and a third place Team finish in the 5K Run, second-place silver Team medals in Paintball and first-place gold Team medals in Lasertag. They've also earned participation points many events including community service, beach & indoor volleyball, basketball, 8-ball billiards, bocce, coed & men's softball, darts and table tennis. And upcoming events include 9-ball billiards, flag football, golf, MB2 kart racing, bowling, golf, kickball, miniature golf and table games.
Members of the Team and CI community are invited to come out for the Closing Ceremonies on Saturday, May 9 at Harbor Cove Beach, Ventura Harbor and cheer on the tug-o-war and sand sculpture teams. Division trophies will be awarded at the close of the ceremonies.
For additional information, contact Joanna Murphy, Associate Director for Communication & Marketing at ext. 8915 or Joanna.murphy@csuci.edu.
Return to the Table of Contents
© Wavelength April 23, 2015