Graduate Assessments Workshop – April 23
The Graduate Studies Center is hosting a workshop to review graduate entrance exams, process and types of exams students need to take based upon their graduate school objective.
The workshop will be held Thursday, April 23 from 5 to 6 p.m. in El Dorado Hall
For more information contact Sara Alcala, Graduate Students Center Counselor and Coordinator, at ext. 3579 or sara.alcala@csuci.edu.
Business & Investment Strategy in the Context of Fast Changing Technology – April 24
On Friday, Apr. 24, from 12 to1:30 p.m. in Malibu Hall 100, the Martin V. Smith School of Business & Economics will host a seminar on the short-term and long-term U.S. and Global Economic outlook as well as how fast-changing technology is reshaping business strategies. What should businesses do to win in a very competitive global economic environment?  The closing discussion will cover investment implications for stocks and bonds.
For full event details, click here. (PDF, 229KB)
Parking is complimentary and lunch will be served. Please RSVP here.
This event is sponsored by IGER, Wells Fargo, Rabobank, and the Martin V. & Martha K. Smith Foundation.
For additional information contact Jennifer Iden, Business & Economics Coordinator, at ext. 3979 or Jennifer.iden@csuci.edu.
College Night at the Getty – April 27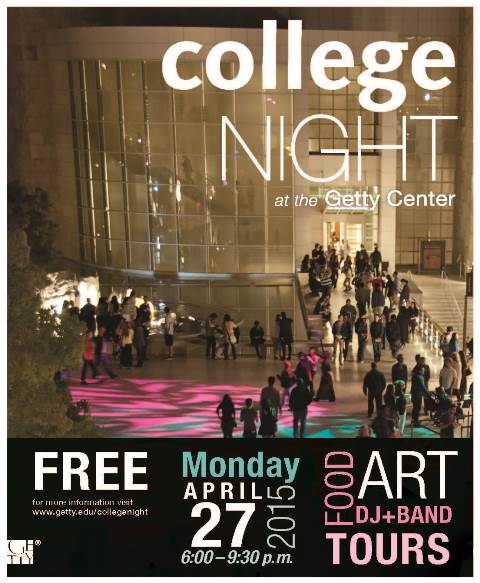 This year's College Night at the Getty Center will be held on Monday, April 27 from 6 to 9:30 p.m. , 1200 Getty Center Drive, Los Angeles.
College Night 2015 features two special exhibitions organized by the J. Paul Getty Museum: J. M. W. Turner: Painting Set Free, which brings together over sixty oil paintings and watercolors to focus on the creativity of Turner's final years, as well as, Light, Paper, Process: Reinventing Photography, featuring the work of seven photographers who have turned their attention to exploring the essence of photography, distilling it to its basic components of light-sensitive emulsions and chemical development. Also on view will be Zeitgeist: Art in the Germanic World 1800–1900 featuring the works of Caspar David Friedrich, Philipp Otto Runge, Gustav Klimt, and others.
Curators of these exhibitions will be available to answer your questions throughout the evening. After your tour of the Museum, enjoy music and free food outdoors while taking in the spectacular views.
College Night also features: Live music by UCLA-based band Eva B. Ross Foundation, meet-the-curator sessions and special tours, art demonstrations and activities, free parking, free food, cash bar and more! More details are available on the event website.
For additional information contact Gregory Acampora, Art 443 Museum Marketing Team Leader, at Gregory.acampora096@myci.csuci.edu.
Lavender Brunch – April 29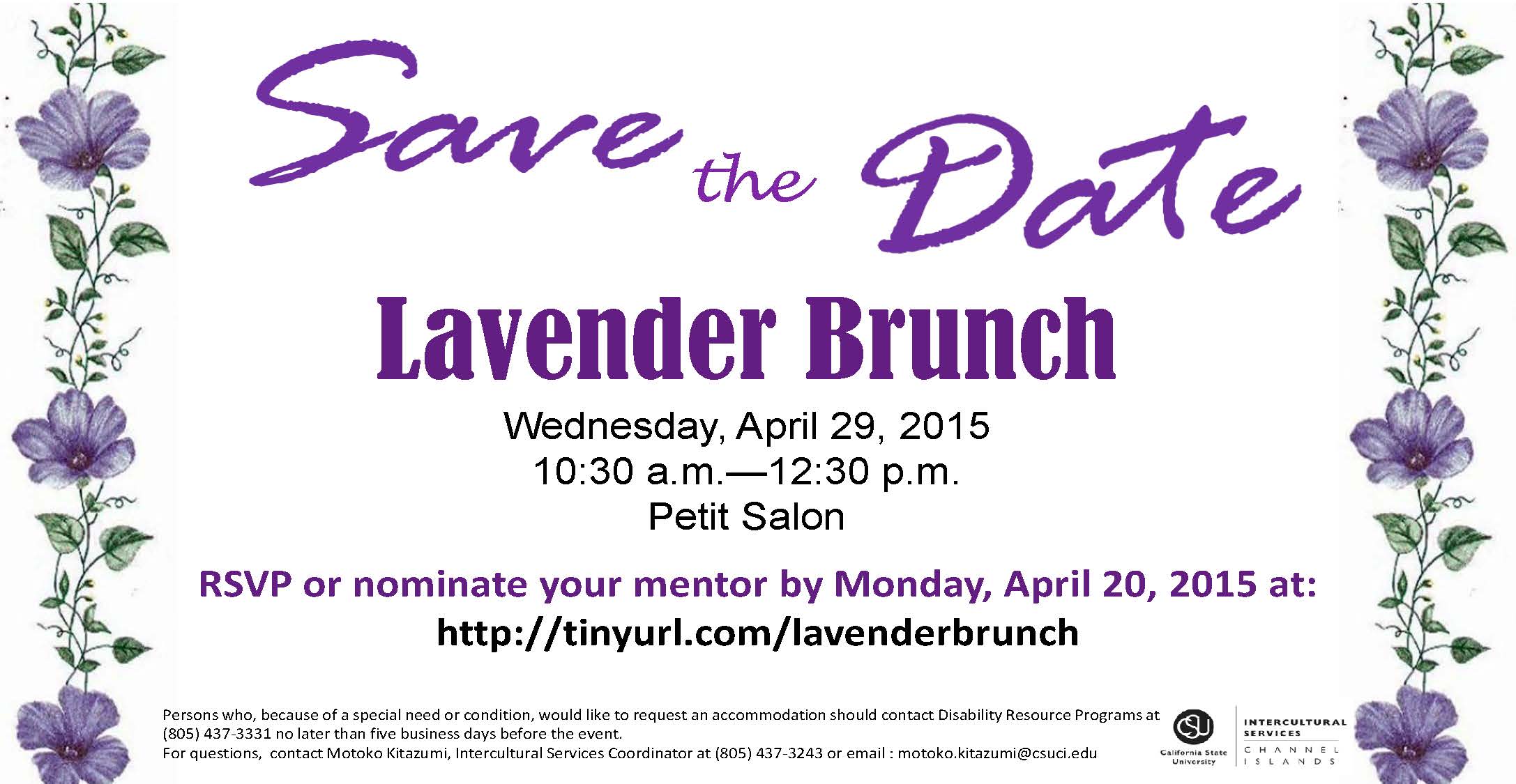 On Wednesday, April 29, Intercultural Services and Spectrum, in partnership with Provost Gayle Hutchinson and Vice President for Student Affairs Wm. Gregory Sawyer, will host a Lavender Brunch to recognize the LGBT Community and cord the graduating seniors. The brunch will take place in the Petit Salon from 10:30 a.m. to 12:30 p.m.
The Lavender Luncheon or Lavender Graduation, was created by Dr. Ronni Sanlo when she saw the need to recognize the struggle faced by LGBT students in the coming out process during their collegiate years. In addition to the importance of having a campus community that celebrates the LGBT community, campuses have adopted the Lavender Luncheon in their own unique way of sharing challenges, laughter and triumphs. At CI, all attendees will learn about the obstacles that the LGBT community has overcome and are still overcoming. You can share a meal with the people who have been recognized as mentors and allies at CI and in Ventura County.
For additional information contact Motoko Kitazumi, Intercultural Services Coordinator, at ext. 3243 or Motoko.kitazumi@csuci.edu.
Arts Under the Stars – May 1
Arts Under The Stars is a research-based collaborative Performing Arts and Art event that will take place May 1 from 7:30 to9:30 p.m. on the Broome Library lawn.  Entertainment will be provided by the incredible talent and diversity of the CI student population while enjoying a picnic on the lawn. A compilation of music, dance, theatre, film and art all created by CI students will showcase over one hundred performers in pieces ranging from classical to contemporary.
The event is free to the public. Parking is $6.00. Please bring blankets or lawn chairs and a picnic dinner. This is an alcohol free event. Warm clothing is recommended.
For full event details, click here. (PDF, 955KB)
For additional information contact Heather Castillo, Performing Arts Faculty, at 805-300-8452 or heather.castillo@csuci.edu.
GSC & Library Workshop Series – May 2
On Saturday, May 2 from 10 a.m. to 1 p.m. in El Dorado Hall, the Graduate Studies Center (GSC) and Library Services will host a workshop for thesis writers that will focus on thesis writing, and using thesis material for future publication. A Graduate Writing Instructor and Librarian will be hosting the workshop to assist students with their thesis writing and research. They will also be discussing what to do with your thesis and research by contributing your work to the community by means of writing or presentations.
Coffee and light refreshments will be served. Please RSVP to ext.-3579 or gs.center@csuci.edu. For full details on each session, click here. (PDF, 494KB)
For additional information, contact Wendy Olson, Project Vista/GSC Activity Director, at ext. 8553 or wendy.olson@csuci.edu.
Celebration of Service – May 6
The Center for Community Engagement invites the campus community to the 2015 Celebration of Service on Wednesday, May 6, from 11 a.m. to 2 p.m. in the Petit Salon, to honor faculty, community partners' and students' community engagement efforts. In addition to the awards luncheon and networking with community partners, the event will feature a poster session, highlighting several service-learning projects/research.
The Celebration of Service brings the community together to acknowledge the growth and impact that these projects/research contribute to our students and the community. We look forward to seeing you at this year's Celebration.
RSVP here if you plan to attend.
For additional information contact Pilar Pacheco, Managing Director, Center for Community Engagement at pilar.pacheco@csuci.edu.
Annual Student Veteran Medallion Ceremony – May 8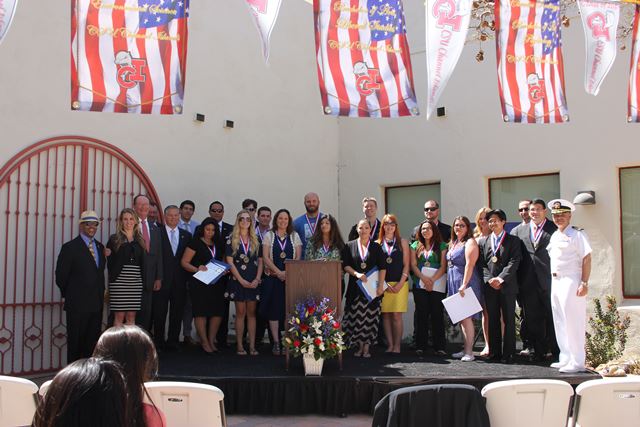 The Veterans Affairs Program will be presenting the 3rd Annual Student Veteran Medallion Ceremony on Friday, May 8th from 2 to 4 p.m. in the Broome Library Archives Courtyard. Graduating student veterans and dependents of veterans are invited to bring family and friends to join them for the occasion.
Guest Speakers will be graduating student veteran William Vaughn, President Richard R. Rush, and U.S. Congresswoman Julia Brownley, Vice President of Student Affairs Wm. Gregory Sawyer, and Naval Base Ventura County Commander, Capt. Chris D. Janke.
Graduating student veterans and dependents of veterans are awarded the medallion at the ceremony and wear the medal at Commencement. In addition to wearing the medallion, President Rush recognizes all student veterans during the commencement ceremony.
For additional information please contact Jay Derrico, Veterans Affairs Program Coordinator at ext. 2745 or jay.derrico@csuci.edu.
Annual Science Graduates Reception – May 16
The faculty and staff of the science programs at CI invite all science graduates to the 11th annual Science Graduates Reception immediately following commencement on May 16 in the Science Atrium (Aliso Hall) from 4:30 to 6:30 p.m. This is your chance to meet up with fellow graduates, instructors, and support staff right after the ceremony, as well as an opportunity for us to congratulate you and meet your guests.
Refreshments will be served.
This event is sponsored by the Biology and Chemistry programs.
For additional information contact Jessica Dalton, Academic Program Analyst, at ext. 2779 or Jessica.dalton@csuci.edu.
Return to the Table of Contents
© Wavelength April 23, 2015