GMAT Test Prep Course – April 11-May 9
Thinking about an MBA? Enroll in CI's GMAT Test Prep sessions and get prepared for all sections of the GMAT. The first session is free and the remaining three sessions are only $60 total. Classes 2 through 4 must be taken as a package deal. Each session lasts three to four hours. Details are below.
Session One - Free (4/11 9 a.m. to 12 p.m.): Arithmetic and Sentence Correction
Session Two (April 25 - 9 a.m. to 12 p.m.): Geometry, Reading Comprehension, and Analytical Writing
Session Three (May 2 - 9 a.m. to 12 p.m.): Algebra, Data Sufficiency, and Logical Reasoning
Session Four (May 9 - 1 p.m – 4 p.m.): Quantitative and Verbal Reasoning Review, and Introduction to Integrated Reasoning
You can register by calling 805-437-2748 or online at GMAT Prep Course.
For additional information contact Jeff Ziskin, Office Coordinator, at 805-777-1615 or jeff.ziskin@csuci.edu.
International Week – April 13-17
The Center for International Affairs would like to announce the list of events for the upcoming International Week (April 13-17). Activities during this week include:
A study abroad celebration reception
A cross-cultural communication workshop for students
Professional development workshops for faculty
Multiple study abroad info sessions
Music performances
Library art gallery opening
A poster exhibit of international courses at the library
For a complete schedule of events and locations, visit: International Programs.
For additional information contact Melissa Olague, Mission Centers Coordinator, at ext. 2608 or Melissa.olague@csuci.edu.
B & TP Leadership Dinner – April 16
Join us as we celebrate the unique partnership between the CI Foundation and the Business & Technology community as we honor community members Christopher Meissner and Lynda Weinman, CI faculty Priscilla Liang, and five CI students with scholarships. Learn more about this year's award recipients here. (PDF, 917KB)
CI faculty and staff can purchase tickets at a discounted rate of $75 per person.
For additional information, visit: http://www.csuci.edu/btp/btp-leadership-dinner-2015.htm or contact Alissa Larreta, Assistant Director of Advancement Events at ext. 8916 or Alissa.larreta@csuci.edu.
Day of Silence – April 16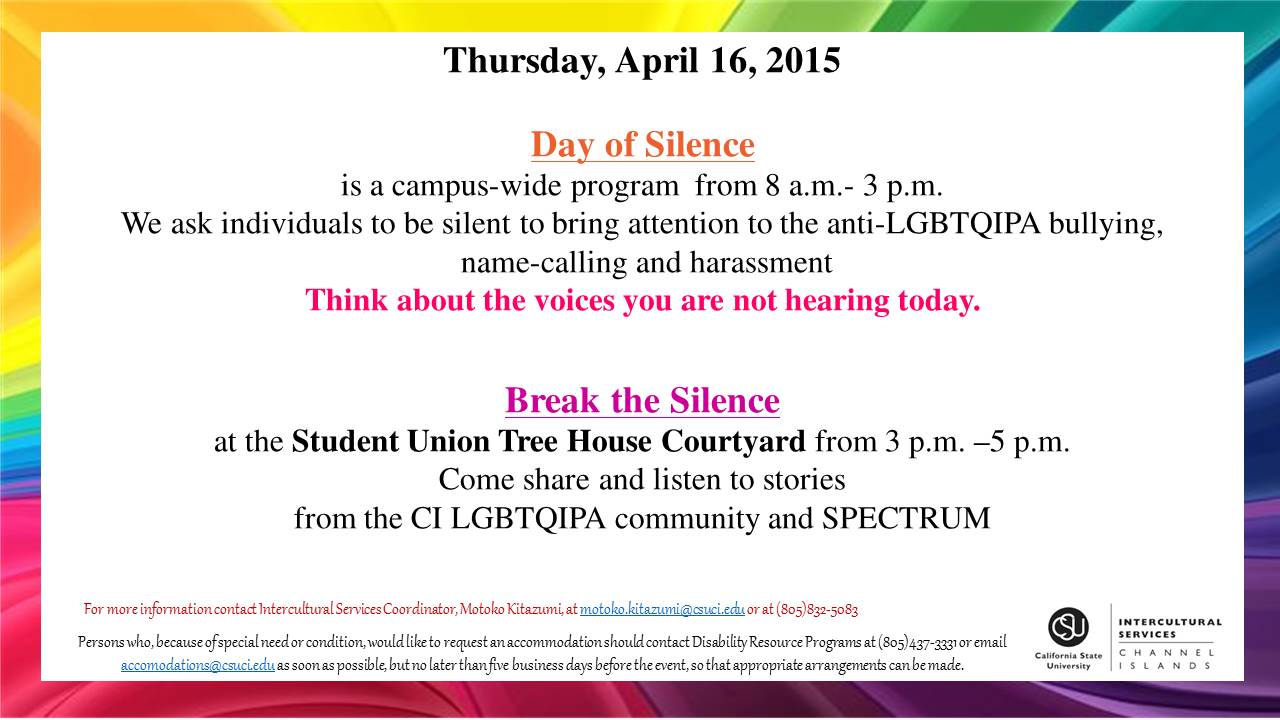 On Thursday, April 16 from 8 a.m. to 3 p.m., the CI community is invited to participate in the annual Day of Silence. The Day of Silence is a student-led, national event that brings attention to anti-LGBT name-calling, bullying and harassment in schools. We are encouraging the CI community to take a vow of silence in an effort to encourage schools and classmates to address the problem of anti-LGBT behavior by illustrating the silencing effect of bullying and harassment on LGBT students and those perceived to be LGBT.
There will be a Break the Silence event at 3 p.m. at the Student Union Tree House Courtyard. Come and share your story.
For additional information contact Motoko Kitazumi, Intercultural Services Coordinator, at ext. 3243 or Motoko.kitazumi@csuci.edu.
Navigating Cultures: A Cross-Cultural Communication Workshop – April 17
On Friday, April 17 from 9 a.m. to 12:30 p.m. in Bell Tower, Room 2515, the Center for International Affairs will host a workshop presented by Monica Marcel from Language & Culture Worldwide. Marcel will present LCW's Navigating Cultures™ workshop, which explores the concept of cultural diversity, allowing participants to expand their awareness, knowledge, and skills. The tools, frameworks, and concepts presented lead to higher levels of competency, greater team synergies, improved performance in a global environment, and serve as a rich base for ongoing cross-cultural and intercultural development.
This workshop is co-sponsored by the Center for International Affairs. * This workshop is open to students, staff, and faculty.
Click here to RSVP. You can view full event details here. (PDF, 327KB)
For additional information contact Melissa Olague, Mission Centers Coordinator, at ext. 2608 or Melissa.olague@csuci.edu.
Annual Conference for Social Justice in Education – April 18
CI's annual Conference for Social Justice in Education will be held on Saturday, April 18 from 8 a.m. to 2:30 p.m. in the Grand Salon on campus. The conference highlights the essential processes of networking, of building a common agenda, and of creating opportunities for collaborative impact to achieve social justice by and through education. This year's theme, "Brave Questions: Health and Academic Achievement," is designed to broaden our perspectives on social justice as it relates to healthy learning environments, policies, practices, and student access to comprehensive school health.
The conference features keynote speakers Dianne Wilson-Graham, Executive Director of the California Physical Education-Health Project and Rigoberto Vargas, Public Health Director for the Ventura County Health Care Agency. Break-out sessions in Del Norte Hall will examine an array of issues relevant to our county and promise to be thought provoking. During lunch, participants will hear from a panel of educators who have facilitated change in the county by equipping students with the knowledge, skills and dispositions needed to create healthy lives.
Admission to the conference is free. Free on-campus parking is provided. Your early registration will help us plan for lunch, which will be provided free of charge.
RSVP here if you plan to attend. Full event details are available here. (PDF, 699KB)
For additional information contact Wendy Olson, Graduate Studies Center Activity Director, at ext. 8553 or wendy.olson@csuci.edu.
It's on Us Sexual Assault Awareness Week Kick-off – April 20

On Monday, April 20, from Noon to 2 p.m. at the Student Union Tree House Courtyard, join Student Government, Intercultural Services and CI's Title IX & Inclusion Officer as we discuss sex and consent. Together we will explore conversations about consent, reporting and supporting survivors through on and off campus resources.
If you would like to contribute your story to the Clothes Line Project, please come. We will have the supplies ready for you.
For a full list of the week's events, click here. (PDF, 1.4MB)
For additional information contact Motoko Kitazumi, Intercultural Services Coordinator, at ext. 3243 or Motoko.kitazumi@csuci.edu.
CI Earth Day – April 21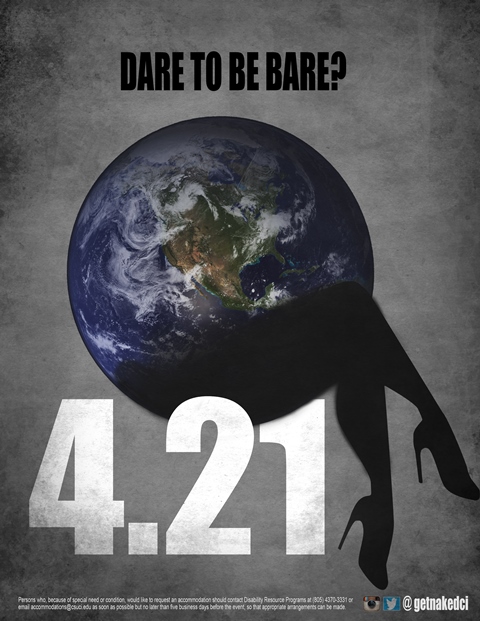 Dare to Live Bare at CI's Earth Day celebration on Tuesday, April 21 from 11:30 a.m. to 4:00 p.m. at the Central Mall. Join the raffle with gift/travel giveaways while learning about ways to live with the earth and not against it. There will be hands on experiences in nearly all the booths plus a bumping DJ, laser tag, henna tattoos, Aerial Arts performers hanging in the sky, and much more. Grab lunch at our delicious food trucks serving locally grown food and meet up with the various attendees including Tesla Motors, Wholly Hemp, Community Roots Garden and many more. The more booths you visit, the more times you'll be entered in our over-the-top raffle.
For additional information contact Delanie Nolan, Publicity Coordinator, CI Earth Day, at ext. 8588 or delanie.nolan402@myci.csuci.edu.
Brave Miss World Screening - April 22
The campus is invited to watch the film Brave Miss World on Wednesday, April 22 at 6 p.m. in Malibu Hall 100. Brave Miss World is a documentary about Miss Israel Linor Abargil who was abducted, stabbed, and raped in Milan, Italy, at the age of 18. The film follows her from the rape, to her crowning and through her crusade to fight for justice and break the silence. The film explores the trauma of sexual assault through one young woman's journey from teenage rape victim to Miss World to empowered lawyer and activist. You can learn more about Linor's story at http://www.bravemissworld.com/.
Afterwards we will have a discussion about how to be a reporter with our Title IX & Inclusion Officer Brittany Grice and CI Police.
For additional information contact Motoko Kitazumi, Intercultural Services Coordinator, at ext. 3243 or Motoko.kitazumi@csuci.edu.
College Night at the Getty Center – April 27
This year's College Night at The Getty Center will be held on Monday, April 27 from 6 to 9:30 p.m. at The Getty Center, 1200 Getty Center Drive, in Los Angeles.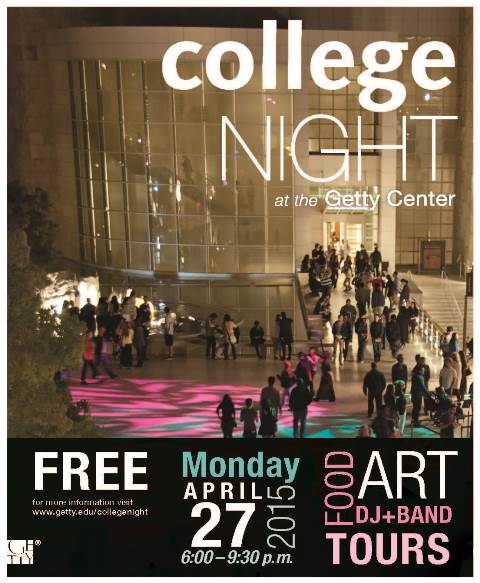 College Night 2015 features two special exhibitions organized by the J. Paul Getty Museum: J. M. W. Turner: Painting Set Free, which brings together over sixty oil paintings and watercolors to focus on the creativity of Turner's final years, as well as, Light, Paper, Process: Reinventing Photography, featuring the work of seven photographers who have turned their attention to exploring the essence of photography, distilling it to its basic components of light-sensitive emulsions and chemical development. Also on view will be Zeitgeist: Art in the Germanic World 1800–1900 featuring the works of Caspar David Friedrich, Philipp Otto Runge, Gustav Klimt, and others.
Curators of these exhibitions will be available to answer your questions throughout the evening. After your tour of the Museum, enjoy music and free food outdoors while taking in the spectacular views.
College Night also features: Live music by UCLA-based band Eva B. Ross Foundation, meet-the-curator sessions and special tours, art demonstrations and activities, free parking, free food, cash bar and more! More details are available on the event website.
For additional information contact Gregory Acampora, Art 443 Museum Marketing Team Leader, at Gregory.acampora096@myci.csuci.edu.
Celebration of Service – May 6
The Center for Community Engagement cordially invites the campus community to the 2015 Celebration of Service on Wednesday, May 6, from 11 a.m. to 2 p.m. in the Petit Salon, to honor faculty, community partners' and students' community engagement efforts. In addition to the awards luncheon and networking with community partners, the event will feature a poster session, highlighting several service-learning projects/research.
The Celebration of Service brings the community together to acknowledge the growth and impact that these projects/research contribute to our students and the community. We look forward to seeing you at this year's Celebration.
RSVP here if you plan to attend.
For additional information contact Pilar Pacheco, Managing Director, Center for Community Engagement at pilar.pacheco@csuci.edu.
Return to the Table of Contents
© Wavelength April 9, 2015