CAN-Tree assembly – Dec. 4
The campus community is invited to help assemble the "CI CAN-Tree" for FOOD Share's CAN-Tree Collection 2015 at The Collection at Riverpark tomorrow, Dec. 4, Noon to 1:30 p.m. Pizza and sodas will be available for helpers while supplies last.
1 in 10 people in Ventura County is food insecure. Food insecurity across American households' means there is a lack of access, at times, to enough food for an active, healthy life for all household members. This tree honors retiring CI President Richard Rush and recognizes our commitment to the community of Ventura County. Thank you in advance for your support.
For additional information contact Joanna Murphy, Associate Director of Communication & Marketing at ext. 8915 or joanna.murphy@csuci.edu.
Toys for Tots Drive – through Dec. 11
The University Auxiliary Services, Inc. Staff Development Committee, CI's Veterans Affairs Program and Zeta Pi Omega Sorority have partnered with the U.S. Marine Corps Reserve Toys for Tots Program of Port Hueneme for their annual toy drive.
Please bring unwrapped toys to any of the following locations between Nov. 30 and Dec. 11: Veterans Affairs Program office, University Auxiliary Services, Inc. office in Town Center, Islands Café, Student Union Lighthouse Grill and Freudian Sip, Broome Library Freudian Sip, Cove Bookstore, Tortilla's Grill, Pizza 3.14 and Town Center Market.
Full details for the Toys for Tots Drive. (PDF, 321KB)
For additional information, contact Jay Travers, Chair of the UAS Staff Development Committee at ext. 2680 or jay.travers@csuci.edu.
Corporate Games sign-up, information – Jan. 20 & 21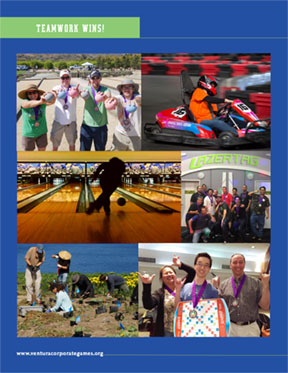 Sign up for Corporate Games sports teams and all volunteer opportunities on Wed., Jan. 20 and Thurs., Jan 21, 10:30 a.m. to 1:30 p.m. in Solano Hall, Room 2175.
Tentative schedules for sports, dates and locations are posted (dates and locations subject to change). General information can be found at www.cityofventura.net/corporategames.
The Games will hold Opening Ceremonies with new Cross Fit and Aquatic Tug-O-War challenges on March 19 at Ventura Community Park, running various dates through May 7 with Closing Ceremonies at Harbor Cove Beach in Ventura.
For additional CI CG information and to volunteer, contact Joanna Murphy, CI Corporate Games Team coordinator at ext. 8915 or joanna.murphy@csuci.edu.
Martin Luther King Jr. Day of Service – Jan. 29
The Center for Community Engagement and Multi Access Programs in Student Life will celebrate the life and work of Dr. Martin Luther King, Jr. by hosting a service day at the Boys and Girls Club of Camarillo. Participants will clean-up the Club and take part in student-led art and science activities with the children. Come out and show your CI spirit by being a CI buddy to children at the Boys and Girls Club of Camarillo.
Students, staff and faculty will meet at the Sage Hall parking lot at 8:15 a.m. for bus transportation to the service site returning to campus by 2:45 p.m. Lunch will be served and each participant will receive a CI Serve It UP t-shirt.
Please RSVP if you plan to participate.
For additional information contact Neil Olipani, Community Engagement Ambassador, at ext. 3619 or neil.olipani248@csuci.edu.
Return to the Table of Contents
© Wavelength December 3, 2015