Let Ventura County Know We Are #1!
Let Ventura County know that CI is #1 by voting in the Ventura County Star Readers' Choice awards in the "College/University West County" category. Online voting is available through March 22. Follow the link below to cast your vote for CI:
For additional information, contact Communication & Marketing at ext. 8415 or ci.news@csuci.edu.
National Survey of Student Engagement (NSSE) 2015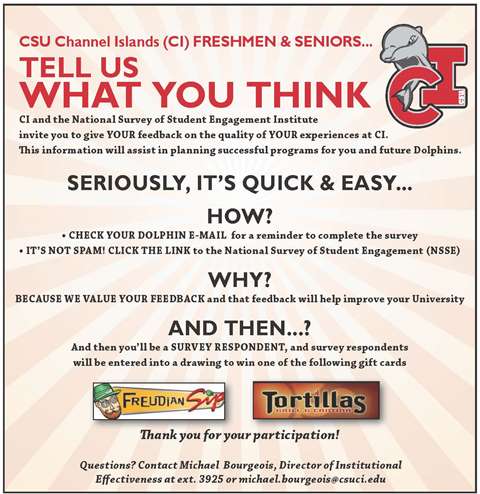 CI is administering the National Survey of Student Engagement (NSSE) to first-year and senior students this semester. NSSE gathers information about CI students to improve our campus.
How does it work?
President Rush and NSSE (nsse@nssesurvey.org) invited students to participate on Feb. 10 with a link to the survey. It's not spam! Students who complete the survey are automatically entered into a random drawing to win a gift card from Freudian Sip or Tortillas Grill ($10 value).
Difficulty logging in? Lost the email?
Don't worry; you can still enter! Send a note to michael.bourgeois@csuci.edu. You will receive an email reminder too.
How is the information used?
CI uses survey information to learn about student experiences inside and outside of the classroom. Your voice helps shape campus planning, paints a picture of Dolphin life and why it is meaningful. NSSE results will be posted on the Institutional Effectiveness website.
What about my privacy?
The survey is confidential and approved by CI's Institutional Review (ethics) Board. No individual answers will ever be identified in any report.
For additional information, contact Michael Bourgeois, Director of Institutional Effectiveness, at ext. 3925 or Michael.bourgeois@csuci.edu.
Nominate an Outstanding CI Leader
Do you know an outstanding CI student, faculty member, staff member, administrator, or student organization? Nominate them for an award today at http://asi.csuci.edu/legacyawards.htm.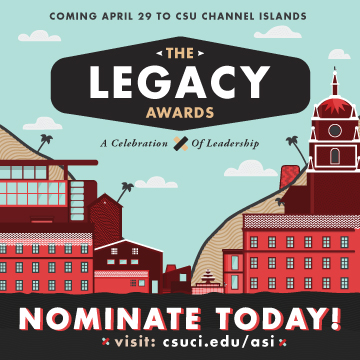 Hosted through a collaboration between Associated Students Inc. and Student Leadership Programs, The Legacy Awards: A Celebration of Leadership will recognize students, student organizations, faculty, staff and administrators who exemplify the University mission through a commitment to student-centeredness, service, community and individual development.
The inaugural Legacy Awards will present both the Maximus Awards and the Student Leadership Awards in one ceremony and one nomination form will be used for all awards. As both awards celebrate leadership and contributions to CI through different lenses, it is a natural collaboration that aims to keep each award distinct yet highlight how complementary and indispensable they are to each other.
Recognition Categories
Maximus Award (student, faculty, administrator or staff)
Outstanding First Year Student Leader Award
Outstanding Sophomore Student Leader Award
Outstanding Junior Student Leader Award
Outstanding Senior Student Leader Award
Outstanding Student Organization Advisor Award
Outstanding Student Organization Award
Outstanding Student Group Award
Nominations must be submitted by March 6 no later than 5 p.m.
For additional information, contact Genesis DeLong, ASI Assistant Director, at ext. 2038 or genesis.delong@csuci.edu; or visit http://asi.csuci.edu/legacyawards.htm.
Nominate a Book for the Campus Reading Celebration
The purpose of CI's Campus Reading Celebration (CRC) is to provide an annual opportunity for the entire campus community to share in a common intellectual experience. The book chosen for this experience will be made available at no cost to CI faculty and students. The CRC will then culminate in a visit and public presentation from the author in mid-October (details to be announced).
Last year's event was one of the largest to date, bringing hundreds of CI faculty and students into dialogue with one another.
Please take a moment to nominate a book and author of your choice.
The deadline for nominations is Feb. 28th.
All nominations should adhere to the following two criteria:
The author must still be living.
There must be a reasonable possibility that the author will join us on campus. (Keep in mind that extremely successful and/or international renowned authors are often impossible for CI to entice with our limited honorarium).
For additional information, contact Matt Cook at ext. 3653 or matthew.cook@csuci.edu; or Jacob Jenkins at jacob.jenkins@csuci.edu.
Corporate Games Sign-Up Extended to Feb. 12
We are continuing to accept sign-ups for CI faculty and staff interested in participating in the City of Ventura Corporate Games (CG).
Email joanna.murphy@csuci.edu with your event selections and to receive waiver forms. Once waivers are completed and rosters are formed, information will be emailed to each team and practices/meetings can begin. Final bracketed schedules will be released early March by the City of Ventura.
Save the date – March 28 – Corporate Games Opening Ceremonies has moved to Ventura Community Park this year. Corporate Gamers, families, and friends are invited to take part in free activities like Family Float in the Ventura Aquatic Center, interactive activities for kids and adults, police and fire demonstrations, and more. The Corn Hole tournament, Office Olympics and Run/Walk/Jog events for the Spirit Award will also take place, so let's get those participation points!
For additional information, contact Joanna Murphy, Associate Director of Communication & Marketing and CI Corporate Games Coordinator at joanna.murphy@csuci.edu.
Proposals sought for Social Justice Conference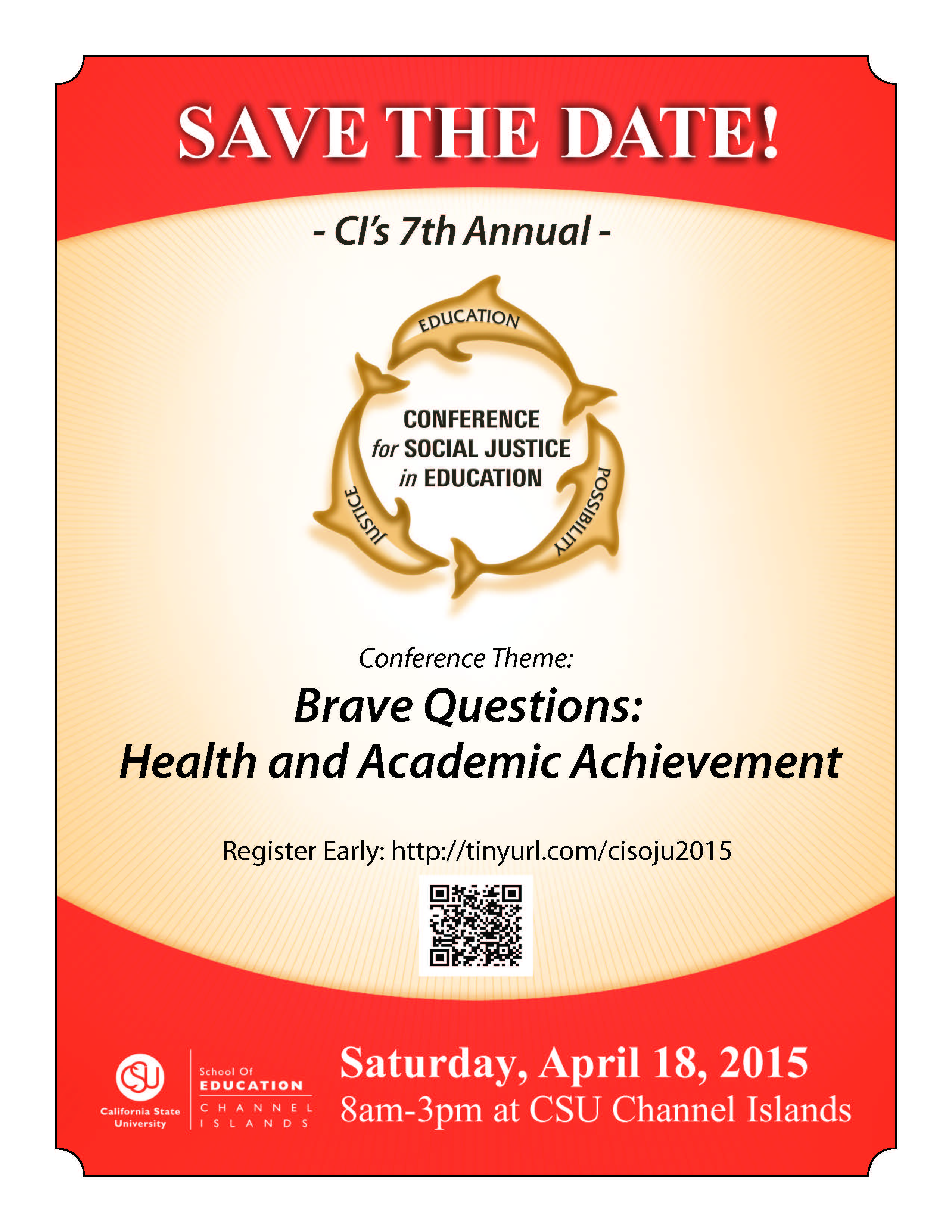 CI will be holding the 7th Annual Conference for Social Justice in Education on Saturday, April 18 in the Grand Salon and Del Norte Hall from 8 a.m. to 3 p.m. Individuals from the campus community interested in presenting their research, sharing your project, or telling your story to help develop this year's conference theme, "Brave Questions: Health and Academic Achievement," are invited to submit their proposals no later than Monday, Feb. 16. Proposal guidelines are available at http://education.csuci.edu/justice-conference/proposal-info.htm
For additional information, contact Wendy Olson, GSC Activity Director & Project VISTA Coordinator at ext. 3593 or Marilyn.medina@csuci.edu.
Return to the Table of Contents
© Wavelength February 12, 2015