CI and Camarillo celebrate Special Olympics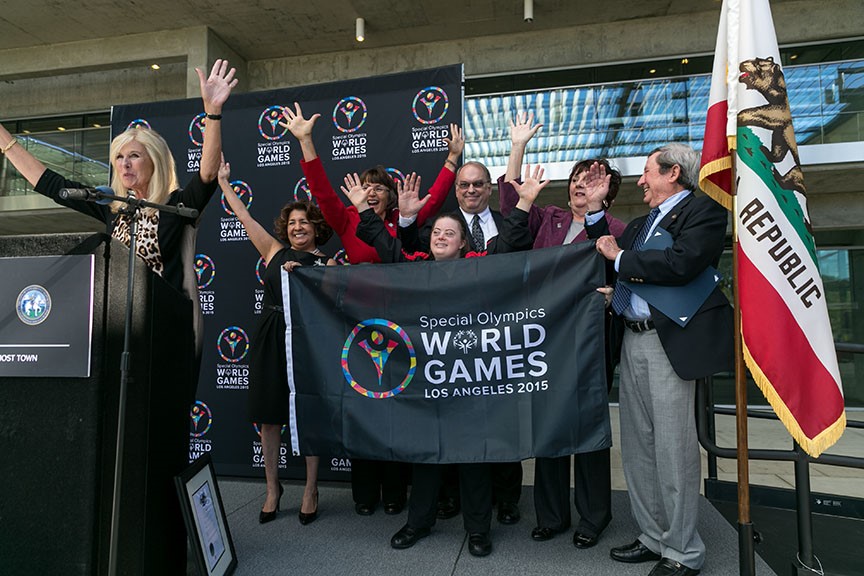 At a recent special event held on CI's campus, the city of Camarillo announced that the community has been officially selected to participate in the Special Olympics World Games Host Town program from July 21-24. More than 7,000 athletes from 177 countries will be welcomed to Southern California through the Host Town program. As many as one hundred communities from San Luis Obispo to San Diego will have the honor of being selected as an official Host Town.
The Host Town program in Camarillo is a collaboration between CSU Channel Islands, the City of Camarillo and the Camarillo Chamber of Commerce. Together, they will welcome a delegation from the 2015 Special Olympics World Games and show the athletes and coaches all that Camarillo has to offer.
For additional information contact Celina Zacarias, Director of Community & Government Relations at ext. 8920 or Celina.zacarias@csuci.edu.
Corporate Games Sign Up - Jan 26-27
It's Game Time for the 2015 City of Ventura Corporate Games. On Monday, Jan. 26 and Tuesday, Jan. 27, event sign-ups, submission of tee-shirt size and completion of waiver forms will be held from 10 a.m. to 1:30 p.m. in Solano Hall, conference room 1174.
Information on events, team captains, tee-shirt design, and spirit coordinators will also be available. CI employees wishing to participate must be 18 years of age and work a minimum of 20 hours per week (faculty and staff only; student employees are not eligible at this time). CI will participate in Division AA, which allows three teams per event.
Events for the JD Probasco Team Spirit Award include:
Community Service Project
Corn Hole Fundraiser
Opening Ceremonies Office Olympics
Opening Ceremonies Run/Walk/Jog
Photo Contest
T-Shirt Design Contest
Sand Sculpture Contest
Corporate Games Events include:
Basketball
Billiards – 8- and 9-ball
Bocce Ball
Bowling
Coed Beach Volleyball
Coed Softball
Darts
Dodgeball
5K Run
Flag Football
Golf
Horseshoes
Indoor Volleyball
Kickball
Lazertag
MB2 Kart Racing
Men's Softball
Miniature Golf
Paintball pay vendor
Six-A-Side Soccer
Table Games
Table Tennis
Team Tennis
Texas Hold'em
Tug O' War
For more information, contact Joanna Murphy, Associate Director of Communication & Marketing and CI Corporate Games Coordinator at joanna.murphy@csuci.edu.
Return to the Table of Contents
© Wavelength January 15, 2015