2015 Spring Speaker Series - March 13 and April 17
The Martin V. Smith School of Business & Economics will host two more speakers as part of their Spring Speaker Series. All events will be held from 12 to 2 p.m. in Malibu Hall 100.
Tomorrow, March 13, President and CEO of FaceFirst, Joe Rosenkrantz will speak about his facial recognition software platform. FaceFirst is being used worldwide for surveillance and law enforcement. Rosenkrantz is avid tinkerer and hobbyist, and believes in having a balance in life between work and fun.
On Friday, April 17, Co-founder and Chairman of Blue Ocean Enterprises, Curt Richardson, will speak about his investment career, including the launch of Otterbox. Richardson discovers, creates and invests in business opportunities and makes strategic investments in commercial real estate. Richardson created the first prototype of a waterproof case in his garage in the early '90s and in 1998, Otterbox, a Fort Collins-based company that is an innovator of protective solutions for leading global handheld manufacturers, wireless carriers and distributors, was born. He served as the CEO at Otterbox for 14 years, and the rapid growth and success of Otterbox led to the creation of Blue Ocean Enterprises.

Please RSVP here if you plan to attend. Events are free and open to the public; lunch is included.
For additional information, contact Jennifer Iden, Business & Economics Coordinator, at ext. 3979 or jennifer.iden@csuci.edu.
St. Patrick's Day – March 14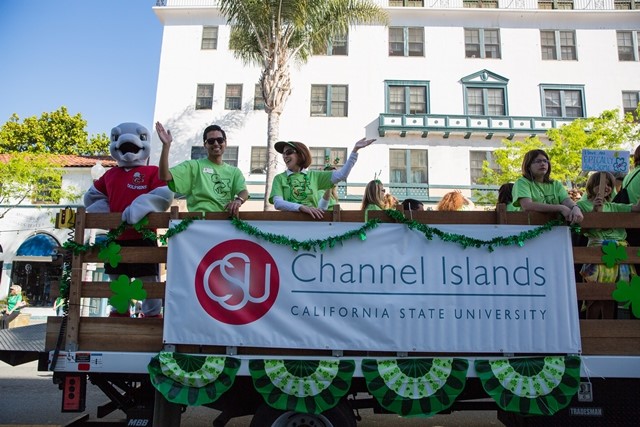 The campus community is invited to participate in Ventura's annual St. Patrick's Day Parade on Saturday, March 14 featuring President Rush as a parade judge.
This year's theme is "Honoring Our Troops" and students, clubs and organizations, as well as faculty and staff are all welcomed to join the University's parade entry. The parade will begin at 10 a.m. and travel along Ventura's Main Street.
All CI parade participants are encouraged to wear their CI red attire. Students, faculty and staff interested should contact.
For additional information, contact Celina Zacarias, Director of Community & Government Relations, at ext. 8920 or celina.zacarias@csuci.edu.
Neuroscience Sheds New Light on the Brain – March 26
Special guest Nathalie Gosset will present the most recent discoveries in neuroscience on Thursday, March 26, from 4 to 6 p.m. in Broome Library, Room 1360. Gosset will highlight what is new and how the new understanding may solve modern American issues such as regaining the lead in STEM education, and the rehabilitation of soldiers with PTSD. Other information about the neuro differences between the female and male brain, aging of the brain, and insights about the brain longevity will be discussed.
To attend, RSVP to edward.padilla@csuci.edu or ext.3517 by Monday, March 23.
Refreshments will be served.

Gosset is the Senior Director of Technology Innovation Evaluation at the Alfred E. Mann Institute for Biomedical Engineering at the University of Southern California.
For additional information, contact Edward Padilla, Administrative Support Coordinator, at ext. 3517 or Edward.padilla@csuci.edu.
Relay for Life - March 27 & 28
Sign up now to be part of our fourth-annual CI Relay for Life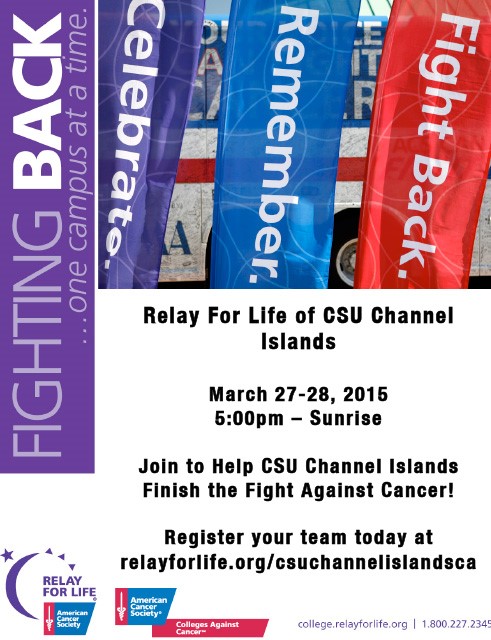 Whether it is through a friend, colleague, family member, or our own personal experience, we all have been touched by cancer in some way. All CI students, faculty and staff are encouraged to be part of the 2015 CI Relay for Life beginning at 5 p.m. on Friday, March 27 until sunrise on Saturday, March 28 in the South Quad.

To register a new team, become a team member, register as a survivor, donate money or to volunteer to plan or work at the event contact: CI Relay for Life 2015 Event Chair Cicily Gardea at cicily.gardea247@myci.csuci.edu.

To sign up online, click here.
For additional information, contact Jennifer DaCunha, at 805-665-3616, jennifer.dacunha@cancer.org or visit www.relayforlife.org/csuchannelislandsca.
Mending Patriotism Workshop – April 1
In celebration of Cesar Chavez Day, the Center for Community Engagement will work with local artist/activist Juna Rosales-Muller and the Mending Patriotism Project. This project is a series of quilts made from clothing cast off by migrants attempting to cross Mexico's Sonoran desert towards the US border. The project aims to provide a space for learning and exchange around the issues of border-crossing, human migration, and national identity. Rosales-Muller will lead participatory workshops in the tradition of an old-fashioned sewing bee. In these workshops, participants gather to contribute to an original quilt using clothes left behind by migrants crossing the US border.
Working either on individual squares of clothing or a large-scale quilt pieced together from this material, students will intimately engage with pieces of migrants' cast-off clothing and transform this charged material. At the same time, students will practice traditional craft techniques such as embroidery and darning that may be applicable skills to our lives outside the art space. This event is made possible by funding from Instructionally Related Activities.
For additional information, contact Pilar Pacheco, Managing Director, Center for Community Engagement, at ext. 8851 or pilar.pacheco@csuci.edu.
Staff Service Awards & Faculty Commemoration – April 2
Join us on Thursday, April 2 from 2 to 3:30 p.m. in the Grand Salon to honor colleagues that have met significant and specific milestones in their commitment to CI. You are invited to dress for the occasion at this "Glitz & Glamour" event.
Award Honorees:
Staff - 15 years
Herb Aquino
Nancy Gill
Elizabeth Rubalcava
Dawn Smith
Dale Velador
Staff - 10 years
Nathan Avery
Crystal Bernal
Betty Berriochoa
Art Carpenter
Sonia Chavez
Tia Clarke
Jessyka Dalton
Jesse Dellinger
Joseph Dobzynski, Jr.
Caroline Doll
Marc Dubransky
Neal Fisch
Sherie Frame
Judy Frazier
Kimberly Gardner
Omar Hernandez
Janet Korsmo
Carmen Krebs
Lori MacDonald
Pilar Pacheco
Jerilee Petralba
Amanda Quintero
Janet Rizzoli
Jo Ann Stuermer
Diana Smith
Donna Vea
Dianne Wei
Staff - 5 Years
Pamela Abbott
Connie Baker
Michael Berman
Andre Borghetti
Leo Cervantes
Meagan Chiaramonte
Scott Duffer
Geri-Lyn Himebaugh
Brianne Keighley
Vanessa Mendoza
Alison Potter
Cassie Silic
Merissa Stith
Janel Suliga
John Whipp
Faculty - 10 years
Julia Balen
Julie Barmazel
Leo Benegas
Anna Bieszczad
Christophe Bourely
Sean Carswell
Angela Chapman
Jerome Clifford
Diana Ray-Goodman
Debra Hoffman
Shoichi Kamei
Sandra Kornuc
Annette Kubitza
Horst Liebl
KuanFen Liu
Nancy Loman
Tera Marquez
Amiko Matsuo
Michelle Moon
Paul Murphy
Julia Newman
Rafael Perez
Kathleen Quaife
Nathaniel Reid
Mari Rockenstein
Neil Rocklin
Tim Rummel
James Sayre
Robert Seabaugh
Claudia Volpe
Peter Yi
Please RSVP if you plan to attend. Honorees were sent an email with a specific link for their RSVP and do not need to RSVP a second time.
For additional information, contact Janet Korsmo, Human Resources Assistant, at ext. 3181 or janet.korsmo@csuci.edu.
Cesar Chavez Day of Service – April 3
In celebration of Cesar Chavez Day, the Center for Community Engagement has adopted the non-profit organization, Prototypes, and made a commitment to focus all services days throughout the year on this one organization. Prototypes Women's Center is a 6- to 12-month residential treatment program for women and their children. CI students will be taken by Roadrunner Shuttle to Prototypes to volunteer from 8:30 a.m. to 2:30 p.m.. We will work alongside the residents – helping makeover their grounds (i.e., weeding, raking, sweeping, and cutting back shrubbery) and other projects. Funding for this event was provided by Instructionally Related Activities.
Please RSVP here if you plan to attend.
For additional information, contact Pilar Pacheco, Managing Director, Center for Community Engagement, at ext. 8851 or pilar.pacheco@csuci.edu.
Sorami: Sky viewing picnic – April 7
CI's Japan animation and Intercultural Services will celebrate Asian culture by incorporating a Japanese pastime, Hanami- flower viewing into a Sorami-sky viewing picnic party. The event is open to the campus community on Tuesday, April 7, 11 a.m. to 2 p.m. in the South Quad. There will be cultural food, crafts and activities for the entire CI family. We will have main stage featuring dance, music and Cosplay.
View the flyer for full event details. (PDF)
For additional information, contact Motoko Kitazumi, at ext. 3243 or Motoko.kitazumi@csuci.edu.
Return to the Table of Contents
© Wavelength March 12, 2015