Faster Network Coming to CI
After many months of planning, the campus is less than two weeks away from faster, stronger Internet access as the Technology Infrastructure team will be visiting each building over a span of 11 days to upgrade network connectivity. The upgrade process begins March 16 and will continue through March 29. Installation in each building will take approximately four hours. Please plan accordingly and review the schedule (PDF) to verify your building's planned upgrade.
During the installation upgrades, campus telephones, Internet access, wireless connectivity, and network connectivity for myCI, PeopleSoft, CI Learn, CI Records, CI Financials, CI Docs, CI Sync, etc. will not be available . Access to the campus wireless network from a different building may also not be available due to certain resources being bound to your location/workstation.
If you are not on campus, access to your normal resources (Dolphin email, myCI, CI Learn, etc.) will be affected.
Ultimately, wireless access speeds will increase by 2 times, while wired access will increase by 10 times.
For additional information, visit www.csuci.edu/its or contact Herb Aquino, Manager of Technology Infrastructure at ext. 8550 or herb.aquino@csuci.edu.
National Survey of Student Engagement (NSSE) 2015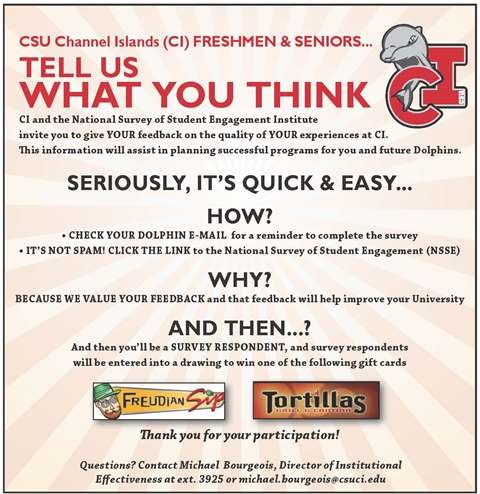 CI is administering the National Survey of Student Engagement (NSSE) to first-year and senior students this semester. NSSE gathers information about CI students to improve our campus.
How does it work?
President Rush and NSSE (nsse@nssesurvey.org) invited students to participate on Feb. 10 with a link to the survey. It's not spam! Students who complete the survey are automatically entered into a random drawing to win a gift card from Freudian Sip or Tortillas Grill ($10 value).
Difficulty logging in? Lost the email?
Don't worry; you can still enter! Send a note to michael.bourgeois@csuci.edu. You will receive an email reminder too.
How is the information used?
CI uses survey information to learn about student experiences inside and outside of the classroom. Your voice helps shape campus planning, paints a picture of Dolphin life and why it is meaningful. NSSE results will be posted on the Institutional Effectiveness website.
What about my privacy?
The survey is confidential and approved by CI's Institutional Review (ethics) Board. No individual answers will ever be identified in any report.
For additional information, contact Michael Bourgeois, Director of Institutional Effectiveness, at ext. 3925 or Michael.bourgeois@csuci.edu.
CI Corps Program
The CI Corps Program is a collaboration between the Center for Community Engagement (CCE), the Financial Aid Federal Work Study program and CCE community partners. The program provides employment opportunities to student leaders who demonstrate a commitment to the community by serving at area non-profits, schools or the CCE in various capacities.
CI Corps members contribute to building a culture of service at CI and in the community; and the program creates jobs and provides pathways to opportunity for CI students entering the workforce.
Students serve at the Boys and Girls Club of Camarillo, Camarillo Library, Center for Community Engagement, El Centrito Family Learning Centers, School on Wheels, and University Preparation School.
Please take a moment to learn about our current CI Corps members.
For additional information, contact Pilar Pacheco, Managing Director, Center for Community Engagement, at ext. 8851 or pilar.pacheco@csuci.edu.
Return to the Table of Contents
© Wavelength March 12, 2015