Open Forum for Presidential Search
Open Forum for Presidential Selection – Nov. 12
The first meeting of the Trustees' Committee for the Selection of the President will be an open forum from 1- 3 p.m. on Thursday, Nov. 12, at the John Spoor Broome Library Plaza. Members of the campus community, community-at-large and media are invited to attend.
The purpose of the open forum is to review the role of the committee, receive comments and input from the public and campus community, discuss preferred attributes of the next president, review the descriptions and needs of the campus and presidential position, and discuss any other business related to the search process.
Details about the CSU presidential search process are available at Presidential Search. Members of the campus and community-at-large, who are unable to attend the open forum, may view a live web stream at http://calstate.edu/livestream/ or may also email their suggestions to presidentsearch@calstate.edu.
For additional information visit http://farewellrush.csuci.edu/.
Be a part of the CAN-Tree Collection - Nov. 5-27
In honor of the retirement of President Richard Rush, CI is coordinating the collection of 14.5-ounce, non-perishable cans of food to make a "CI CAN-Tree" for FOOD Share's CAN-Tree Collection 2015.
The entire campus community is invited to donate cans through Nov. 27 – we need at least 600 cans to make a great tree! Thank you in advance for your support. Full details for the CAN-Tree Collection are available here. (PDF, 294KB)
Marked blue moving bins will be located in eight convenient campus donation locations:
Solano Hall - second floor
Bell Tower lobby
Broome Library lobby
Sage Hall - Enrollment Center
University Hall - Advancement lobby, near UH1650
Ironwood Hall - main office
Lindero Hall kitchens
Student Union - first floor, west wing
Once the cans are collected, show your spirit and join us to film the campus holiday video on Monday, Nov. 30, 10:30 a.m. at Dolphin Fountain, Aliso Plaza.
And finally, come to The Collection Riverpark in Oxnard on Friday, Dec. 4, Noon to 1:30 p.m. and help assemble and present the CI CAN-Tree to President Rush.
For additional information contact Joanna Murphy, Associate Director of Communication & Marketing at ext. 8915 or joanna.murphy@csuci.edu.
Master photographer Santi Visalli to speak, exhibit at CI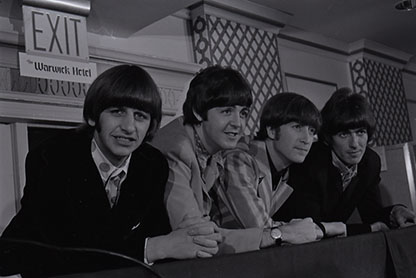 Santi Visalli and his camera were there when the Beatles played on the "Ed Sullivan Show." He was there when Martin Luther King Jr. spoke on the steps of the United Nations. He was there when President Richard Nixon sat down with the Soviet Union's General Secretary, Leonid Breshnev, to sign the Anti-Ballistic Missile Treaty.
A photographer who captured images of five sitting U.S. Presidents, movie stars, political icons and the soul of the 1960s and '70s, to name just some of his work, will speak at CI about his life, and the 106,964 images he will donate to the University.
"A Life in Pictures," which will include about 30 pieces from the collection, will be on display in the John Spoor Broome Library and the second floor art gallery from Nov. 16, 2015 through Feb. 12, 2016 with a reception and artist's talk on Thursday, Nov. 19 from 5 to 6:30 p.m. Read the full article about the exhibit.
For additional information contact Irina Costache, Professor of Art History at ext. 8993 or irina.costache@csuci.edu.
Return to the Table of Contents
© Wavelength November 5, 2015