Flu Vaccine Clinics
The last flu vaccine clinic is scheduled for Wednesday, Oct. 28 from 1:30-3:30 p.m. in the Bell Tower East Mission Lounge. The clinic is open to all CI students, faculty and staff; the cost to students is free and $2 for faculty/staff (exact change appreciated).
Some people should not be vaccinated without first consulting a physician. These people include:
Those who have a severe allergy to chicken eggs
Those who've had a severe reaction to an influenza vaccination in the past
Those who've developed Guillain-Barre Syndrome (GBS) within six weeks of getting an influenza vaccine
Children less than six months of age (the influenza vaccine is not approved for use in this age group)
Those who have moderate to severe illness with a fever should wait to get vaccinated until their symptoms subside
For additional information contact Geri-Lyn Himebaugh, Administrative Assistant, ext. 3527 or geri-lyn.himebaugh@csuci.edu.
Time to Learn: Fall Workshop Series
Human Resources will be offering their professional development fall workshop series during the month of November. Upcoming dates and sessions include:
Nov. 4, 9-10:30 a.m., in Broome Library room 2325: CI Title IX Officer presents: "Blindspots - Understanding Unconscious Bias." This session focuses on exploring roles each of us play in cultivating an inclusive culture on campus.
Nov. 5, 9-10 a.m. and 11 a.m. to 12 p.m., in Ojai Hall room 1986: Optum Health presents "Holiday Budgeting & Putting the Happy Back in the Holidays." These two sessions focus on building skills to keep the holidays in balance.
Nov. 9, 9 a.m. to 12 p.m., in Bell Tower room 1568: Lauren Nile presents "Creating & Maintaining a Respectful, Professional & Enjoyable Work Environment." This session focuses on critical elements of communication and respect.
Nov. 10, 9 a.m. to 12 p.m., in Bell Tower room 1568: Lauren Nile presents Building & Maintaining a Great Team! A Workshop for Managers. This session focuses on important do's of creating and maintaining an effective team.
Nov. 19, 10:30 a.m. to 12:00 p.m., in Ojai Hall room 1986: Counseling & Health Services presents "Helping Students of Concern: How to Recognize and Refer." This session focuses on recognizing signs of distress and where to refer students for services.
RSVP is appreciated as light refreshments will be served. Full details regarding Fall Workshops are available. (PDF, 129KB)
For additional information contact Wendy Olson, Professional Development Specialist, ext. 8553 or wendy.olson@csuci.edu.
Students attend California Dream Network Conference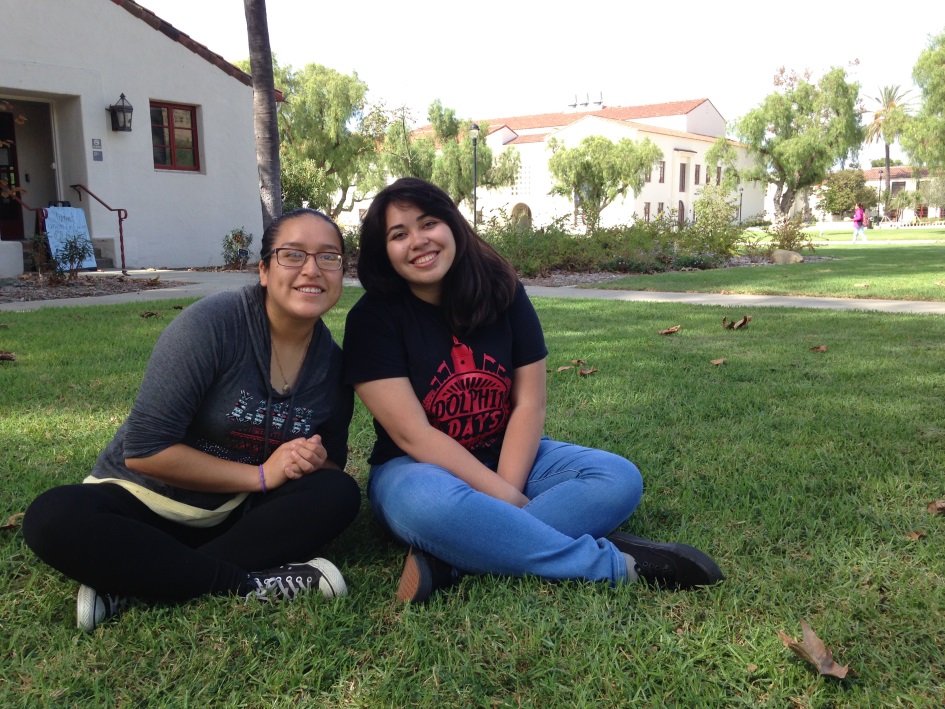 Geydy Martinez De La Cruz and Angelica Garibo represented CI and EOP at the California Dream Network Ninth Annual Statewide Conference at University of California, Davis (UCD), held Oct. 9-11. The three-day retreat helped participants develop leadership skills and network with AB-540 students and their allies from across the state of California.
Topics discussed in this conference included: Dream Centers Legislation (AB-1366), Advance Parole/Study Abroad, defending Deferred Action for Childhood Arrivals, and becoming a leader on campus. As a result of their participation, students walked away with learning about other institutions movements and bringing the community closer together.
For additional information contact Kari Moss, EOP Coordinator, at ext. 8511 or kari.moss@csuci.edu.
Return to the Table of Contents
© Wavelength October 22, 2015