Let Ventura County Know We Are #1!
Let Ventura County know that CI is #1 by voting in the Ventura County Star Readers' Choice awards in the "College/University West County" category. Online voting is available through March 20, 2016. Follow the link below to cast your vote for CI:
For additional information, contact Communication & Marketing at ext. 8415 or ci.news@csuci.edu.
Make an EPIC difference!
We're looking for CI employees interested in making a difference by assisting in the University's Emergency Public Inquiry Center (EPIC). EPIC has been established to receive and process inquiries from students, parents, faculty, staff, University Glen residents, and the general public, during campus emergencies.
During emergencies, callers to the University's emergency information hotline will have the option of speaking to a live operator with calls being directed to Technology & Communication's Solution Center staff during normal business hours.
However, should a large-scale campus emergency arise that requires for calls to also be answered during after-hours, weekends or holidays, then a pool of CI employees will be called upon to assist with answering these calls.
Interested employees who can remain calm during emergencies will receive in-person and hands-on training prior to the start of each semester and will be compensated accordingly for hours worked in the EPIC during emergencies.
For additional information, contact Nancy Gill, Director of Communication & Marketing at 805-437-8456 or nancy.gill@csuci.edu.
National Survey of Student Engagement (NSSE) 2016
CI is administering the National Survey of Student Engagement (NSSE) to first-year and senior students this semester. NSSE gathers information about CI students to improve our campus.
How does it work?
President Rush and NSSE (nsse@nssesurvey.org) invited students to participate on February 16 with a link to the survey. It's not spam! Students who complete the survey are automatically entered into a random drawing to win one of 4 gift cards ($10 value).
Difficulty logging in? Lost the email?
Don't worry; you can still enter! Send a note to michael.bourgeois@csuci.edu. You will receive an email reminder too.
How is the information used?
CI uses survey information to learn about student experiences inside and outside of the classroom. Your voice helps shape campus planning, paints a picture of Dolphin life and why it is meaningful. NSSE results will be posted on the Institutional Effectiveness website.
What about my privacy?
The survey is confidential and approved by CI's Institutional Review (ethics) Board. No individual answers will ever be identified in any report.
For additional information contact Michael Bourgeois, Director of Institutional Effectiveness, at 805-437-3925 or Michael.bourgeois@csuci.edu.
Legacy Awards Nominations Now Open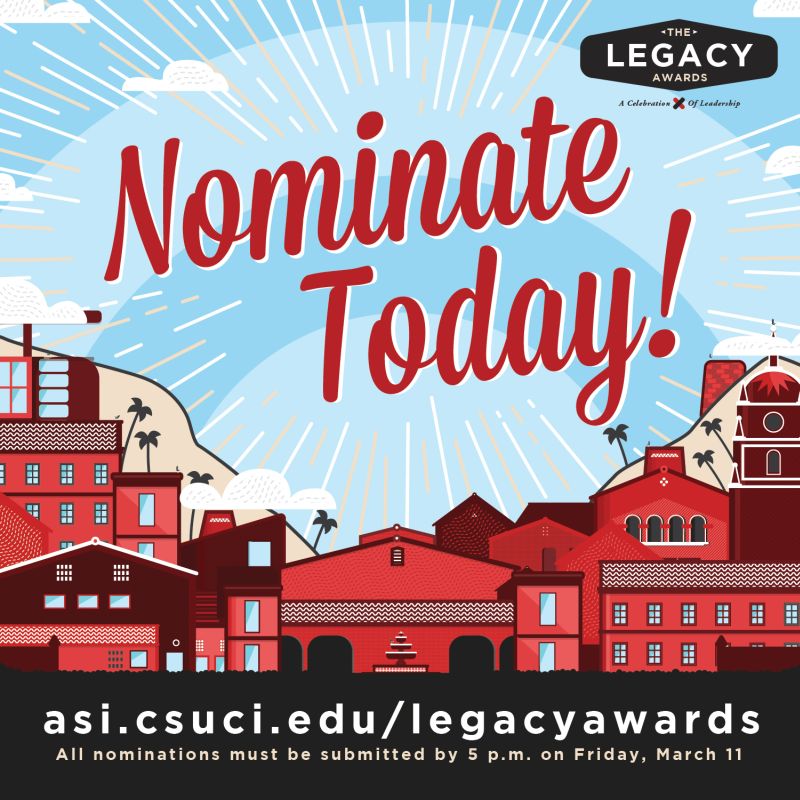 Do you know an outstanding CI student, faculty member, staff member, administrator, or student organization? Nominate them for an award today at http://asi.csuci.edu/legacyawards.htm.
Hosted through a collaboration between Associated Students Inc. and Student Leadership Programs, The Legacy Awards: A Celebration of Leadership is CI's premiere recognition of students, student organizations, faculty, staff and administrators who live the University mission through a commitment to student-centeredness, service, community and individual development.
Award Recognition Categories:
Maximus Award (student, faculty, administrator or staff)
Outstanding First Year Student Leader Award
Outstanding Sophomore Student Leader Award
Outstanding Junior Student Leader Award
Outstanding Senior Student Leader Award
Outstanding Graduate or Credential Student Leader Award
Outstanding Student Organization Advisor Award
Outstanding Student Organization Award
Outstanding Student Group Award
Nominations must be submitted by 5 p.m. on March 11.
For more information, visit http://asi.csuci.edu/legacyawards.htm.
For additional information contact Elizabeth Miller, Director of Student Engagement, at 805-437-3356 or studentleadership@csuci.edu.
ACHA-NCHA Survey – Open Feb. 8-19
CI students, your support and input is extremely important to us. Wellness Promotion & Education (WPE) continues participation in the CSU system-wide administration of the National College Health Assessment (NCHA) through Feb. 19. An invitation letter containing a link to the survey was emailed to all CI students on Feb. 8. The NCHA survey will be accessible online until tomorrow. The survey will consist of 66 questions and should take approximately 20-30 minutes to complete.
The NCHA gathers information regarding students' habits, behaviors and perceptions on the most prevalent health topics. The information confidentially obtained through the survey will allow the University and the Division of Student Affairs to expand and improve health programming and services. All students who submit a survey will automatically be entered into a random drawing to win one of 20 gift cards to the CI Bookstore.
For additional information please contact Deborah Gravelle, Director of Wellness Promotion & Education at 805-437-3177 or deborah.gravelle@csuci.edu.
Return to the Table of Contents
© Wavelength February 18, 2016