Campus Virtual Tour
In collaboration with several areas across the campus, a virtual tour has recently been completed to help attract prospective students, visitors and future employees, to view and experience the beauty and amenities that CI has to offer.
We encourage you to share the virtual tour link with colleagues, family, and friends, which is available in English, Spanish or Mandarin.
To view the tour, visit: http://www.youvisit.com/tour/csuci?pl=v
For more information contact Nancy Gill, Director of Communication & Marketing, ext. 8456 or nancy.gill@csuci.edu.
ACHA-NCHA Survey – Open Feb. 8-19
CI students, your support and input is extremely important to us. During the second and third week of February, Wellness Promotion & Education (WPE) will participate in the CSU system-wide administration of the National College Health Assessment (NCHA). An invitation letter containing a link to the survey will be emailed to all CI students on Feb. 8. The NCHA survey will be accessible online until Feb. 19. The survey will consist of 66 questions and should take approximately 20-30 minutes to complete.
The NCHA gathers information regarding students' habits, behaviors and perceptions on the most prevalent health topics. The information confidentially obtained through the survey will allow the University and the Division of Student Affairs to expand and improve health programming and services. All students who submit a survey will automatically be entered into a random drawing to win one of 20 gift cards to the CI Bookstore.
For additional information please contact Deborah Gravelle, Director of Wellness Promotion & Education at 805-437-3177 or deborah.gravelle@csuci.edu.
Legacy Awards Nominations Now Open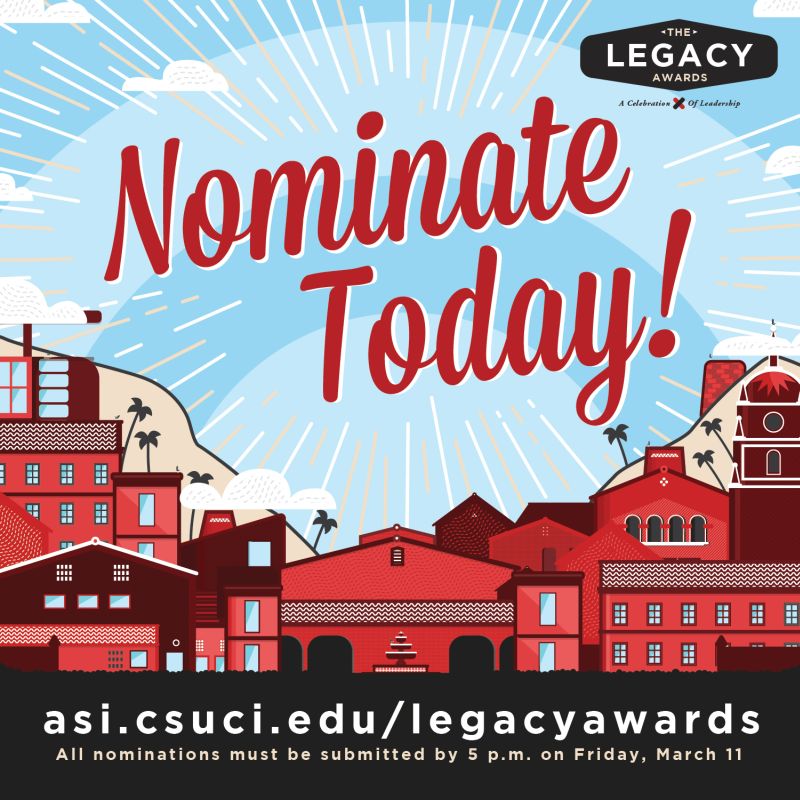 Do you know an outstanding CI student, faculty member, staff member, administrator, or student organization? Nominate them for an award today at http://asi.csuci.edu/legacyawards.htm.
Hosted through a collaboration between Associated Students Inc. and Student Leadership Programs, The Legacy Awards: A Celebration of Leadership is CI's premiere recognition of students, student organizations, faculty, staff and administrators who live the University mission through a commitment to student-centeredness, service, community and individual development.
Award Recognition Categories:
Maximus Award (student, faculty, administrator or staff)
Outstanding First Year Student Leader Award
Outstanding Sophomore Student Leader Award
Outstanding Junior Student Leader Award
Outstanding Senior Student Leader Award
Outstanding Graduate or Credential Student Leader Award
Outstanding Student Organization Advisor Award
Outstanding Student Organization Award
Outstanding Student Group Award
Nominations must be submitted by 5:00 p.m. on March 11.
For more information, visit http://asi.csuci.edu/legacyawards.htm.
For additional information contact Elizabeth Miller, Director of Student Engagement, at 805-437-3356 or studentleadership@csuci.edu.
Corporate Games Sign-ups Period Extended
The deadline to sign up for the CI Corporate Games team and events has been extended to Monday, Feb. 8. Activities with plenty of open spots include 5K run, soccer, table tennis, billiards, kickball, tug-o-war and more.
To sign up, please complete the CI Corporate Games team and events Registration form. Once registered, waivers for City of Ventura and CI will be emailed to you for completion.
Open to all businesses in Ventura, Los Angeles and Santa Barbara Counties
Employees must be 18 years of age and work a minimum of 20 hours per week
Participants must carry proof of employment at all events
Captain/Team information will distribute early February; Division schedules will be posted by March 10 on the City's Team Sideline site. Please note: CI CG will participate in the 5K race on April 6 in Division A, not April 20 as previously announced.
For additional CI CG information and to volunteer, contact Joanna Murphy, CI Corporate Games Team coordinator at 805-437-8915 or joanna.murphy@csuci.edu.
Return to the Table of Contents
© Wavelength February 4, 2016