National Foster Care Month
Join CI's Promoting Achievement Through Hope (PATH) Program during the month of May to celebrate National Foster Care Month. Dedicated to foster youth around the world, National Foster Care Month is celebrated in hopes of raising awareness about the challenges and obstacles foster youth must overcome to achieve milestones in their lives. According to recent statistics, only 50% of foster youth graduate high school, 10% attend college, and less than 3% graduate college (National Data Analysis System, 2015). Changes within the foster care system and working for change in the quality of care foster youth receive will help raise those statistics and ensure higher rates of success.
CI's PATH Program was established in fall 2014 with the goal of assisting students that have been in foster care, were adopted, are in guardianship or kinship, or have experienced homelessness. Please take one ribbon from the PATH Center located in Bell Tower 1701 to show your support for National Foster Care Month during May and please sign your name on the sheet denoting your support.
For additional information contact Leticia Cazares, Foster Youth Counselor at ext. 805-437-3528 or leticia.cazares@csuci.edu.
Celebrating Great Teamwork! Corporate Games Closing Ceremonies – May 7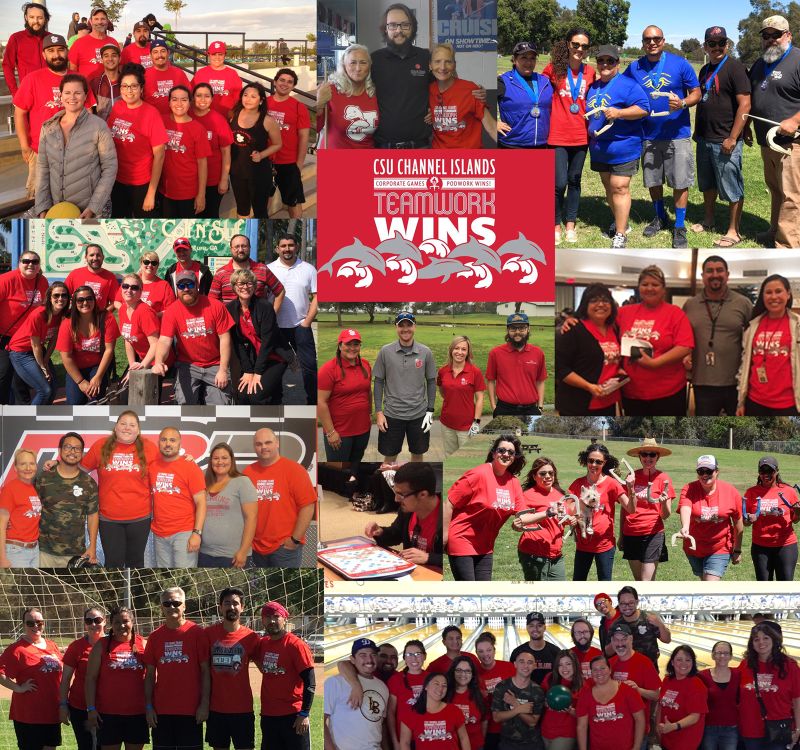 Congratulations to players Merissa Stith and Jessie Gonzalez for winning silver in Coed Horseshoes. Good luck to the Texas Hold 'Em team tonight in their matches.
And congratulations to the entire CI CG team for a fantastic Corporate Games 2016. More than a third of the team was participating for the first time - making it our largest team so far - and there's been a lot of buzz about practices during the off-season. Let's keep the momentum going!
Come cheer us on and hang out at the Closing Ceremonies, Saturday, May 7 at Harbor Cove Beach (across from Ventura Harbor). We'll have a CI tent set up with snacks to enjoy the day.
9 a.m. to Noon - The Sand Sculpture team will design to the theme of "Space-The Final Frontier"
1 p.m. - The Tug-O-War team will give it their all
2 p.m. - Overall & Team Unity trophies awarded for all divisions.
A sincere thank you to everyone who participated and dedicated their time and efforts to each competition. Participants can fill out the City of Ventura survey form online.
We are winners because TEAMWORK WINS!
For additional information, contact Joanna Murphy, Associate Director of Communication & Marketing and CI Corporate Games Coordinator, at 805-437-8915 or joanna.murphy@csuci.edu.
Professional Development Workshop
Join us at our May workshop and series, open to all faculty and staff at CI. Full details are available on the flyer. (PDF, 380K)
Thursday, May 10, 9 -10:30 a.m., Sage Hall, Room 2030, Jacob Jenkins, Assistant Professor of Communication presents: "Lollipop Moments: Developing the Leader (That's Already) Within." Please RSVP if you plan to attend.
SPRING MONTHLY SERIES
*Lunch and Learn Series- Supervising Student Employees: Building a Foundation: Guest Laurie Nichols, Human Resources Director, will be presenting. May 17, Noon to 1 p.m., Sage Hall, Room 2030. *RSVP Required.
WEEKLY STAFF WELLNESS
Yoga Fridays: El Dorado, 7:15 - 8:30 a.m. Bring a yoga mat and water.
STAFF ZUMBA
CI Rec Center Gym, 5:15 - 6:15p.m., Tuesdays and Thursdays.
For additional information contact Wendy Olson, Professional Development Specialist, at 805-437-8533 or wendy.olson@csuci.edu.
Return to the Table of Contents
© Wavelength May 5, 2016