Broome Library De-Stress Activities 5/9-5/12
The week leading up to finals can be stressful, so the John Spoor Broome Library is providing some opportunities to take a break and de-stress!
Monday, May 9: Stop by the TV area and catch a superhero movie
Tuesday, May 10, 1:30 p.m.: Make a superhero themed button or get creative and design your own
Wednesday, May 11, 10 p.m.: Take a dance break at our silent dance party with music from CI Dolphin Radio
Thursday, May 12, 11 a.m.: Get some puppy love with some therapy dogs in the Library Plaza
All week we'll have arts and craft supplies, magnetic poetry, and a photo station so you can get creative!
See the full calendar.
For additional information contact Kaela Casey, Public and Electronic Services Librarian, at 805-437-3330 or kaela.casey@csuci.edu.
Student Veterans Medallion Ceremony – May 13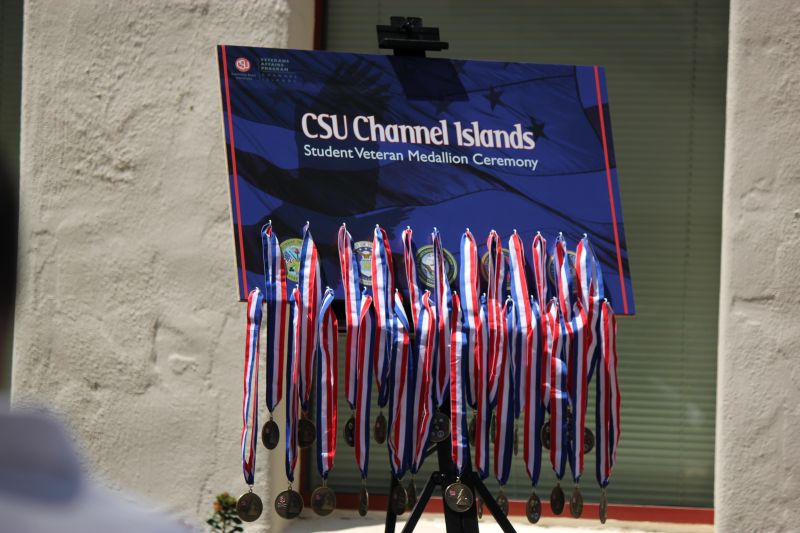 On Friday, May 13 at 2 p.m., the Veterans Affairs Program will be holding the annual Student Veteran Medallion Ceremony at the John Spoor Broome Library Archives Courtyard. This distinguished event acknowledges and celebrates the accomplishments of CI graduating student veterans and veteran's dependents.
President Rush and special guest speakers will express CI's time-honored commitment to its veterans. After the ceremony there will be a reception for the community to congratulate the graduating students. Recognized as a Veteran Friendly Campus for five years in a row, CI is proud to serve students veterans and its' active military students with excellence, and hope to raise awareness to those who have so faithfully served us.
For additional information contact Jay Derrico, Assistant Director of Veterans Affairs and Commuter Programs, at 805-437-2745 or jay.derrico@csuci.edu.
Honors Convocation – May 14
The University will bestow honors on high-achieving graduating seniors during its 2016 Honors Convocation, Saturday, May 14, at 6:30 p.m. at the John Spoor Broome Library Plaza. The ceremony is open to all students earning honors and graduating from fall 2015 through summer 2016.
To receive honors at graduation, a student must have completed a minimum of 30 units at CI for a letter grade and earned a grade point average of 3.50 or above in all CI and transfer coursework. Graduates may receive honors at one of the following three levels: Cum Laude for GPAs of 3.50 – 3.74; Magna Cum Laude for GPAs of 3.75 – 3.89; and Summa Cum Laude for GPAs of 3.90 – 4.0.
CI will also recognize outstanding students in each major with Program Honors, and acknowledges students with achievements in the areas of community engagement and integrative, multicultural, and international perspectives with Mission Center Awards. Graduating students who are President's Scholars or members of the Mortar Board Four Pillars Chapter, the nation's premier honor society, will also be recognized during the event.
For additional information contact Andrea Skinner, Curriculum Coordinator and APDB Coordinator at andrea.skinner@csuci.edu or 805-437-2749.
Commencement – May 21
Over 2,000 students are eligible to receive degrees and credentials at this year's commencement ceremonies to be held on Saturday, May 21 at 9 a.m. and 3 p.m. Commencement is a wonderful opportunity to see first-hand the pride and joy seen on the faces of graduating students and their families.
The campus community is also invited to attend the Commencement rehearsal scheduled for Friday, May 20 in the early afternoon in the South Quad. An email reminder will be sent the week of Commencement with an exact time for rehearsal.
For additional information contact Elizabeth Rubalcava, Director of Special Projects and Commencement Chair at 805-437-8416 or elizabeth.rubalcava@csuci.edu
Bike to Work Week – May 16-20

Swap your car for a bike and pedal to work! The campus community is invited to join the local community by participating in Bike to Work Week May 16-20. Those who participate are able to receive free transportation on VCTC buses and have a chance to win prizes, receive free bike tune-ups and more! Visit the Rideshare website to learn more about this fun event.
For additional information contact Sandi Gannon, Administrative Support Coordinator, Parking & Transportation Services, at 805-437-8446 or Sandra.gannon@csuci.edu.
Coaching Small Business to Export – June 3
On Friday, June 3 from 8:30-11:30 a.m., the Martin V. Smith (MVS) School of Business & Economics will host Coaching Small Businesses to Export in Malibu Hall, Room 100. A panel of experts will discuss the prospects of bringing innovations and ideas to the global market and present demonstrations on new innovations. Full details are available on the flyer. (PDF, 170K)
Please RSVP if you plan to attend. Complimentary parking is offered and breakfast is included.
For additional information contact Paulina Rodriguez, MVS Coordinator, at 805-437-3637 or Paulina.rodriguez@csuci.edu.
Join Us! Happy Hour at the Hangar – June 16
Join your Alumni & Friends Association for a wine and beer tasting experience on Thursday, June 16 from 5:30 – 8 p.m. at the Camarillo Commemorative Air Force Museum Hangar. Enjoy tastings from Alexander Valley Vineyards, alumni-owned MadeWest Brewing Company and Lori's Original Lemonade, plus delicious appetizers and a raffle! Tickets are on sale now so get yours before they are gone! All proceeds from the event benefit the Alumni & Friends Endowed Student Scholarship Fund. To purchase tickets, visit http://go.csuci.edu/wine.
For additional information contact Steven Guetzoian, Specialist, Alumni Engagement & Annual Fund, at 805-437-3622 or steven.guetzoian@csuci.edu.
Return to the Table of Contents
© Wavelength May 5, 2016