Food for Fines Food Drive – Nov. 6-19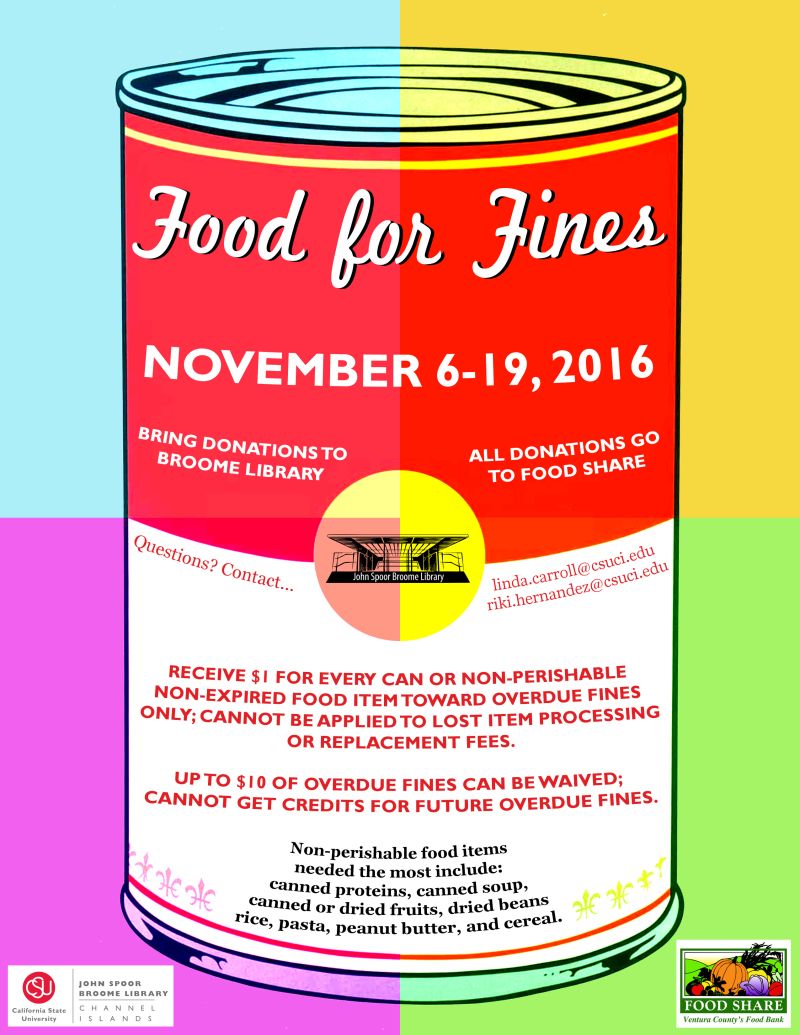 The John Spoor Broome Library will be hosting its semi-annual Food for Fines Food Drive from Nov. 6-19. Help support FOOD Share, Ventura County's Food Bank, by donating non-perishable food items. Bring in a donation and receive $1 for every can or non-perishable, non-expired food item toward overdue fines up to $10. You're welcome to bring food donations even if you don't have fines. Collection bins will be located in the Broome Library lobby.
Food items needed most include:
Canned proteins (e.g. tuna, chicken)
Canned soup
Canned or dried fruits
Canned vegetables
Dried beans, rice, and pasta
Canned spaghetti sauce
Peanut butter
Cereal
For more information contact Riki Hernandez, Library Services Specialist II, Circulation and Stacks, at 805-437-3379 or riki.hernandez@csuci.edu.
Meet a Cal Fresh Representative every Wednesday
CalFresh can be a great way to help pay for healthy and nutritious groceries. Go to www.mybenefitscalwin.org to find out if you are eligible and to apply. You can also stop by the CalFresh office, located in Ojai Hall, Room 1978, from 9 a.m. to 1 p.m. every Wednesday to meet with a CalFresh representative.
For more information contact Jeannette Edwards, Centers Coordinator, at 805-437-2608 or Jeannette.edwards@csuci.edu.
Return to the Table of Contents
© Wavelength November 17, 2016