Grad Fest dates set; Volunteers needed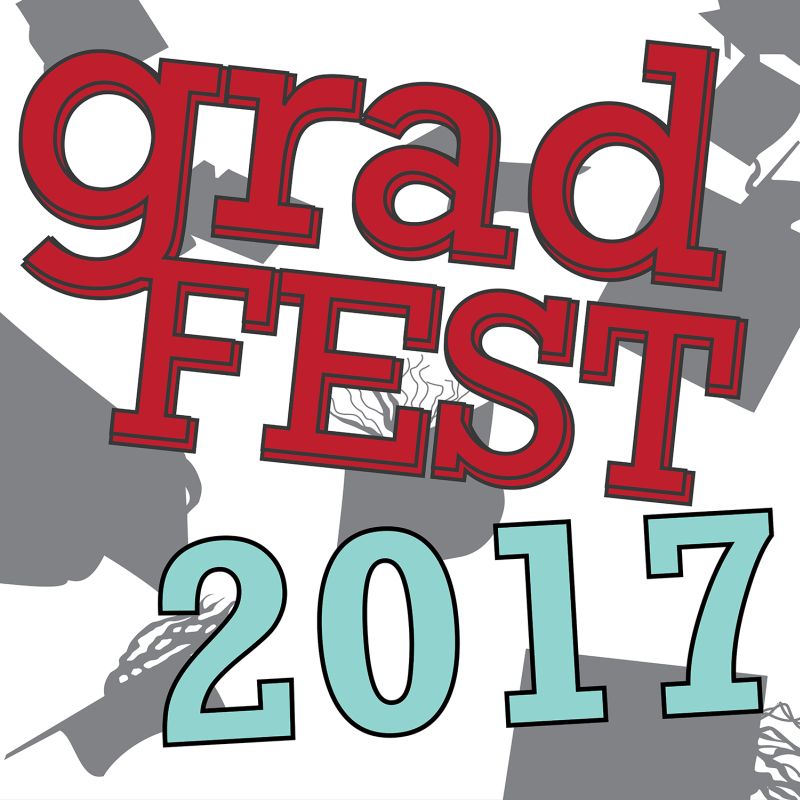 Students - Grad Fest is your "one stop shop" for Commencement, where you can buy your cap and gown, pick up day-of parking permits, have pictures taken, purchase announcements, RSVP for Commencement, join the Alumni & Friends Association, speak with Career Services, take care of last minute records issues, be part of the Commencement "thank you" video, and so much more! Learn more at go.csuci.edu/gradfest.
Grad Fest will be held on these dates:
CSUCI – Wednesday and Thursday, March 8 & 9 from 11 a.m. to 6 p.m. in Grand Salon
Goleta* – Friday, March 10 from 4–7 p.m.
Thousand Oaks* – Saturday, March 18, from 10 a.m. to 1 p.m.
All students are welcome to attend Grad Fest at CSUCI.
*Goleta and Thousand Oaks dates are open to students at corresponding campuses. Services vary by location.
Campus community - Please sign up if you would like to volunteer at Grad Fest.
For more information contact Steven Guetzoian, Alumni Engagement & Annual Fund Specialist, at 805-437-3622 or steven.guetzoian@csuci.edu.
R.A.D. Class begins Feb. 28
The CI Police Department will be offering R.A.D. classes throughout the year for students, staff, and faculty of CI.
Class sessions will be held on campus Feb. 28, March 2, 7 and 9 from 6-9 p.m. The class is a total of 12 hours (three hours each day) and participants must attend all four sessions to complete the program.
Class size is limited so sign up now, in person, at the CI Police Department, Placer Hall. A $20 fee will be collected at the time of registration, which will be fully refunded upon completion of the course. A waiting list is also being established.
Full details are available on the flier. (PDF, 255KB)
For more information contact Rachel Huff, Community Involvement & Crime Prevention Coordinator, at 805-437-8444 or rachel.huff@csuci.edu.
Take Back the Night Event Returns to CI – March 1
Take Back the Night is a powerful event that occurs annually on college campuses all over the country which encourages survivors and community members alike to break the silence associated with sexual assault and domestic/dating violence.
On Wednesday, March 1, 5:15 p.m. at the Broome Library Plaza, all those who are committed to ending interpersonal violence are welcome to come together to celebrate, honor, and support the survivors amongst us, while promoting a safer campus culture.
The free event will feature local speakers, including opening remarks by President Erika D. Beck, a candlelight vigil, a survivor speak-out open mic and a light dinner. The survivor speak-out will give survivors of sexual violence and their loved ones who support them an opportunity to use their voice in solidarity with others affected in the community.
View the flier for full details. (PDF, 1.0MB)
For more information contact Kathryn Hawkins, University Experience Associate, at Kathryn.hawkins517@csuci.edu.
Digital Redlining Talk – March 14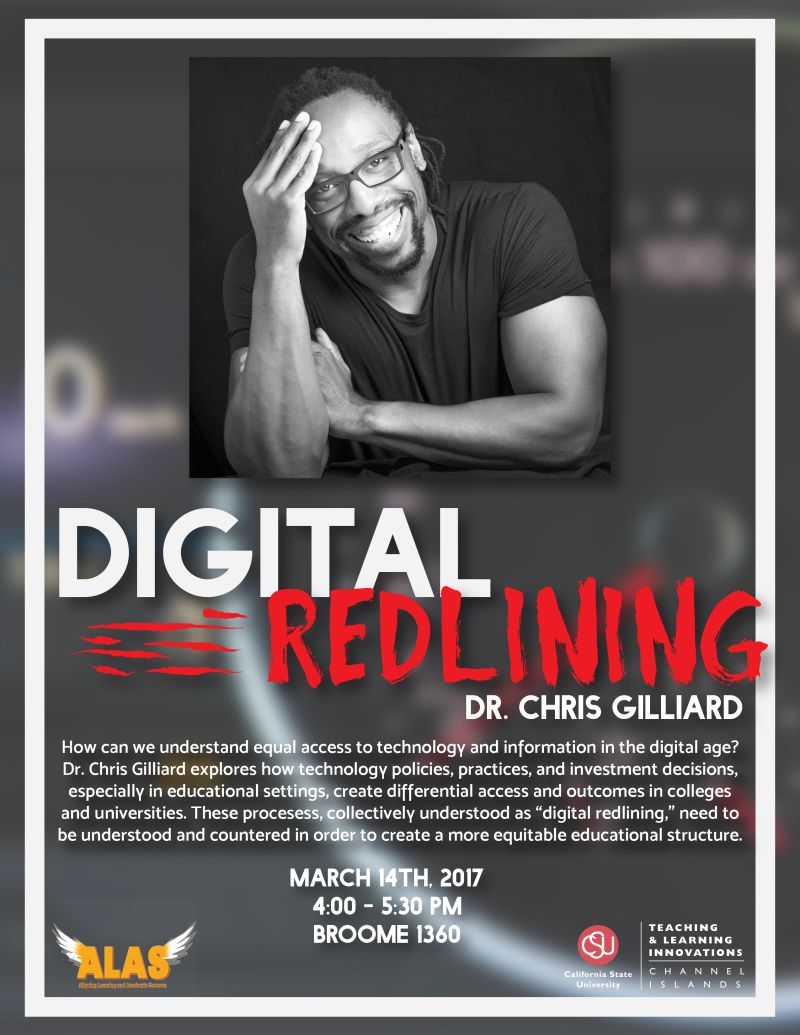 How can we understand equal access to technology and information in the digital age? Join us for a presentation on technology in education on Tuesday, March 14,4 – 5:30 p.m. in Broome Library, Room 1360.
Chris Gilliard explores how technology policies, practices, and investment decisions, especially in educational settings, create differential access and outcomes in colleges and universities. These processes, collectively understood as "digital redlining," need to be understood and countered in order to create a more equitable educational structure.
Co-sponsored by Teaching & Learning Innovations and Project ALAS.
For more information contact Kristi O'Neil Gonzalez, Instructional Technologist, at 805-437-3936 or Kristi.oneilgonzalez@csuci.edu.
Graduate Studies Center GRE Test Preparation Sessions – thru March 18
*Deadline to enroll is Feb. 18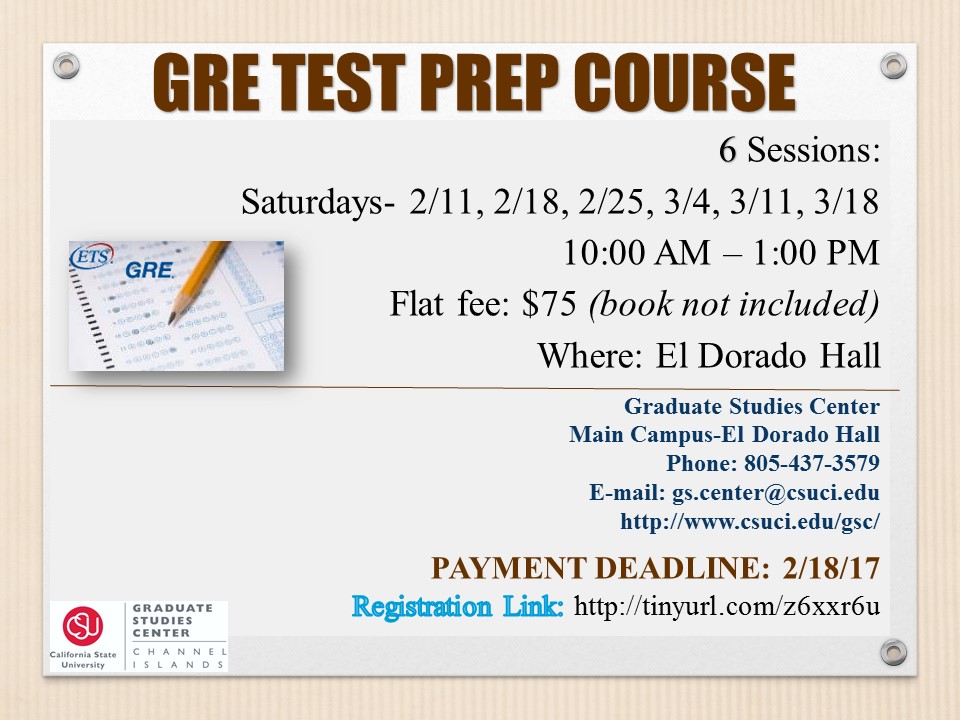 Those who are interested in preparing for the GRE exam are invited to attend test preparation sessions taking place on Saturdays in El Dorado Hall from 10 a.m. to 1 p.m. Topics that will be covered in the GRE Test Preparation sessions are Arithmetic, Text Completion, Sentence Equivalence, and Vocabulary; Algebra, Quantitative Comparison, and Reading Comprehension; Geometry and Analytical Writing; Data Analysis and Verbal Review.
Please RSVP if you plan to attend. Payment and enrollment deadline is Feb.18. The cost to attend is $75.
For more information contact Sara Alcala, Graduate Studies Center Activities Director, at 805-437-3579 or sara.alcala@csuci.edu.
Return to the Table of Contents
© Wavelength February 16, 2017