Let Ventura County Know We Are #1!
Let Ventura County know that CI is #1 by voting in the Ventura County Star Readers' Choice awards in the "College/University West County" category. Online voting is available through March 20. Follow the link below to cast your vote for CI:
For more information, contact Communication & Marketing at ext. 8415 or ci.news@csuci.edu.
Now Hiring Summer Conference Assistants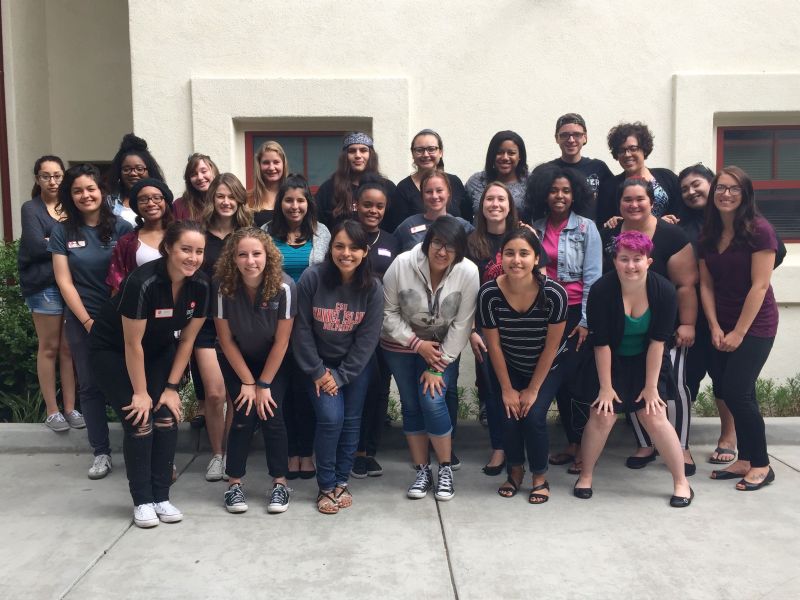 Housing & Residential Education (HRE) is now hiring Summer Conference student assistants for summer 2017. Summer Conference assistants help with the coordination and facilitation of residential conferences and events from June through August. This paid position is ideal for students with a commitment to customer service interested in working with external groups and University affiliates.
Applications for summer 2017 will be accepted until 5 p.m. on March 17. Applicants must submit a resume and cover letter.
For more information contact Emily Guetzoian, HRE Marketing & Conference Analyst, at 805-437-3342 or emily.guetzoian@csuci.edu.
Nominations open for the Staff Award for Excellence
The purpose of the Staff Award for Excellence is to recognize a staff member who provides outstanding service above and beyond the normal scope of their work duties, has exhibited a commitment to connect his/her work with the University's mission and strategic initiatives, and serves as a role model for other staff.
Please cast your nomination by March 3.
For more information contact Rosario Cuevas, CI Staff Council, at rosario.cuevas@csuci.edu.
Nominations now open for the 2017 Legacy Awards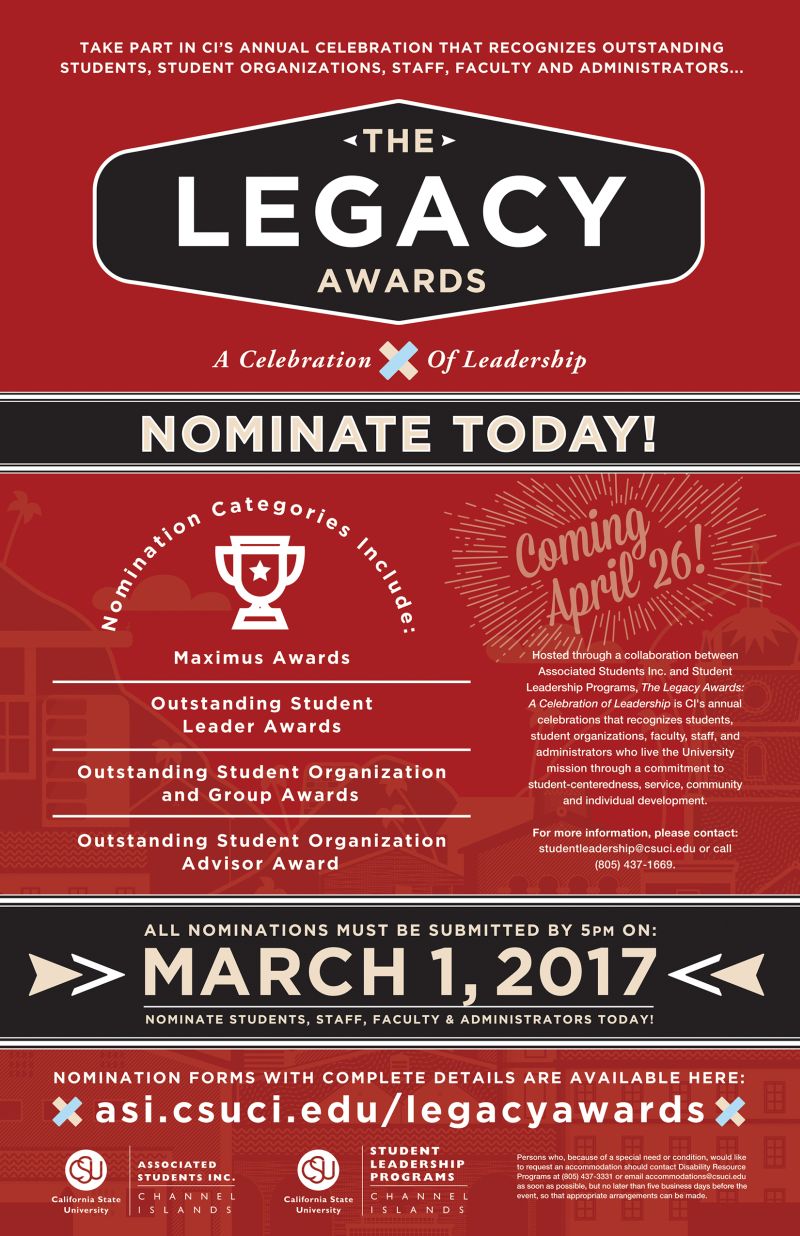 Do you know an outstanding CI student, staff, administrator, faculty member, or student organization? Nominate them for an award by visiting http://asi.csuci.edu/legacyawards.
Nominations must be submitted by 5 p.m. on Wednesday, March 1.
Hosted through a collaboration between Associated Students Inc. and Student Leadership Programs, The Legacy Awards: A Celebration of Leadership is CI's premiere recognition of students, student organizations, faculty, staff and administrators who live the University mission through a commitment to student-centeredness, service, community and individual development.
CI students may nominate:
Students, faculty, staff, and administrators for the Maximus Awards
Any Outstanding Student Leader, Student Organization, Student Organization Advisor, and Student Group Awards
CI faculty, staff, and administrators may nominate:
Students for the Maximus Award
The Outstanding Student Leader, Student Organization, and Student Group Awards.
Important notes:
CI faculty, staff, and administrators may not submit nominations for other faculty, staff, or administrators.
Self-nominations are only allowed for Outstanding Student Organization and Outstanding Student Group awards.
Self-nominations for individual awards are not accepted.
For more information contact Kem French, Coordinator of Student Leadership Programs, at 805-437-1669 or studentleadership@csuci.edu.
ASI Elections Application Now Open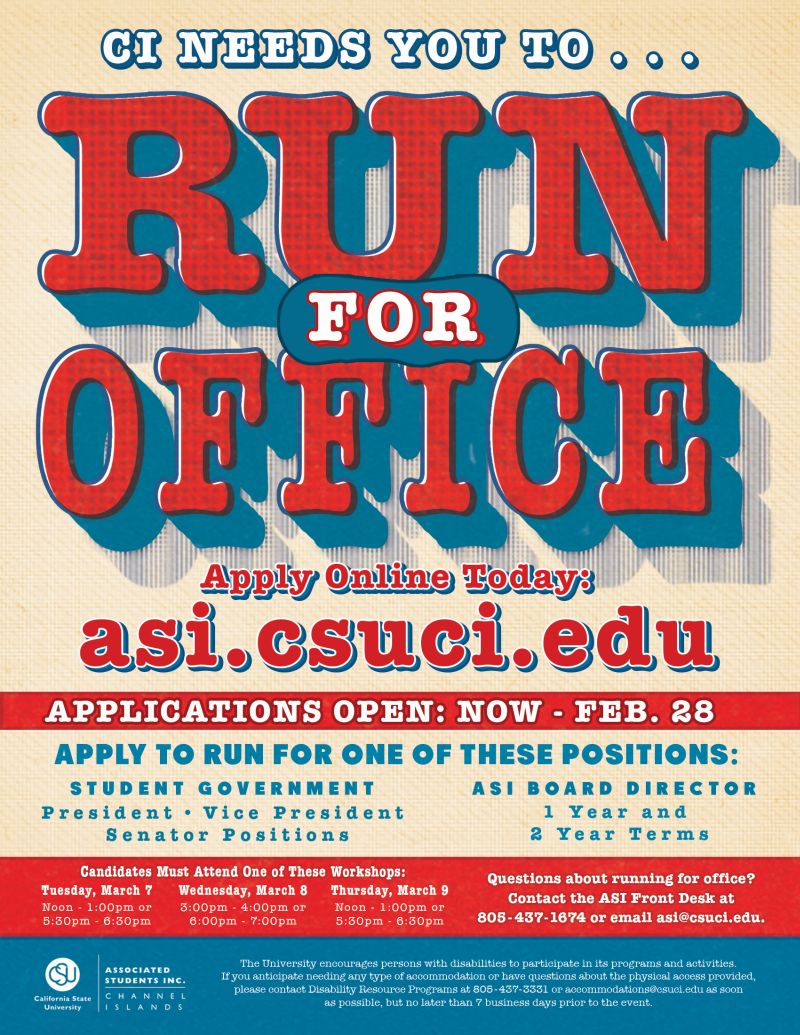 Calling all students who want to make a difference at CI!
ASI is now accepting candidate applications for the following elected ASI student leadership positions for the 2017/2018 school year:
Student Government President and Vice President
Student Government Senator (9 positions)
ASI Board Director One and Two Year Terms
Applications must be received by Tuesday, Feb. 28 at 5 p.m. Candidates may apply online by completing the ASI Elected Office Candidate Application at http://asi.csuci.edu/asielections.htm.
For more information, including eligibility guidelines, detailed position descriptions, and a campaign timeline, please visit http://asi.csuci.edu/asielections.htm.
For more information contact Genesis DeLong, ASI Interim Director at genesis.delong@csuci.edu or Jeremy Booker, ASI Elections Council Chair, at jeremy.booker@csuci.edu.
CI Dolphin Pantry
Come visit the CI Dolphin Pantry located in Ojai Hall 1978 on Mondays, Tuesdays, Thursdays, and Fridays from 10 a.m. to 4 p.m., and on Wednesdays from 1- 4 p.m.
The CI Dolphin Pantry has non-perishable food items and personal care items available at no cost for students in need. Donations are also welcomed.
CalFresh representatives are in the CI Dolphin Pantry on Wednesdays from 9 a.m. to 1 p.m. to provide information and assistance to interested students. Full details are available on the flier. (PDF, 241KB)
For more information and for volunteer opportunities, contact Alexis Marquez at 805-437-3619 or alexis.marquez428@csuci.edu and visit our webpage at http://www.csuci.edu/basicneeds.
CalFresh: Better Food for Better Living
Attention CI students – The CalFresh program can add to your food budget and provide you with healthy and nutritious food. The program issues monthly electronic benefits that can be used to buy most foods at many markets and food stores. Find out if you are CalFresh eligible by visiting the CalFresh office, located in Ojai Hall, Room 1978 every Wednesday from 9 a.m. to 1 p.m. thru May 3, and meet with CalFresh representative, Melissa Cardenas.
For more information contact Jeannette Edwards, Centers Coordinator, at 805-437-2608 or Jeannette.edwards@csuci.edu. For more information about the CalFresh program contact: 805-983-7100.
Return to the Table of Contents
© Wavelength February 16, 2017