Physician's Assistant Speaker – March 17
The CSUCI Physician's Assistant Student Club (PASC) invites interested students to attend a presentation from Capt. Kelly Guerra, PA-C, from the United States Army. She will be discussing what it takes to become a physician's assistant and her role as a PA in the military.
The event will take place on Friday, March 17 from 12 - 1 p.m. in Sierra Hall, Room 2411. Please RSVP to csucipasc@csuci.edu if you plan to attend.
Full details are available on the flyer. (PDF, 227K)
For more information contact Stephanie Berrellez, Event Scheduler, at 818-624-2674 or Stephanie.berrellez978@myci.csuci.edu.
Summer Study Abroad Programs – March 23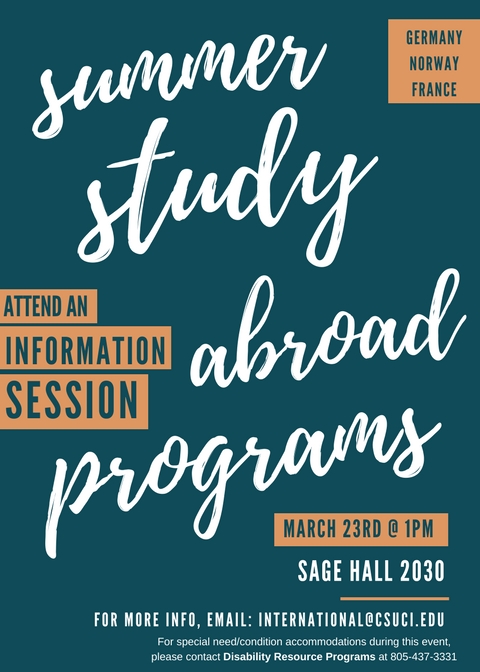 Are you a CI student interested in a short-term study abroad program this summer? The International Programs office is offering three new summer programs in Norway, Germany, and France. Interested students can attend an information session on Thursday, March 23 from 1-2 p.m. in Sage Hall, Room 2030 to learn more about these exciting opportunities.
Please RSVP to international@csuci.edu if you plan to attend.
For more information contact Sophie Holliday, Study Abroad Advisor, at 805-437-3107 or international@csuci.edu.
Budget Forum – March 28
In our continuing efforts to help the CI community understand our budget environment for the current fiscal year and future resource planning efforts, Vice President for Business & Financial Affairs Ysabel Trinidad and Interim Provost Dan Wakelee invite the campus community to a Budget Forum presentation on Tuesday, March 28 from 10 a.m. to Noon in Malibu Hall 100.
This session will provide information on the status of our current budget, as well as planning for the 2018-19 fiscal year budget. Additional information about this can be found at the Strategic Resource Planning Committee website.
For more information contact Teresa Montoya-Morua, Administrative Support Assistant, Budget & Planning, at 805-437-3514 or Teresa.montoya-morua@csuci.edu.
Bridge the Gap – March 29-30
The campus community is invited to participate in a brand new experience, Bridge the Gap, in the Petit Salon on March 29 and 30 from 9 a.m. to 5 p.m. Inspired by the Museum of Tolerance, this full-sensory facilitated experience addresses ableism, sexism, heterosexism, white/white passing privilege, erased history, and activism. Participants will walk through different rooms revealing a plethora of information and visual media related to past and present social inequity.
The experience takes approximately 20 minutes per group of about 20 participants followed by a 15 minute debrief, optional pledge and giveaways.
The entire experience is facilitated by professional staff and orchestrated by para‐professional student staff in the Residence Hall Association. Participants will have the opportunity to reflect on the difference one person can make in ending the cycle of oppression. Information, opportunities for activism, campus and community resources will be provided.
If you are interested in participating in Bridge the Gap, please RSVP for Bridge the Gap.
If you'd like to volunteer to be a facilitator at the event to lead tours and conduct the debrief session, please sign up to be a facilitator.
For more information contact Tanya Yancheson, Assistant Coordinator of Residential Education, at 805-437-3670 or Tanya.yancheson@csuci.edu.
Farmworker Immersion Project – April 7
In collaboration with the Chicana/o Studies Program, House Farm Workers! and Reiter Affiliated Companies, the Center for Community Engagement presents the Farmworker Immersion Project (FIP) taking place on Friday, April 7 from 7:30 a.m. to 4:30 p.m.
The FIP is a program that places students in the community to learn about farmworker rights and immigration issues. The FIP will guide students through a first-hand experience of typical farm work life in Ventura County. We will visit a local berry farm where students will learn about the agricultural business in our county, then work in the field as the farm manager instructs on how to harvest berries. In the afternoon, we will travel first to a health clinic for farm workers and then visit an affordable housing community to speak with farm worker families. Finally, we will come together for a group reflection and then return to campus for a Teatro Campesino performance by Performing Arts Capstone student, Phillip Sanders.
Participants will meet at the old bus station on San Luis Avenue and be taken by Roadrunner Shuttle to the FIP locations.
Please RSVP if you plan to attend.
For more information contact Pilar Pacheco, Managing Director, Center for Community Engagement, at 805-437-8855 or pilar.pacheco@csuci.edu.
Strawberry Festival at Islands Café – April 18

The campus community is invited to attend the 6th Annual Strawberry Festival at Islands Café on Tuesday, April 18. Guests will enjoy an all-strawberry themed menu throughout the day. Prices are as follows: $7 for breakfast, $9.25 for lunch and $11.25 for dinner.
For more information contact Bridget Partida, Catering Manager, at 805-437-8905 or bridget.partida@csuci.edu.
Leadership Dinner – April 20
Join us for the 13th Annual Business & Technology Partnership Leadership Dinner on April 20 from 6 - 9:30 p.m. at the Westlake Village Inn. Event honorees include Lon Morton as Business Leader of the Year, Jeff Green as Technology Leader of the Year, Nitika Parmar, Associate Professor of Biology as Faculty Leader of the Year and five Student Scholarship Recipients.
CI alumni and faculty may purchase tickets for $75; individual tickets are $150 per person. RSVP for the Leadership Dinner.
Full details are available on the flier. (PDF, 561KB)
For more information contact Cathy Sanchez, Development Administrative Assistant, at 805-437-3701 or Catherine.sanchez@csuci.edu.
© Wavelength March 16, 2017