Fifth Tree Campus USA designation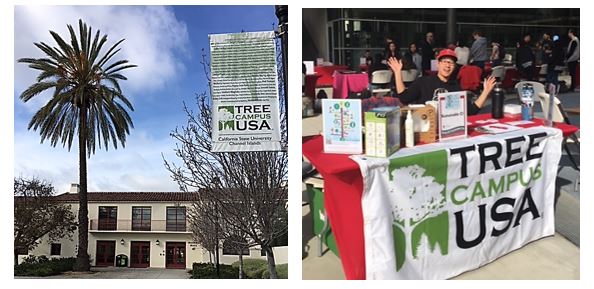 Facilities Services, with special acknowledgement of the Grounds department, is pleased to announce that we are recognized as a Tree Campus USA for the fifth year. The nonprofit Arbor Day Foundation bestows the award to encourage sustainability and community involvement.
In the last five years, we've continued to meet each of the five standards that include maintaining a tree advisory committee, a campus tree-care plan, dedicated annual expenditures toward trees, an Arbor Day observance, and student service-learning projects. On campus, we have over 2,900 trees of 120 different species of which about 75% are California natives. These trees do more than just beautify the campus landscape; they also sequester carbon dioxide from the atmosphere (reducing our Greenhouse Gas effect), give shade that helps cool the overall campus, provides habitat and protection for native and migrating wildlife, and decrease storm water runoff.
CI is one of eleven California campuses and one of only four CSU's to have this distinction. Facilities Services and the CI community are dedicated to being advocates for sustainable forest management, environmental conservation, and campus engagement.
For more information contact Coleen Barsley, Sustainability and Operations Analyst, at 805-437-3507 or coleen.barsley@csuci.edu.
Street Store Project Clothing Collection
The Center for Community Engagement is collecting donations of new and gently used clothing and shoes for adults and children. These items will be distributed at the Street Store taking place on Saturday, April 22 as part of the Frances Huggins Community Health Fair in downtown Oxnard. The Street Store is a pop-up store where the underserved community can find clothing items in a dignified, compassionate manner, all free of charge.
Through April 14, clothing and shoe donations can be dropped off in the lobby of Ojai Hall between 8:30 a.m. to 4:30 p.m., Monday through Friday.
For more information contact Alexis Marquez, CCE Ambassador, at 805-437-3619 or alexis.marquez428@csuci.edu.
Return to the Table of Contents
© Wavelength March 16, 2017