Let Ventura County Know We Are #1!
Let Ventura County know that CI is #1 by voting in the Ventura County Star Readers' Choice awards in the "College/University West County" category. Online voting is available through March 20. Follow the link below to cast your vote for CI:
For more information, contact Communication & Marketing at ext. 8415 or ci.news@csuci.edu.
Call for Vocalists – 2017 Commencement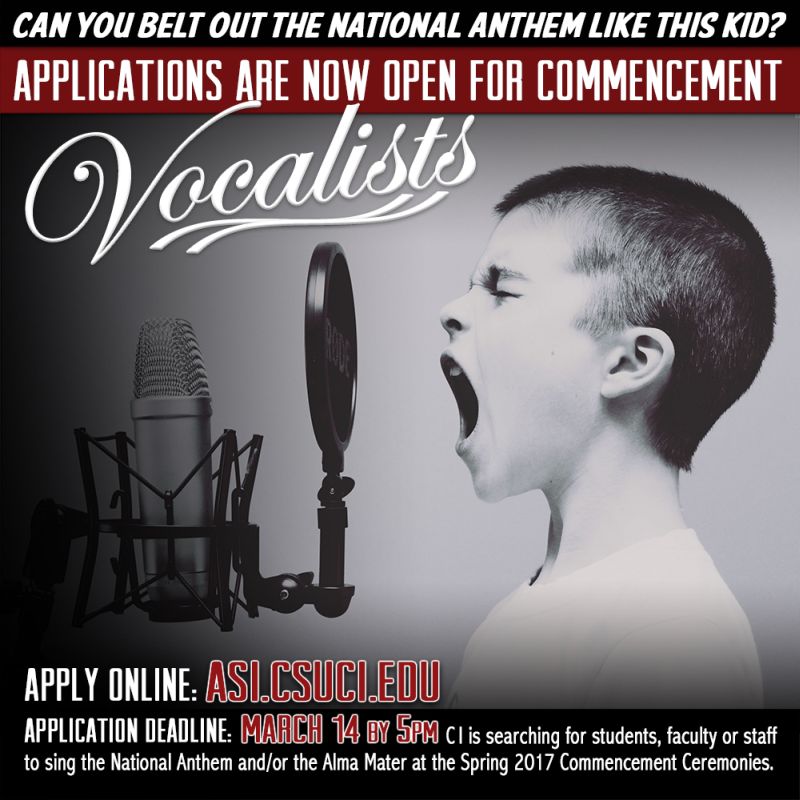 Can you belt out the National Anthem like a professional singer? Looking for a way to be involved in this year's commencement ceremonies? We have an opportunity for you!
CI is searching for current students, faculty, or staff to sing the National Anthem and/or the Alma Mater during the 2017 Commencement Ceremonies. Applications are now being accepted through March 14 by 5 p.m.
Apply Online today: asi.csuci.edu.
For more information contact Annie Block-Weiss, Commencement Vocalist Committee Chair, at 805-437-1674 or annie.block-weiss@csuci.edu.
Dolphin Pantry
Visit the CI Dolphin Pantry located in Ojai Hall, Room 1978 on Mondays, Tuesdays, Thursdays, and Fridays from 10 a.m. to 4 p.m., and on Wednesdays from 1 to 4 p.m.
The CI Dolphin Pantry has non-perishable food items and personal care items available at no cost for students in need. Donations are always welcome.
CalFresh representatives are in the CI Dolphin Pantry on Wednesdays from 9 a.m. to 1 p.m. to provide information and assistance to interested students. Channel Islands Food Pantry details. (PDF, 241KB)
For more information and for volunteer opportunities, contact Alexis Marquez at 805-437-3619 or alexis.marquez428@csuci.edu and visit our webpage at http://www.csuci.edu/basicneeds.
CalFresh: Better Food for Better Living
The CalFresh program can add to students' food budget and provide you with healthy and nutritious food. The program issues monthly electronic benefits that can be used to buy most foods at many markets and food stores. Find out if you are CalFresh eligible by visiting the CalFresh office located in Ojai Hall, Room 1978 every Wednesday from 9 a.m. to 1 p.m. thru May 3, and meet with CalFresh representative, Melissa Cardenas.
For more information contact Jeannette Edwards, Centers Coordinator, at 805-437-2608 or Jeannette.edwards@csuci.edu. For more information about the CalFresh program contact: 805-983-7100.
Return to the Table of Contents
© Wavelength March 2, 2017