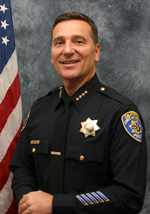 Welcome to CSU, Channel Islands!
I would like to welcome you to CSU Channel Islands. As members of the CI campus community we all share the responsibility of maintaining a safe and secure environment. The CSUCI Public Safety Department will lead in this effort, but we will need your help and support. Your safety while attending CI is our primary concern.
CI is statistically a very safe place for you to live and/or attend college.  If you would like to review specific crime statistics for the previous three years you can do so by clicking this link Annual Security Report, by contacting the Police Department at 805-437-8444 or by emailing   police@csuci.edu . Better yet - stop by our facility and visit with one of our officers.  Our offices are located adjacent to Parking Lot 1A, in Placer Hall.  Our entrance door is clearly marked.  We're here 24 hours a day 7 days a week.
Serious crime is an infrequent event here and we definitely like it that way.  Unfortunately crime – whether serious or less serious – is present everywhere in society.  While the campus community does a good job at providing a safe and secure environment we also feel an obligation to raise your awareness of situations and circumstances that might compromise your safety regardless of where you live or go to school.  We'd like for you to be able to adequately respond to a wide range of problematic situations that may come up as you venture away from home and really start making it "on your own."  Some of these situations could be:
Please take a moment to look through this web site and use its resources to better prepare yourself for a safe and secure experience not only here at CSU Channel Islands but wherever your life leads.
Sincerely,
John M. Reid