BP.03.012 - Business Practice for Hardware End-of-Life and "Red Tagging"
Printable Version in PDF Format (Get Adobe Acrobat)
Table of Contents
History [top]
Business Practice Number: BP.03.012
Version: 1
Drafted By: Carlos Miranda
Approved By: Michael Berman
Approval Date: 01/05/2016
Latest Revision Date:
Purpose [top]
Describes the computer hardware End of Life Red Tagging processes, and the support limits T&I complies with to maintain a responsive and secure computing environment.
Background [top]
Business Practice [top]
Accountability [top]
Vice President for Technology & Innovation
Applicability [top]
All CI recipients of computer hardware.
Definition(s) [top]
End-of-Life -

the product supplied to the faculty/staff is in the end of its useful life and the vendor (Dell/Apple) stops marketing, selling, or sustaining it

. 
Red Tag – The tag that is affixed to computer hardware when that hardware is no longer supported by T&I personnel due to one or more of the following reasons:

The computer has reached the end of its life-cycle and requires replacement.
The computer does not run a CI standard computer operating system (OS).
The computer is not a CI standard make/model.
The computer was purchased without CI funds.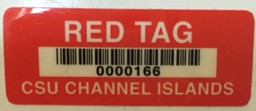 Text [top]
General
When has a CSUCI computer reached the end of its life-cycle?
CI computers are purchased with 3yr warranties. A computer reaches its end-of-life after 5 years of service and will be assigned a "Red Tag" at that time.
What happens after a computer has been "Red Tagged"?
A "Red Tagged" computer will not be removed and decommissioned as long as it's in working condition (able to startup successfully to a working desktop) and is running a current and supported OS receiving monthly security and OS updates. 
Why is the Red Tag needed?
T&I cannot effectively support computers that are no longer under warranty and still keep pace with all the new equipment purchased. Old computers should be replaced on a regular cycle to insure CI's users have good working equipment to perform their daily assignments.
Do Red Tagged computers get added into ZoHo (campus inventory)?
Yes. There is a field in the ZoHo inventory for Red Tagged computers.
Exhibit(s) [top]
Assessment History [top]