Education Benefits Certification Request
As a student veteran, service member, spouse, or dependent who has been admitted to CSUCI, you will use the Veterans Benefit functionality in your myCI portal to:
Upload required documents one time to initiate your first certification for VA education benefits
Request certification for each following semester you enroll in classes
Check the status of your certification request
Update your requested certification if you change your enrollment
Important considerations: 
If you do not plan to claim veterans benefits, Veteran students can upload a DD-214, to qualify for priority registration.
If you are receiving both Ch. 35 (Dependents' Educational Assistance) and the Cal Vet Fee Wavier, enter the Ch. 35 benefit information first and attach both the Cal Vet Fee Waiver and Ch. 35 Certificate of Eligibility (step 3).
If you plan to receive only the Cal Vet Fee Waiver, you should upload an approved Cal Vet Fee Waiver each Academic Year but not request VA education benefit certification for each class (up to step 3, #3).
Step 1
Go to the CSUCI home page at csuci.edu and log into myCI
Click CI Records
In the Student Center, under Academics, click on Veterans Benefit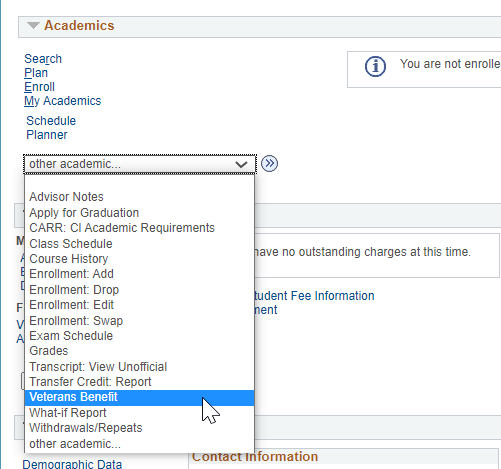 Step 2
Review the welcome page
Have PDF copies of the documents you plan to submit ready if this is your first time using this portal
If you are requesting certification for a semester, be sure you have enrolled in classes
To proceed, select the Certification Request button (lower right)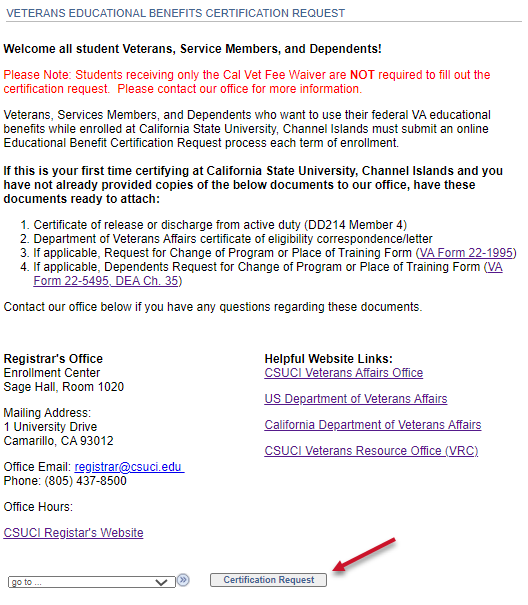 Step 3
Select the term you want to request to be certified to the VA
Click "Initiate Request"
Navigate to "Attachments" and upload your documents if this is your first request
Navigate to "Select Classes to Certify" to request certification course-by-course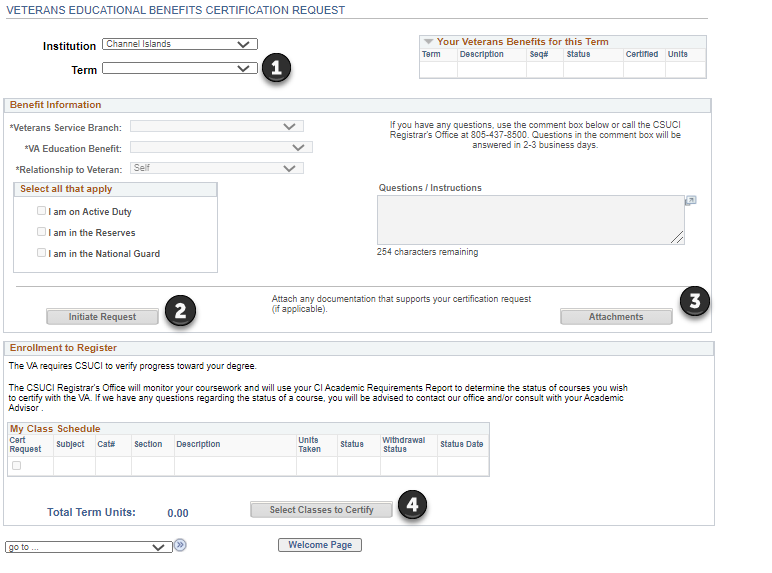 Step 4
Read and acknowledge the information on the Certification Request page
In the Request Classes for Certification table, select the courses you want certified

Request certification only for courses that are part of the curriculum for your major or academic program - the VA will not cover tuition and fees for other courses

Once you are happy with your selections, click "Submit Request"
Select "Return" to got back and review the information for your semester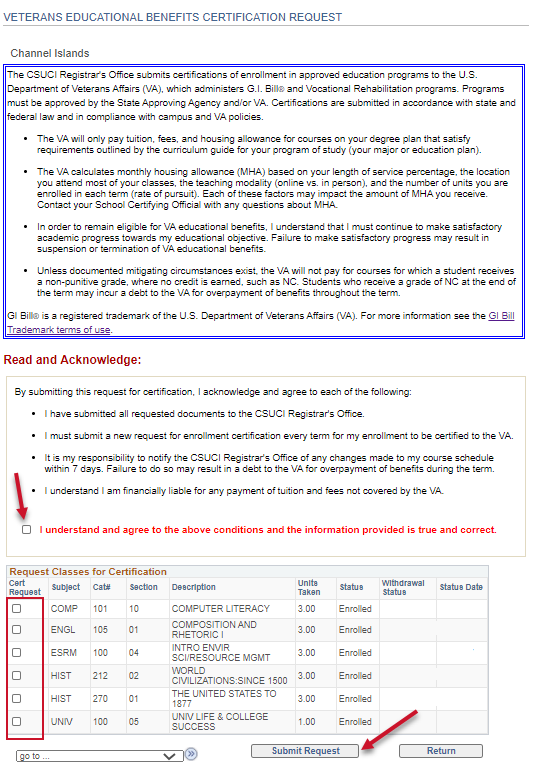 Step 5
If you have already submitted courses for certification and later add or drop classes, you are responsible for updating your certification request within seven days of changing your schedule. To do that:
Return to the Certification Request page and select the term
Select "Update Classes to Certify"
Uncheck the class(es) you have dropped
Check the new class(es) you have added
Step 6
To check the status of your certification request, review the "Your Veterans Benefits for This Term" table in the upper right corner of the Certification Request page.
Status of request key:
Initiated: You have initiated this term but have not yet requested any classes for certification.
Submitted: You have submitted classes for certification and a School Certifying Official will review for approval or denial.
In Review: A School Certifying Official is reviewing your request. 
Reported: Enrollment data has been reported to the VA.
If you have difficulties after reviewing our tutorial, please reach out to your School Certifying Official or the Registrar's Office. More detailed information can be found through our How To Guide.