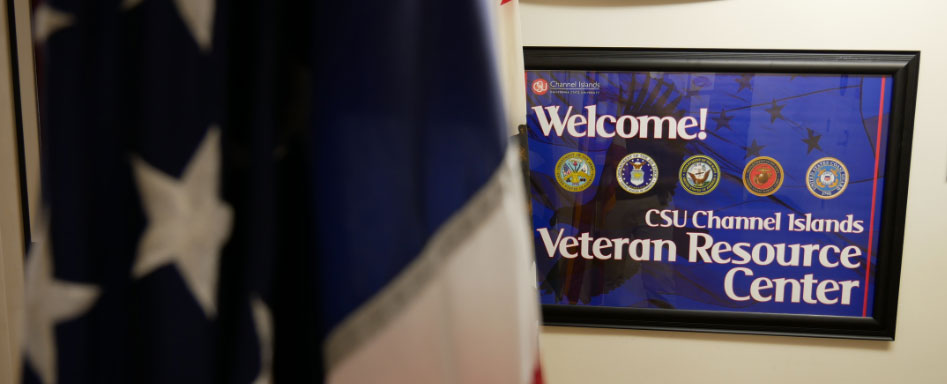 Purpose Statement
CSU Channel Islands' Veterans Affairs Program assists prospective and enrolled student veterans and dependents in transitioning and engaging with the campus community to ensure successful progress towards degree completion and on to their career goals.
Contact Information
Jay Derrico, Assistant Director of Veterans Affairs Programs
Phone: 805-437-2745
Email: jay.derrico@csuci.edu
Location:  Veterans Resource Center, Bell Tower East, Room 1760
Phone: 805-437-FLAG (3524)
Fax: 805-437-2084
Email: veterans.services@csuci.edu 
Hours:  Monday - Friday, 8:00 AM - 5:00 PM
Kristin Hronek, VA Certifying Official
Chs. 30, 33, 35, 1606, Fry Scholarship, & Cal Vet Fee Waiver
Phone: 805-437-2750
Email: kristin.hronek@csuci.edu
Location:  Enrollment Center, Sage Hall Room 1020
Walk-in Hours: Tuesdays and Thursdays, 2:00 – 4:00 PM or call/email for an appointment
Juanita Anguiano, VA Certifying Official
Ch. 31
Phone: 805-437-8504
Email: juana.anguiano@csuci.edu
Location: Enrollment Center, Sage Hall Room 1020
Hours: Call/email for an appointment
| Term | Priority Filing Date | CSU Channel Islands Sends Enrollment Information to VA |
| --- | --- | --- |
| Fall 2019 | July 26, 2019 | Second week of August |
| Winter Terms | N/A | Student must contact their Certifying Official to have their information sent to the VA |
| Spring 2020 | December 20, 2019 | First week of January |
| Summer 2020 | April 24, 2020 | First week of May |
To ensure timely reporting of your enrollment to the VA, please submit your DD-214 (if applicable) and Certificate of Eligibility to the VA Certifying Official or Veterans Affairs Program Coordinator by the Priority Filing Date of your first term at CI.
Subsequent terms will be submitted to the VA unless you email the VA Certifying Official. 
Cal Vet Fee Waiver Authorization submission follows Priority Filing Dates for fall and spring terms.*
Documents will be reviewed by the VA Certifying Official before they are applied to your student account. Be sure to check your myCI email for updates.
*This benefit does not currently apply to Extended Education Summer or Winter Sessions at CI.
Principles of Excellence
Executive Order 13607, signed April 27, 2012, by the President of the United States, established Principles of Excellence (POE) for educational institutions serving service members, veterans, spouses, and other family members. Eight Principles of Excellence are described in the Order.
Compliance with the POE is intended to ensure an institution provides meaningful information to prospective and current military-associated students about the financial cost and quality of the institution; assist those students in making choices about how to use their Federal educational benefits; prevent abusive and deceptive recruiting practices that target the recipients of Federal military and veterans educational benefits; and ensure that the institution provides high-quality academic and student support services to the respective group of students.
Please review our Demonstration of Compliance (PDF, 74KB) for information on how CSU Channel Islands complies with the Principles of Excellence.
Deployment Process
Admitted students will be able to roll over their application during the duration of their compulsory service that prohibits them from attending CI as planned. Admitted applicants will retain the catalog rights for the original year for which they were admitted. They will also be granted an extended leave of absence and must begin attending CI within 12 months after being released from compulsory duties. Students should notify the CI Admissions office of their plans for returning to campus as soon as possible.
Students must submit to the Admissions office proof of compulsory service that prohibits them from attending CI prior to departure or within 12 months after being released from compulsory duties. Reservists must show proof by providing activation orders; active duty military must provide a letter from a commanding officer.
(Coded Memo AA-2010-12)
Deferment Process
Student veterans who are receiving Post-9/11 GI Bill® benefits, and who have submitted approval of benefits in a timely manner preceding the semester, will receive a deferral of payment until benefit monies have been paid to the University.
Specific questions regarding account balances and charges may be directed to Student Business Services at 805-437-8810.
Credits Policy
Students shall be granted credit toward their Baccalaureate degree based on the American Council on Education (ACE) Guide to the Evaluation of Educational Experiences in the Armed Services.  Three units of General Education Area E credit will be awarded for military basic training with any additional credit for basic training recommended by the ACE Guide given as free electives.
Up to 30 credits may be awarded as a combination of free electives based on ACE recommendations and/or the following specific credits:
Three to four units of General Education Area C3a credit will be awarded for Defense Language Institute Foreign Language Center proficiency exams based on ACE's guidelines in the National Guide to College Credit for Workforce Training. Any additional credit for language proficiency recommended by the ACE Guide will count as free electives.
Major or other General Education credit may be awarded by petition. 
For more information, please see the Military Credit Policy. (PDF, 335KB)
Students should contact the Registrar's Office for instructions on receiving credit.