Veterans Affairs Connects Student Veterans to Careers
Through a unique partnership between the Henry L. "Hank" Lacayo Institute (HLI) and the Veterans Affairs Program, five CI student veterans each semester are participating in internships supported by the Ventura County Veteran Fund. Candidates are selected based on academic performance and matched to internships that align with their individual career goals.
According to Jay Derrico, Coordinator of Veterans Affairs Program, there are currently 86 CI student veterans on campus. Veterans Affairs partnered with HLI to leverage the Institute's career services expertise. "The HLI looks at workforce issues, such as internship programs and trends. We help prepare the students for their actual internships," said Derrico.
According to the National Association of Colleges and Employers (NACE), in 2008 employers extended job offers to nearly 70 percent of their interns. According to a CI-sponsored Fall 2011 survey, 67 of surveyed employers cited internships as extremely or very important to recruitment strategy. HLI sponsors and places up to 15 interns a semester.
Lori Guadarrama, a Biology major interning at Stellar Biotechnologies, Inc., encourages fellow student veterans to consider internships: "It's a wonderful opportunity for anyone looking for experience. And who isn't?"
Check out Lori's internship story here.
Honor Our Veterans with Services They Deserve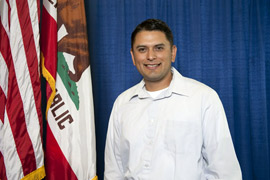 Staff Sergeant Joseph Vasquez of the California National Guard 146th Airlift Wing in Port Hueneme was my honoree at the Assembly's Veterans Recognition Luncheon on June 27, 2012. Sergeant Vasquez served in three branches of the military after graduating from Channel Islands High School in Oxnard. He served three years in the U.S. Marine Corps Reserve, reaching the rank of Lance Corporal. He served for two years in the U.S. Army based at Camp Victory in Iraq as a skilled mechanic and supervisor overseeing maintenance of mechanical equipment, the base perimeter and convoy security. Twice he was awarded the Army Commendation Medal, as well as the Army Achievement Medal and Army Good Conduct Medal.
Upon his return to the States, Vasquez used the GI-Bill® to attend community college while serving in the U.S. Army Reserves, and is now completing a BA in Communications at CI. He was recently admitted as an intern in the Hank Lacayo Institute for Workforce & Community Studies. The father of two young daughters, Vasquez said he hopes to become an officer in the U.S. Air Force or U.S. Army Reserve and pursue a civilian career helping veterans navigate the U.S. Department of Veterans Affairs. Thank you, Staff Sergeant Vasquez, for your outstanding service to our nation.
CI Student Veteran Accepted into Nursing Program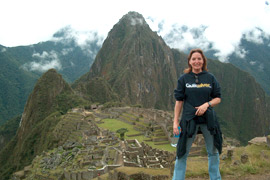 River Rose is one of only 33 students who were accepted into the Fall 2011 CSU Channel Islands (CI) nursing cohort. As many of you know, the nursing major is the most impacted of all programs at most universities. This year the nursing program at CI had 330 applicants for 33 openings, which averages out to a mere 10% rate of admission. River is one of a few top students who was accepted this fall.
River is a 24-year veteran of the Navy, serving as a sonar technician. One of her assignments in the 1980's was a four-year stint at Pt. Mugu. When researching nursing degree programs to pursue after retirement, River fondly remembered her time in Ventura County and made CI her first choice. She transferred from Fresno City College to CI in Spring 2011 not knowing if she would be accepted into the program. River has carried a 4.0 GPA and outstanding Test of Essential Academic Skills (TEAS) scores. Her military experience was an additional positive factor in being accepted into the nursing program.
River is pursuing a career as a surgical nurse and will graduate in May 2014. She believes that a great way to begin her career in nursing would be serving at a veterans hospital. She has a desire to serve those who have so faithfully served our country.
CI congratulates River Rose on this exceptional achievement!