Message from the Vice President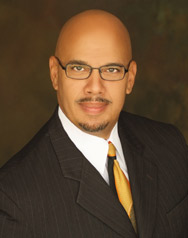 Dear Student:
Welcome to CSU Channel Islands (CI) where we place our students at the center of their educational experience. You have selected one of the most innovative and family-oriented institutions in the nation. CI will provide you with a stimulating curricular and co-curricular learning experience which will be complemented by our commitment to keep you, the student, at the center of our University mission.
The Division of Student Affairs' (DSA) programs and services were created to assist you as you matriculate through CI. These programs have been intentionally created and designed to enhance your university learning experience. CI encourages an interactive and expansive learning environment where all students, regardless of their background, skill level or interests, can exchange ideas and philosophies in a civil and collegial manner while celebrating diversity as a source of renewal and vitality.
As a CSU Channel Islands' Dolphin, you are encouraged to experience the total University. You chose CI because you wanted to experience something different. In the Division of Student Affairs, students indeed make the difference! What you choose to do, and the impact which you make at CI, are simply up to you! In accepting CI as your University you have, in effect, agreed to our core values of collaboration, commitment, integrity, diversity, and excellence.
Congratulations on choosing one of America's most exciting and innovative universities, CSU Channel Islands! As a Dolphin you will experience the "CI Way" as well as what it means when we say "we are CI!"
Sincerely,
Wm. Gregory Sawyer, Ph.D.
Vice President
Division of Student Affairs 
Vision
To be recognized nationally as university leaders who provide students with excellent needs-based programs and services that cultivate learning, diversity, leadership, wellness, personal and civic responsibility. 
Mission
Placing students at the center of their educational experience, the Division of Student Affairs supports and enhances learning and development in and beyond the University community through quality co-curricular programs, services, activities, and facilities.  
Core Values
Collaboration:  Cooperative or coordinated effort by a group of individuals to achieve a common goal. Collaboration is exhibited through teamwork, working together, incorporating different perspectives, sharing resources and responsibilities, communication, partnership, cooperation, group effort, open-mindedness, relationships, support, and trust.
Commitment:  A willful promise to do or give something or being dedicated to a person or task; an engagement or obligation that compels fulfillment and may restrict freedom.  Commitment is evidenced by dedication, loyalty, hard work, persistence, duty, responsibility, determination, follow-through, being ethical, keeping a promise, being devoted, and maintaining focus. 
Diversity:  The incorporation of many different types or ideas; the inclusion of individuals representing more than one nationality, race, religion, economic position, sexual orientation, ability status, or political affiliation, etc.  Diversity is characterized by different backgrounds and perspectives, multiculturalism, open-mindedness, acceptance, appreciating and celebrating differences, variety, culture, inclusion, knowledge, respect, uniqueness, learning, and understanding.
Excellence:  Being characterized as outstanding or extremely good; the state of excelling.  Excellence is epitomized by high-quality work, going above and beyond, being or doing the best, hard work, merit, and dedication.
Integrity:  The quality of being above reproach, having strong principles, and uprightness.  Integrity is exemplified by honesty, ethical thought and behavior, trustworthiness, honor, loyalty, reliability, transparency, truth, values, doing what you say you will do, and doing what is right.
Publications
Strategic Plan 2015-2020
The Division of Student Affairs 2015-2020 Strategic Plan (PDF, 1.79MB) was written as a living document that should remain responsive to changes that can and will occur both inside and outside of the University.  This Plan serves as a blueprint for the programs and services in the DSA and is representative of the Division's commitment to continued assessment and improved practices which ultimately benefit the University and address the ever-changing needs of CI students. 
Annual Reports
If you have difficulty viewing any of the linked documents above, please contact the Vice President for Student Affairs office at (805) 437-8536.
Your Feedback Welcome!
The Division of Student Affairs is committed to on-going and continuous improvement. As part of our evaluation process, we invite you to share feedback regarding your experience with our programs, services and staff support by completing our brief response form.