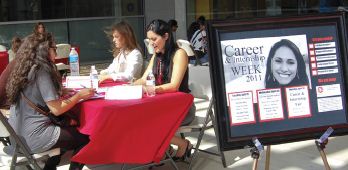 We are pleased to announce CSU Channel Islands' Career Development Services (CDS) hosted a successful Career Week.
On April 19, a "How to Dress for Success Fashion Show" featured students dressed to demonstrate how to make a strong first impression with future employers at the Career & Internship Fair. A resume clinic offered a chance for students to receive resume critique and design recommendations to create a polished and professional resume. Resume critics from Academic Advising and Student Life provided resume support.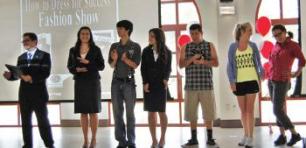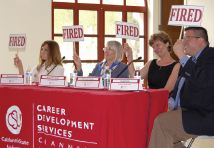 On April 20, an HR Professionals Forum gave students an opportunity to learn about effective interviewing techniques from two human resources professionals - Enterprise Holdings and Penfield & Smith Engineers, Inc. Topics of discussion included how to prepare for an interview, strategies to implement during the interview and follow-up recommendations. The two field experts also provided resume critique after the panel discussion. CDS hosted two workshops featuring how to prepare for the fair including topics such as networking tips, interview techniques, industry research strategies, resume design, and professionalism.
On April 21, CDS featured 30 local employers at the 9th Annual Career & Internship Fair. This forum served as a unique opportunity for students to network with local organizations who were actively recruiting to fill over 100 positions including internships, part-time employment, and full-time employment. A distinctive feature of this year's event was that students had an opportunity to schedule an on-campus interview with employers on the day of the event. Participating students also had the opportunity to seek guidance on interview strategies, professional etiquette, and industry research at the Career Resource Assistance booth.
Career Week 2011 and the 9th Annual Career and Internship Fair raised awareness about the value of being professionally prepared for the job market and provided students with opportunities to develop connections with potential employers. We greatly appreciate the support of administration, staff and volunteers who help make these events possible.
For additional information contact Amanda Carpenter, Coordinator of Career Development Services, at ext. 3565 or e-mail
amanda.carpenter@csuci.edu.