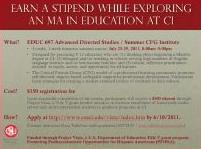 Funded through Project Vista, a new course is being offered at CI for practicing P-12 educators. EDUC 697 Advanced Directed Studies / Summer CFG Institute is a 3-credit, 1-week intensive summer course being offered July 25-29, 2011, 8:00 a.m. to 5:00 p.m.
This course is designed for practicing P-12 educators who are: (1) thinking about beginning a Masters degree at CI; (2) bilingual and/or working in schools serving high numbers of English language learners and/or low-income families; and (3) critical, reflective practitioners devoted to equity, access, and opportunity for all learners.
The Critical Friends Group (CFG) model of a professional learning community promotes self-directed, inquirybased, collegially supportive professional development. Participants learn strategies for creating a studentcentered culture of evidence in their schools.
There is a $150 registration fee to attend the course, but upon successful completion of the course, participants will receive a $500 stipend through Project Vista, a Title V grant-funded initiative to increase enrollment of historically under-served and under-represented students in graduate programs at CI. Interested applicants should apply at out Project VISTA site by June 10, 2011.
Funded through Project Vista, a U.S. Department of Education Title V grant program, Promoting Postbaccalaureate Opportunities for Hispanic Americans (PPOHA).
For additional information contact Kaia Tollefson, Associate Professor of Education, at ext. 3125 or kaia.tollefson@csuci.edu.