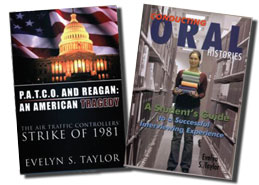 University and Lagomarsino Archivist, Evelyn Taylor, has recently published two books: Conducting Oral Histories: A Student's Guide to a Successful Interviewing Experience and P.A.T.C.O. and Reagan: An American Tragedy, the Air Traffic Controllers' Strike of 1981.
Taylor originally wrote a manual for her oral history class and decided to turn it into a book as she gained experience in her own oral history endeavors. She felt that most of the books on the market overwhelmed readers with information they did not need and at the same time, left out tips, samples, and simple guidelines which would be very helpful.
In regards to the Ronald Reagan book, Taylor became interested in the air traffic controllers' strike of 1981, while researching Reagan's early presidency. The majority of the information came from the Ronald Reagan Presidential Library and Archives in Simi Valley and Congressman Robert Lagomarsino, a member of the House during the strike, provided a forward for the book. Both books are available on-line from Amazon and Barnes & Noble.
For additional information regarding the books, contact Evelyn Taylor, University Archivist, at ext. 8830 orevelyn.taylor@csuci.edu.