"Cool Schools"
For the first time, CI has been recognized by Sierra Magazine in its annual "Cool Schools" edition.  This ranking evaluates colleges and universities based on sustainable practices and facilities in eleven categories.  CI was ranked 57th among the schools included in the publication.  While most schools in the rating are significantly larger than CI and have the benefit of well-funded campus sustainability programs.  CI's ranking was ½ point behind nearby Pepperdine University and ahead of campuses such as UC Riverside and the University of Michigan.  The complete ratings are available at
http://www.sierraclub.org/sierra/201209/coolschools/complete-rankings-cool-schools.aspx.
For additional information contact Dan Wakelee, Assistant Provost, at ext. 8542 ordan.wakelee@csuci.edu
CI Reaches Recycling Rate of 63%
After setting a campus recycling goal of 60%, CI reached a recycling rate of 63%! A new goal of 70% has recently been established and we look to everyone on campus to help us in achieving or surpassing this goal. The campus' success can be attributed to a heightened awareness of recycling and benefits to the environment,  as well as countless efforts that have been aimed at making recycling easier.
Additionally, CI recently installed new bins throughout the campus with specific compartments for waste and recyclable items. These bins provide a detail poster of what can be recycled to eliminate any confusion and hope that these efforts will help increase our recycling rates.
For additional information contact Austin Eriksson, Student Assistant, Operations, Planning & Construction, at ext.3507 or austin.eriksson680@csuci.edu.  
secureCI Now Available!
Have you ever been shopping online for a great price for that new item you've been desperately looking and found it!  You think to yourself "Hmm...  this seems to good to be true,  but I really want this item and really like the price!   What would you do? 
Read this month's secureCI Information Security newsletter at http://ciinfosec.blogspot.com and find out about counterfeit websites and how criminals create fake websites that appear legitimate, but sell you counterfeit goods or even worse, don't deliver anything at all.
secureCI may also be viewed using the following link:  http://www.csuci.edu/its/security/secureci.htm
For additional information contact Neal Fisch, Director of Application Services & Information Security Administrator, at ext. 3278 orneal.fisch@csuci.edu.
Members of Lacrosse Club named to 2012 All-Conference 2nd Team
CI student-athletes Tyler and Erik Larson were named to the 2012 Southwestern Lacrosse Conference (SLC) All-Conference Second Team for their outstanding play last season.   A recent graduate now enrolled in the University's Credential Program, Tyler also served as the Club President and was instrumental in player recruitment and development initiatives and providing effective leadership both on and off the field.  This is the second straight year Tyler has earned this honor. 
Erik, now a sophomore, had 17 goals and 17 assists in his rookie season.  Erik is one of only three freshman to be named to the All-Conference Team.  Both players have returned for the 2013 season and look to continue contributing to the success of the team.  Congratulations to Tyler and Erik for their accomplishments both on and off the field.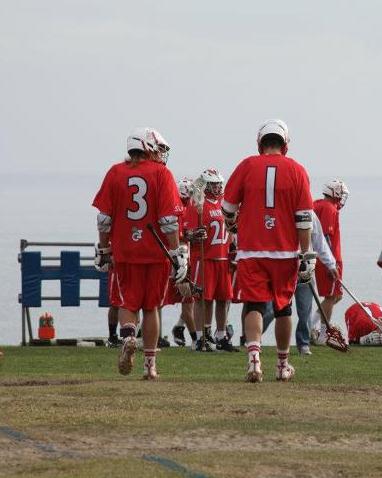 Tyler (3) and Erik (1) Larson walk to the sideline following a game at Pepperdine University.

For additional information contact Chad Patterson, Facilities & Sports Specialist, at ext. 3563 or Chad.patterson@csuci.edu, or Lisa Racine, Club Advisor, at ext. 8961or  lisa.racine@csuci.edu.
© Wavelength September 6, 2012