Student Success Workshops- Feb. 19, 26 & Mar. 5 & 13
All students are welcome to attend the upcoming Student Success Workshops, hosted by the Advising Center. RSVP is not required. Please see below for information on the upcoming workshops.
Study Skills: Learn how to study efficiently and effectively to get the most out of the time you put in.
Date: Tuesday, Feb. 19
Time: 11 a.m. – 12 p.m.
Location: Bell Tower 1568
Stress Management: Overwhelmed? Develop skills on how to stay calm and productive.
Date: Tuesday, Feb. 26
Time: 5 p.m. – 6 p.m.
Location: Bell Tower 1568
Test Taking Strategies: Exams have you in a sweat? Discuss tactics and strategies to combat test anxiety and "guess smart."
Date: Tuesday, Mar. 5
Time: 11 a.m. – 12 p.m.
Location: Bell Tower 1568
How to Choose a Major: No major? No problem! Find out which major could be right for you.
Date: Wednesday, Mar. 13
Time: 4 p.m. – 5 p.m.
Location: Bell Tower 1568
For more information, contact Beth Williams, Advising Center Support Coordinator, at ext. 8971 or julia.williams@csuci.edu.

"cinEngage"- Feb. 21
The Center for Community Engagement and the Center for Multicultural Engagement will host the documentary series "cinEngage." The series will screen films that emphasize diversity, multiculturalism, and social justice, followed by a Q&A with the film's director.
The first film, La Source, will be screened on Thursday, Feb. 21 at 6 p.m., Malibu Hall 100. This film is narrated by Oscar-nominated actor Don Cheadle (Hotel Rwanda, Crash) in what the Washington Post calls an "artfully shot documentary." La Source tells the uplifting story of Josue Lajuenesse, a Haitian Princeton janitor who returns to his country after the devastating 2010 earthquake to revive his lifelong dream to bring what is most fundamental to his village's survival: clean water.
A hit at the 2012 AFI-Discovery Channel SilverDocs Documentary Festival, where it received a standing ovation and a nomination for the Social Impact Award, this film from award-winning director Patrick Shen (Flight from Death: The Quest for Immortality, The Philosopher Kings) is not just a movie about clean water and community transformation; it is a story of one unlikely hero, empowered by a vision, who did whatever it took to ignite the passion of people thousands of miles away. A Q&A with Patrick Shen will follow the film screening.
For more information, contact Pilar Pacheco, Associate Director, Center for Community Engagement, at ext. 8851 or pilar.pacheco@csuci.edu.

NIRSA Day- Feb. 22
On Friday, Feb. 22, Campus Recreation will be hosting NIRSA (National Intramural & Recreational Sports Association) Day to promote healthy living through proper diet and exercise. There will be a variety of activities taking place throughout the day.
From 12 – 1 p.m. in Malibu 100, guest speaker Sara Richardson will discuss ways to avoid stress eating and healthy on-the-go eating tips. From 2 – 4 p.m. in the Rec Center, Campus Recreation will hold a variety of activities and competitions including basketball shoot-outs. Then, at 5 p.m. Campus Recreation will be closing down the cardio and weight portion of the gym to prepare for a Master Health and Wellness Class, including Zumba, J.A.M. (Juicy Athletic Moves), and Stretch and Relaxation. Come out and get active, and learn ways to improve your eating habits.
For more information, contact the Student Recreation Center at ext. 8902 or campusrecreation@csuci.edu.

SAFE Training- Feb. 22
The SAFE on-campus program seeks to reduce homophobia and heterosexism at CI. Through education, advocacy, and promoting awareness, the program contributes to building a campus climate that is safe and accepting of all members of the University community. This workshop offers participants a chance to become familiar with some of the pressing issues for lesbian, gay, bisexual, and transgender people on campus. Participants will be dealing with specific situations like hate speech and workshop ides for making this a more welcoming campus for all.
This workshop will be held on Friday, Feb. 22 from 9 a.m. – 12 p.m. in the Broome Library Room 1756.
For more information, contact Marie Francois, Director, University Experience Program, at ext. 3123 or marie.francois@csuci.edu.

Learn more about the CSU 403b (TSA) Programs- Feb. 26
Most employees will need to supplement their retirement benefit with additional retirement savings, even if enrolled in the CalPERS retirement program. With the onset of the new pension reform for state employees it may be even more important than ever to supplement your retirement benefit. Take advantage of this opportunity to learn more about the Tax-Sheltered Annuity (TSA) programs that are offered.
On Tuesday, Feb. 26, 9 a.m. – 5 p.m., CSU TSA representatives will be on campus to have one-on-one discussions about the various programs available. Make an appointment to meet with an approved representative of your choice:
From TIAA-CREF: Michael W. Johns, CFP
Madera Hall Conference Room 1641
Set your appointment at: 800/732-8353
From VALIC: Tamara E. Heinig
Madera Hall Conference Room 1906
Set your appointment at: 818/551-7312 or via email Tamara.Heinig@valic.com
From Fidelity: Todd Reinhart
Sage Hall Conference Room 1128
Set your appointment at: todd.reinhart@fmr.com
From ING: Kam Nassiri
Sage Hall Conference Room 2020
Set your appointment at: 818/774-0719 or 800/788-2434 or via email at: kam.nassiri@ingfp.com
From MetLife: Scott Costi
Sage Hall Conference Room 2132
Set your appointment at: 805/750-0547 or via email at: costi.scott@att.net
For more information, contact Janet Korsmo, HR Programs Support Assistant, at ext. 3181 or janet.korsmo@csuci.edu.

African American Achievement Luncheon- Feb. 28
Join Multicultural Programs for the African American Achievement Luncheon on Thursday, Feb. 28, at Noon in Petit Salon. We will honor African American community members in the areas of arts and entertainment, business, education, politics and advocacy as well as founding African American staff and faculty.  
Recipients
Advocacy
Arts and Entertainment
Business
Mr. Rhen Bass, CPA
Mr. Larry Hibbler
CSU Channel Islands
Dr. George Morten
Dr. Virgil Adams
Education
Ms. Mexie B. Duff
Dr. Irene Pinkard
Politics
Mr. Albert (Al) G. Duff, Sr.
Mr. Bedford Pinkard
Guest Speakers
Bishop Broderick Alan Huggins
Dr. Wm. Gregory Sawyer
View the full flyer for African American History Month at CI. (PDF, 1.58MB)
For more information, contact Jennifer Chapman, Coordinator of Multicultural Programs, at ext. 3243 or Jennifer.chapman@csuci.edu.  

The Body Dialogues- Mar. 4 & 5
Join Multicultural Programs and Housing & Residential Education in support of Body Image and Eating Disorders Awareness Week on Monday, Mar. 4 at 7 p.m. and Tuesday, Mar. 5 at 4 p.m. in Malibu Hall 100 as CI students direct and perform the play The Good Body by Eve Ensler. During the performances, Dr. Jon Derek Croteau will read excerpts from his up-coming book The Thinning Years, A Young Man's Attempt to Starve the Gay Within about his struggle with eating disorder during his coming-out process. Dr. Croteau will host a Thinning Years Workshop on Tuesday, March 5 at 10 a.m. in the Student Union Coville Conference Room.
Click here for the full flyer. (PDF, 1.57MB)
For more information, contact Jennifer Chapman, Coordinator of Multicultural Programs, at ext. 3243 or Jennifer.chapman@csuci.edu.

Grad Fest – Mar. 5 & 6
To help you prepare for Commencement we have scheduled CI's Grad Fest 2013, to be held on Tuesday, March 5 and Wednesday, March 6 from 9 a.m. to 6 p.m. at the University Town Center (near the Cove Bookstore location).
We strongly encourage you to attend this event where a multitude of services and information will be provided.
For additional Grad Fest and Commencement information, please visit http://www.csuci.edu/commencement/index.htm.

CalPERS Retirement Workshop- Mar. 7
Are you prepared? This free CalPERS educational class helps you plan and prepare for retirement. Regardless of where you are in your career, begin now to secure your future!
"Planning Your Retirement" will be held on Thursday, March 7 from 2 – 4 p.m. in Broome Library Room 1360. Attend this class if you would like to learn more about:
Service credit
Retirement formulas and benefit factors
Retirement pay options
Taxes and your retirement
Cost-of-Living Adjustment (COLA)
Retirement application process
Working after retirement
CalPERS health benefits & online resources
Retirement reform and what it means to you
Registration is required! This workshop fills quickly, so RSVP early!
For more information and to RSVP, contact Janet Korsmo, HR Programs Support Assistant, at ext. 3181 or janet.korsmo@csuci.edu.

Performing Arts Program Presents "Thresholds"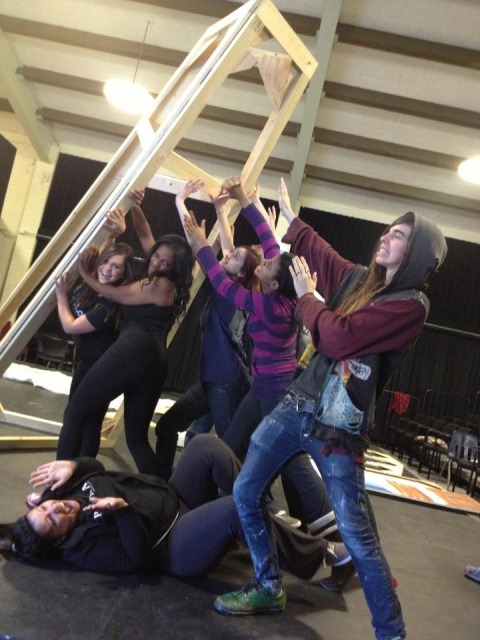 PA 391 Production students build the set for "Thresholds"
A fitting project for CI's ten year anniversary, Thresholds brings diverse parts of our community together to chronicle shared histories, celebrate common experiences, and discover new perspectives. Thresholds was developed by students from Performing Arts 391 Production, Art 499 Capstone, and the Osher Lifelong Learning Institute (OLLI), in collaboration with Project Lulu artists Lisa McKhann and Karen Keenan and acclaimed performance artist Tim Miller. It is directed by Catherine Scott Burriss, and produced by Heather Castillo, with musical direction by Craig Bickel.
Five performances will be held at Malibu Hall on the CI campus. Evening performances will be held at 8 p.m. on Thursday, Mar. 7, Friday, Mar. 8, Wednesday, Mar. 13 and Thursday, Mar. 14. One matinee performance will be held at 2 p.m. on Saturday, Mar. 9.
Tickets are free for CI students, $5 for all other students, $10 for CI faculty and staff, and $15 for the public. To purchase tickets, call Brown Paper Tickets at 1-800-838-3006. Tickets may also be purchased at the door with cash. Seating is limited so advance purchase is recommended.
For more information, contact Catherine Scott Burriss, Associate Professor of Performing Arts, at ext. 3126 or catherine.burriss@csuci.edu.

CI Relay for Life Luminarias and Canned Food Drive- Mar. 8
The second annual CI Relay for Life Luminaria Ceremony is scheduled for 7 p.m. on Friday, Mar. 8. Beginning at dusk, Relay for Life participants and donors remember loved ones lost to cancer and honor those battling the disease by dedicating Luminaria bags which will be lighted and placed around the track for the remainder of the event. Luminaria bags are available for $10 each at the Student Union Building Information Desk, and the Student Support Services program in Bell Tower East Room 1805.
The Ceremonies Committee will also be conducting a canned food drive in the two locations listed above to assist in the weighting of the Luminaria bags - in case of winds the day of the event. The proceeds of the canned food drive, after the Relay for Life event, will be donated to the Ventura County Rescue Mission. More information is available at the CI Relay for Life website: www.relayforlife.org/csuchannelislandsca. 
For more information contact Deanne Ellison, Director of Administrative Services, University Auxiliary Services, Inc., at ext. 3151 or Deanne.ellison@csuci.edu; or Kristi O'Neil at kristi.oneil668@myci.csuci.edu.

Self-Defense Class for Women- Mar. 26, 27, Apr. 2 & 3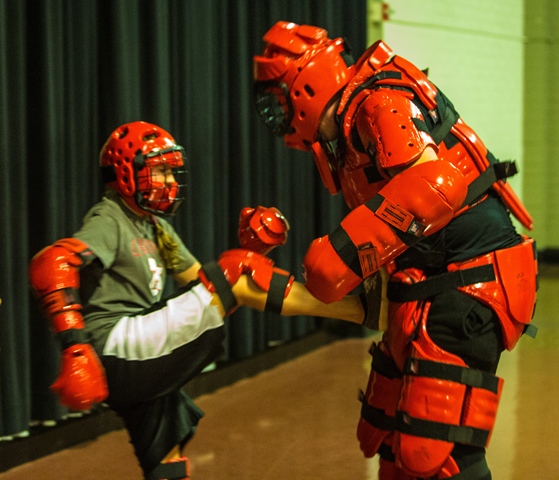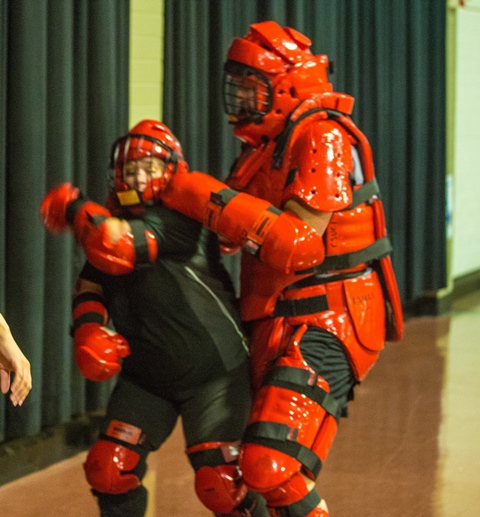 The CI Police Department will be offering R.A.D. class throughout the year for students, staff, and faculty of CSU Channel Islands. The next class will be held on campus Mar, 26, 27, Apr. 2, and 3 from 6:30 – 9:30pm. Last day to sign up is Mar. 8.
This is a 12 hour class (3 hours each day) with a $20 registration fee due at sign-up. This will be fully refunded upon completion of program. Class size is limited, so register NOW at Police and Parking Services in Placer Hall. A waiting list is also being established, so if you miss this upcoming class, another will be offered next fall.
R.A.D. (Rape Aggression Defense) is the largest women's self-defense training program in the country, being taught by more than 350 universities and municipal law enforcement departments nationwide. The Rape Aggression Defense System is a program of realistic, self-defense tactics and techniques. The R.A.D. system is a comprehensive course for women, which begins with awareness, prevention, risk reduction and avoidance, while progressing on to the basics of hands-on defense training.
For more information, contact Rachel Huff, Community Involvement Coordinator, at ext. 8444 or Rachel.huff@csuci.edu or RAD@csuci.edu.

Women's Recognition Luncheon- Mar. 27
Any member of the campus community can nominate an exceptional female leader or group/organization that has fostered the growth and development of the community. Nominations will be accepted on the basis of women's contributions to Integrative Approaches, Experiential, and Service Learning, Multicultural Perspectives, and International Perspectives in the fields of Science, Technology, Engineering, and Mathematics. Nominate a student, faculty, staff, administrator, alumni, community member and/or female group/organization by using this form.
Nominations are due by Friday, Mar. 1 at 5 p.m. The Women's Recognition Luncheon will be held on Wednesday, Mar. 27, at Noon in the Grand Salon. Click here to RSVP.
For more information, contact Jennifer Chapman, Coordinator of Multicultural Programs, at ext. 3243 or Jennifer.chapman@csuci.edu.

Click here to return to the Table of Contents

© Wavelength February 14, 2013