Fiscal Year 2014 Operating and Capital Budget
Through the hard work of the Strategic Resource Planning Task Force, which during FY 2013 was chaired by then Provost Dawn Neuman and Vice President for Business & Financial Affairs, Ysabel Trinidad, the FY 2014 budget was developed and has now been approved by President Rush. The Task Force was formed to begin to strengthen the relationship between campus planning and budget. During the process, the task force reviewed and discussed campus financials, planning assumptions including enrollment, and divisional requests.
The budget development process takes place at nearly every level within the University starting with initiatives and programmatic needs and ends with projecting campus-wide fixed costs such as benefits, insurance and utility increases. A copy of the budget is posted online at: http://www.csuci.edu/strategic-resource-planning/final-approved-fy14-budget.pdf
For additional information about the Strategic Resource Planning Task Force, please visit: http://www.csuci.edu/strategic-resource-planning/index.htm.
Police Department forms a GRIT Team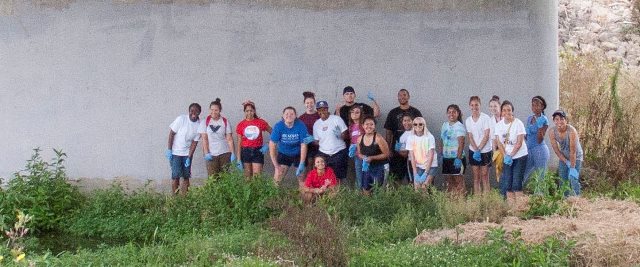 CI's Police Department (CIPD) has created a partnership with Ventura County Supervisor Linda Parks' office and Ventura County Public Works to create a Graffiti Removal Intervention Team or GRIT.  The team's purpose is to remove graffiti on the bridges leading to the University.  CIPD has worked closely with Ventura County Public Works and the Watershed Protection District to ensure the University has all of the proper supplies and training.  31 CI Resident Assistants were trained to enter the watershed and paint over the graffiti last July. See Wavelength's Highlights section for information regarding work done during the inaugural Student Service Summit in August.
For more information, contact Rachel Huff, Community Involvement & Crime Prevention Coordinator, at ext. 8444 or Rachel.huff@csuci.edu.

To return to the table of contents, click here.

© Wavelength September 5, 2013