Let Ventura County Know We Are #1!

Let Ventura County know that CI is #1 by voting in the Ventura County Star Readers' Choice awards in the "College/University" category. The online voting will accept submissions Jan. 19 through Feb. 9, 2014. By voting you also have a chance to win $1,000, $750, or $250 in cash prizes from the Ventura County Star. Follow the link below to cast your vote now for CI:
http://cfapps.venturacountystar.com/readerschoice/.
For additional information contact Communication & Marketing at ext. 8415 or ci.news@csuci.edu.

Professor Named as Ventura County's First Poet Laureate
After consideration of a number of highly qualified nominees, the Ventura County Arts Council announced their selection of Dr. Mary Kay Rummel, a professor from CI's School of Education, as the county's first Poet Laureate. Dr. Rummel will serve for two years as official poet and ambassador to the community for poetry. She was inaugurated into the position with a ceremony on Jan. 10 at the Atrium Gallery of the Ventura County Government Center.
Dr. Rummel enjoys a long and illustrious history as a poet. She has taught at CI since its inception and has published seven volumes of poetry including the soon to be issued "The Lifeline Trembles," winner of the 2014 Blue Light Poetry Prize. Over 350 of her poems have also appeared in national and international literary journals and anthologies over the last 35 years. She has received over a dozen poetry awards that range from a first prize from the Ventura County Writers Club to multiple nominations for the highly prestigious Pushcart Prize.
For more information, contact Gary Kinsey, AVP, School of Education, at ext. 2002 or gary.kinsey@csuci.edu.

Construction Update
Three projects are currently being completed to improve and expand CI's great landscape. Sierra Hall construction includes the demolition of the existing West Hall building and the construction of a new 66,500 sq. ft. lab building to be located on the northeast corner of Los Angeles Avenue and Ventura Street. Sierra Hall will house laboratories, offices, lecture space, and related support space. 
The Islands Café Patio is undergoing a needed renovation that will provide a new, enclosed, 1,500 sq. ft. patio and accessible access to the café. The contractor is installing the final items to complete the project and perimeter landscaping is expected to begin soon.
The North Playfields project will provide two new soccer fields and a softball field, located northeast of Santa Barbara Avenue and University Drive. The fields are currently being seeded and a new cul-de-sac is being installed. The fields are expected to be available for use later in the Spring semester.
To view a map of pedestrian access during construction, click here. (PDF, 191KB)
For more information, contact Facilities Services at ext. 8461.

CI Earns Second Consecutive "Tree Campus USA" Recognition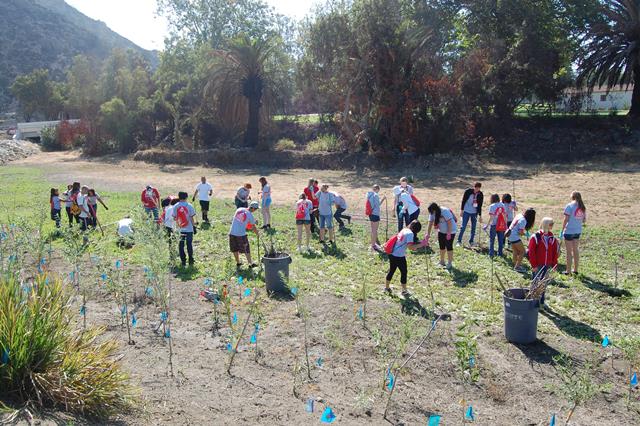 CI has earned recognition as, "Tree Campus USA" for the second year in a row through its continued commitment to forest management and conservation. In an effort to conserve precious resources, CI uses reclaimed water for irrigation and incorporates drought-tolerant and California native plants in landscaping projects. CI is one of approximately 190 institutions nationwide and one of two campuses in the CSU system to earn the designation.
Tree Campus USA is a national program created in 2008 to honor colleges and universities for effective campus forest management and for engaging staff and students in conservation goals. CI achieved the yearly recognition by once again meeting Tree Campus USA's five standards, which include maintaining a tree advisory committee, a campus tree-care plan, dedicated annual expenditures toward trees, an Arbor Day observance, and student service-learning projects.
Over the past year, more than 1,000 trees have been planted on campus. Among those are nine new species of trees bringing our campus tree diversity to 119 species. The majority of the trees were planted in Long Grade Creek and the balance can be found in the Palm Garden at Yuba Hall, North Parking Lot, Solano Hall, and Big Rock Park.
For more information, contact CI Sustainability at ext. 3507 or SustainableCI@csuci.edu.

CI Police Officer and K-9 partner recognized at Inaugural Event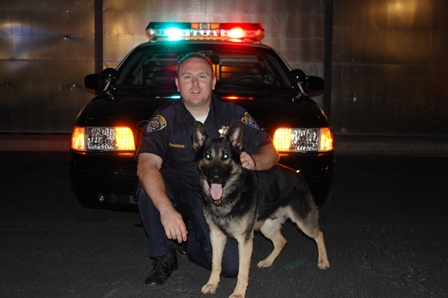 At the inaugural K-9 Hero Awards luncheon on Jan. 21, hosted by The National Police Dog Foundation, CI Police Officer Dan Borgstrom and his K-9 partner, Hero, were acknowledged for their assistance in capturing a suspect during a CHP pursuit. After the suspect fled on foot, Hero was able to track the suspect's scent to the front door of his residence in a neighborhood several blocks away.
For more information, contact Rachel Huff, Community Involvement & Crime Prevention Coordinator, at ext. 8444, x7063, or Rachel.huff@csuci.edu.
Return to the Table of Contents.
© Wavelength January 30, 2014