New Campus VISTA Bus Stop Location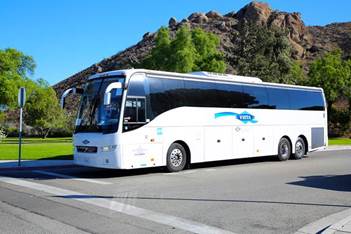 Transportation & Parking Services would like to announce the VISTA bus stop is moving. Beginning Friday, Oct. 10, the VISTA bus stop will move from its current location on San Luis Ave. to Santa Barbara Ave. between University Dr. and Camarillo St. Be advised that all bus schedules will remain the same. If you have any questions or comments please contact Transportation & Parking at 437-8430.
For more information, contact Sandi Gannon, Customer Service Coordinator, at ext. 8446 or parking@csuci.edu.
Topping Out Sierra Hall
We have reached another milestone in the construction of Sierra Hall – a three-story, cutting-edge science lab and instruction building and a model for green technology.
On Tuesday, Sept. 23, the last piece of structural steel was added to the building, "topping out" the building. The concrete floors are complete, the exterior enclosure is nearing completion and the exterior plaster will begin soon. Contractors have also started MEP (mechanical, electrical, and plumbing) rough-in of the walls, and some drywall has begun. A future milestone we look forward to is the installation of the windows, which will be delivered in late November and installed throughout December. Installation of the windows will provide protection and allow the focus of construction to shift from the exterior to the interior finishes of the building. Sierra Hall continues to be on schedule and aims to be completed and open in time for the Fall 2015 semester.
For more information, contact Amanda Nichols, Student Assistant, at ext. 3301 or Amanda.nichols750@csuci.edu.
Save the Date! CI's Annual Spooktacular – Oct. 31
The campus is invited to help kick off our annual charitable giving event by joining in on a morning full of festivities. To RSVP, click here. Events include pumpkin decorating, costume contest, and department decorating contest:
Drop off your decorated pumpkin in Grand salon 8 to 10 a.m. (categories: Scariest, Funniest, Most Unusual, Best of Show)
Wear a costume for the individual costume contest
Participate in your department by entering the department decorating contest. Contact Wendy Olson at wendy.olson@csuci.edu by Oct. 24 at 5 p.m. to participate
Attend the campus-wide event in Grand Salon from 10:45 a.m. to Noon for the awards, fun, grub, special speakers and surprises!
For more information, contact Janet Korsmo, Human Resources Assistant, at ext. 3181 or janet.korsmo@csuci.edu.
Return to the Table of Contents
© Wavelength October 9, 2014