CI 2025 Update
Over the summer and into the fall, work will continue on the CI 2025 program with a goal of developing the physical campus to meet the needs of students over the next decade. During the March CSU Board of Trustees meeting, the program concept was presented and approval was received to begin moving forward on the project. A communication plan is being prepared, and meetings are being planned, in order to garner input from our campus community and stakeholders.
For up-to-date information, CI 2025: Envisioning Our Future can be found on the web at http://www.csuci.edu/ci-2025/. From the home page, links to background plans and reports, presentations and news releases, and dates of past and upcoming meetings can be found online. Additionally, emails can be sent to CI2025@csuci.edu for comments, to share ideas, and to pose questions.
For additional information contact Caroline Doll, Director of Special Projects, at ext. 3232 or caroline.doll@csuci.edu
Agent of Change – Student Training Deadline -- May 15
CI's commitment to safety and a recent mandate from the CSU requires all students to complete an online training program to comply with federal and state laws. The Agent of Change training module is an interactive, online program designed to inform you about the critical issues of sexual violence that impact our society at large and countless college students across the country.
All current students, including graduating seniors and extended education students, must complete this training by May 15, 2015.  Students are not required to participate in the related University of Illinois-Chicago study.  See the updated FAQs for more information.  Those who do not complete the training will be in violation of the CSU Channel Islands Student Code of Conduct.
When prompted for your unique ID, please enter your 9-digit Dolphin ID number. If you do not complete the training during one session, you may resume the training by visiting www.agentofchange.net and logging in using the "Student Login" section on that page along with the username and password you created during your training registration. 
Get started on the Online Student Training
CI is aware that the content of this module contains questions and situations of a sensitive nature. Please know that there are places on and off campus where you can go to confidentially discuss your concerns. The office of Counseling & Psychological Services, or CAPS 805-437-2088 is available on a walk-in basis. For off campus organizations where you can seek assistance or advice, please refer to CI's Rights & Options for Victims of Sexual Violence, Dating Violence, Domestic Violence & Stalking. (PDF, 169KB)
If you experience any problems accessing any portions of the online training due to incompatibility with assistive technology or if you need the information provided in an alternative format, please contact the Disability Resources & Programs office.
For additional information, contact Brittany Grice, Title IX & Inclusion Officer at ext. 3608 or Brittany.grice@csuci.edu
Student Ratings of Teaching
Student Ratings of Teaching (SRT) is available online through 11:59 p.m. Friday May 8. Students can access the online SRT via the myCI login page: https://myci.csuci.edu and complete course evaluations anonymously. 

For additional information regarding the SRT process please visit: http://go.csuci.edu/srt. 
For additional information contact Nitzia Castaniero, Academic Personnel Analyst, at ext. 8543 or Nitzia.castaniero@csuci.edu.
WhyCI Contest Winners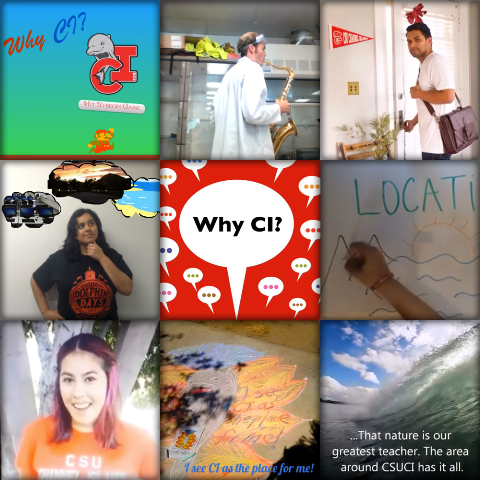 Winners of the annual WhyCI social media contest who best answered the question of why they chose CI in a 15-second video have been selected. Students were asked to submit their video via Instagram using the hashtag #whyCI15.  Videos had to be 15 seconds or less, explain why the student chose CI, and clearly identify the student in text or audio. Entries were judged on message content, visual creativity, originality, and the number of "likes" received.
The two grand prize scholarship recipients were notified in a surprise visit to their classrooms this week.  CI's current student scholarship winner is Elizabeth Perez and prospective student, Amelene Bartlett, will be transferring to CI from Cuesta College. The two students will each receive a $1,500 scholarship, usable only at CI.
Eight other finalists have earned $50 dining gift cards, which can be used at any of CI's on-campus restaurants or dining facilities.  Finalists include both current and prospective CI students: Tevin Schmitt, Caroline Contreras, Natalie Rodriguez; and prospective students Isaac Ortiz, Steven Leyva, Maria Bejarano, Emely Vasquez, and Daniel Voelker.
The winning videos will become part of CI's promotional efforts and will be featured on the CI website, social media, and other campus and media channels as a recruitment and marketing tool. 
For additional information contact Tom Emens, Multimedia Coordinator, at tom.emens@csuci.edu.
CI signs Presidents' Climate Commitment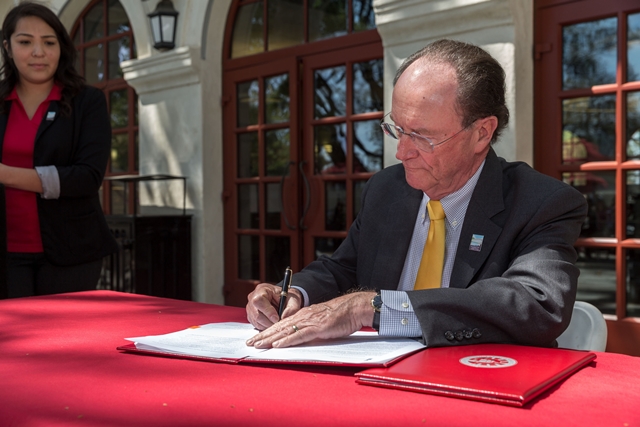 President Richard Rush recently added his name to a list of U.S. college and university presidents who have signed the American College & University Presidents' Climate Commitment. During an April 6 ceremony at the Student Union, President Rush signed the document, which declares the campus' commitment to green practices, including recycling, water use reduction and other conservation measures.
The Climate Commitment is an acknowledgement of deep concern about unprecedented climate change and a promise to take steps to reduce greenhouse gases and achieve a more stable climate. Doing so will help avert negative consequences on our health, environment, economics and social welfare, the document says.
CI already has numerous recycling practices, uses efficient lighting for its buildings and reclaimed water for irrigation, among numerous other green practices, but campus leaders are always looking for new ways to reduce carbon emissions. Green practices on campus earned CI a spot among 353 "Green Colleges" listed in the Princeton Review.
One of the pledges in the Climate Commitment is to provide knowledge and educated graduates who can use their knowledge to stabilize the climate. CI's curriculum includes a wealth of classes and research into the state of the environment, and into practices that can help achieve climate neutrality.
For additional information contact Dan Wakelee, Associate Provost at ext. 8542, daniel.wakelee@csuci.edu or Simone Aloisio, Professor of Chemistry at ext. 8999 or simone.aloisio@csuci.edu.
Return to the Table of Contents
© Wavelength May 7, 2015