IT Procurement Deadline Reminder
Due to a staffing shortfall in Procurement and to ensure sufficient time for review and processing before fiscal year-end, we kindly request that any standard IT procurements (for standard desktops, laptops, iPads, printers, etc.) which will encumber 2016-17 funds are submitted via the IT Procurement web site (http://www.csuci.edu/ti/purchasing/) by 5 p.m. on Monday, April 17.

Any 2016-17 IT procurements submitted after the deadline will be processed as time and resources permit. 
For reference:
Standard and custom IT procurements take an average of 9 and 50 days respectively to process (from the date of initial web form submission to the date where the purchase order is issued to the vendor by Procurement staff). 
Thank you for your patience and cooperation as we work together to overcome the staffing shortfall and complete these year-end procurements as quickly as possible.
For more information contact Peter Mosinskis, Director of IT Strategy, at 805-437-8587 or peter.mosinskis@csuci.edu.
Help improve our campus directory and way finding
Information Technology Services (ITS) needs your help to improve contact and way finding information for the online campus directory. 

Please take a moment to search for your own contact information in the campus directory: http://ciapps3.csuci.edu/directory

If you find an incorrect phone number, office location or other information in your own (or any of your colleagues') directory entry, please click the "Request a Directory Change" button in the directory entry, as shown in the animation below: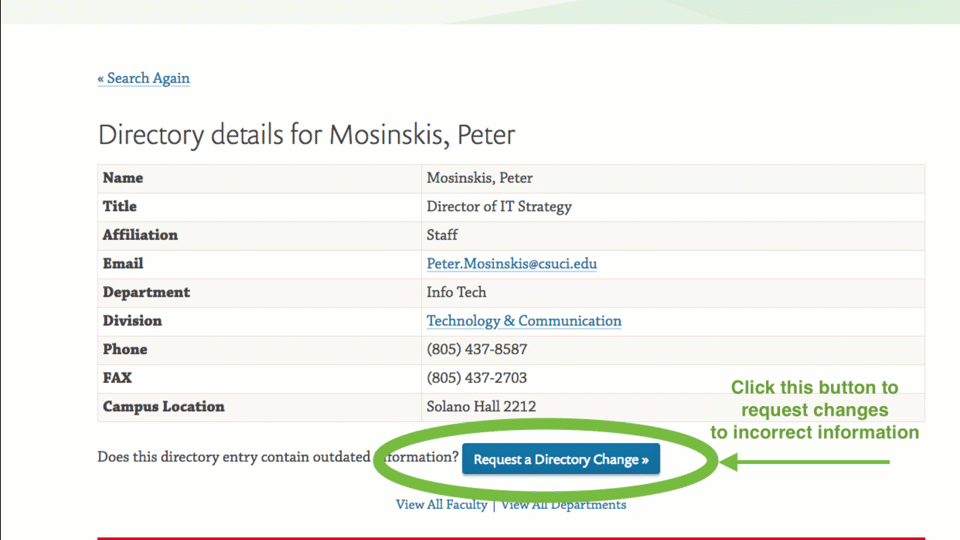 (Having problems viewing the animation? Visit http://www.csuci.edu/ti/directory/directory-changes.htm for detailed instructions)
You'll be prompted to specify which data is incorrect, make suggestions for corrections, and even choose to be notified once corrections have been made. Once submitted, your change will be sent to the campus directory coordinator for your division, who will review the request, and make the appropriate corrections in CI Records (which will propagate automatically to the campus directory). 

Thanks in advance for your help in making it easier to find and contact employees at CI. 
For more information contact Peter Mosinskis, Director of IT Strategy, at 805-437-8587 or peter.mosinskis@csuci.edu.
Professional Development: April workshops
The April Professional Development schedule is now available. RSVP for one of our workshops today!

View the flier for full details. (PDF, 144K)

For more information contact Rachel Linares, Professional Development Trainer/Coordinator, at 805-437-8445 or Rachel.linares@csuci.edu.
Staff & Faculty Awards
On March 29, CI the campus community gathered  for a Mardi Gras-themed Staff Service Awards and Faculty Commemoration.
Honorees have met significant milestones in their commitment to CI, celebrating 5, 10, and 15 years of service. Additionally, the first President's Staff Award for Excellence was awarded to Alison Potter for her exemplary contributions to the campus. 
Honorees:
20 years
Rosario Cuevas
15 years
Wes Cooper, Gus Gonzalez, Marina Guzman, Judi Le, Jose Nieto, Ginger Reilly/Reyes, Sergio Tafolla, Jane Wanberg, Arthur Zumaya
10 year
Erik Blaine, Stephanie Bracamontes, Johnny Carlin, Terrie Cilley, Raul Dominguez, Colleen Forest, Eva Gomez, Danny Haws, Michelle Hense, Matt Hughes, Nichole Ipach, Lori Knudson, Michael McConnell*, Kevin Medley, Mike Morris, Jess Paredes, Cheryl Peckham, John Reid, Kellen Smith, Myrna Sta Ana, Jay Travers*, Josh Wade
5 year
Debra Anaya, Elisa Aspuria*, Jose Aspuria*, Diana Ballesteros*, Amanda Carpenter, Leticia Cazares, Cynthia Coler, Adelina Contreras*, Miguel Contreras*, Jose Covarrubia*, Alfredo Dadacay, Eddie Ebete*, Janet Egiziano, Deanne Ellison, Jorge Galindo*, Sandra Gannon, Sunshine Garcia, Roxanne Herlien*, Lino Hernandez-Mendoza*, Julio Herrera*, Rick Houser*, Kristin Hronek, Donna Inglis, Lorraine Jackson*, Rigoberto Lopez*, Katherine MacLaughlin, Peter Maher*, Sergio Melano, Esmeralda Mendoza, Jesus Miranda, Arturo Molina*, Rigoberto Navarro*, Dave Nirenburg*, Jorge Olguin*, Oracio Ortega*, Letitia Poteet, Edith Ramos, Cora Rivera*, Travis Thierry, Ysabel Trinidad, Silivia Valencia*, Rachelle Zaragoza*
Faculty
Geoffrey Buhl, Catherine Burriss, Steven Fleisher, Marie Francois, Andrea Grove, Peter Harper, Karen Jensen, Mark Jepson, Clifton Justice, Kathryn Leonard, Priscilla Liang, David Mitchell, Andrew Morris, Sunghee Nam, Cori Newton, Luda Popenhagen, Charles Sackerson, Christopher Scholl, Kaia Tollefson
Return to the Table of Contents
© Wavelength April 6, 2017