*For a comprehensive schedule of our workshops, events, and programs view our  Fall 2015 Event and Workshop Schedule (PDF, 957 KB) for the full list of Fall 2015 events and workshops.
---
Events:
12th Annual Graduate & Professional School Fair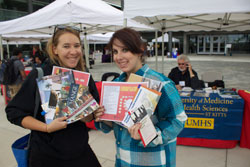 Meet graduate school representatives from local and regional programs to find out information about admissions requirements and distinctive program features.
Date: November 19, 2015 
Time: 10 a.m. to 2 p.m.
Location: Broome Library Plaza
Registration for Graduate School Representatives
---
On-Campus Tabling
Throughout the semester local employers will be visiting campus to recruit students for internships, part-time jobs, and full-time positions.    
Time: 11:30 a.m. to 1:30 p.m.
Location: Employers will be located in the main entrance of the Bell Tower, right next to the Career Development Center (Bell Tower 1548).
Fall 2015 Employers:
Addison Behavioral Resources - Thursday, September 10
Clinical Care Extender Program - Tuesday, September 15
Comfort Keepers - Wednesday, September 16
SAGE Publications - Tuesday, September 22
Social Security Administration - Wednesday, September 23
Prodigiq - Thursday, September 24
The North Face (Camarillo Outlet) - Tuesday, September 29
Alert Communications - Wednesday, September 30
Studio Movie Grill - Thursday, October 1
Red Oak Before & After School Club - Tuesday, October 6
Channel Islands Social Services - Wednesday, October 14
How to Prepare: Research the company ahead of time by visiting their website and reviewing their "About Us" page. On the day of the tabling session, bring a copy of your resume and be ready for an informal interview. Visit the Career Development Center during Drop-In Career Counseling for assistance with your resume and/or a mock interview.
---
Employer Interviews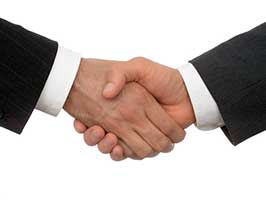 Interview Dos and Don'ts
Participating in an employer interview is an excellent way to practice your interview skills and receive feedback and recommendations on how to make a stellar first impression. Sign up today on Dolphin CareerLink via myCI to reserve a spot for a 20-minute practice interview with a local business professional.
Date: October 20, 2015
Time: 3 p.m. to 5 p.m.
Location: Career Development Center, Bell Tower 1548
RSVP online today, as space is limited, on Dolphin CareerLink via myCI. Priority will be given to registered participants. To prepare for an employer interview, review the Mock Interview Preparation Packet (PDF, 573.4KB)
---
CI Connection Luncheon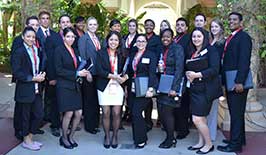 The CI Connection Luncheon is hosted by the Camarillo Chamber of Commerce in partnership with CSU Channel Islands. The purpose of the luncheon is to expose CI students to a professional mentor and provide an opportunity to engage in a networking event with local businesses.
For detailed information, please contact the Career Development Center at (805) 427-3270 or career.services@csuci.edu
Date: February 2016 
Time: TBA
Location: Spanish Hills Country Club
---
14th Annual Career & Internship Fair
Meet 80+ local and regional organizations recruiting to fill internships, as well as part-time/full-time employment openings. 
Date: April 2016 (exact date TBD)
Time: 10 a.m. to 2 p.m.
Location: Central Mall
---
News Articles: